AL-Hasakeh/Damascus, 23 October 2014 - While many of Syria's war-torn cities and governorates are grabbing the headlines, the humanitarian situation in the north-eastern governorate of Al-Hasakeh governorate is largely in the shadows. With a population of 1.5 million people - almost half of them children - much of the governorate has been cut off from humanitarian aid for almost two years.
"Road access to Al-Hasakeh from the capital of Damascus is difficult because of security limitations," says Wafaa Saeed, UNICEF's Chief of Field Operations in Syria.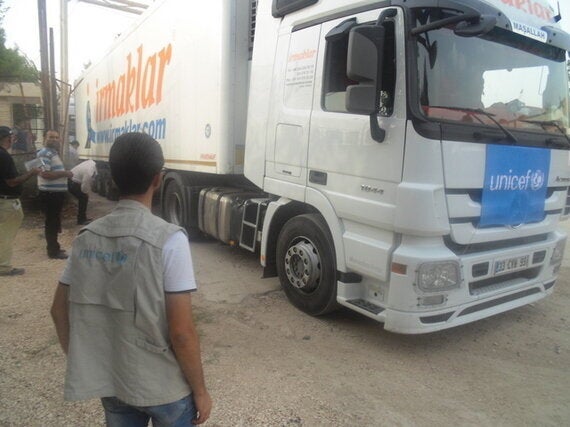 A UNICEF truck - one of a number twelve trucks carrying education supplies for 100,000 children, in addition to other vital supplies - enter Syria via the Nusaybin crossing near Qamishly. ©UNICEF/Syria-2014/Shekhi
Because of its remote location in north-eastern Syria, Al-Hasakeh became trapped the location of the conflict lines. The governorate has only one border crossing point with Turkey which has been difficult to access with humanitarian goods. In March 2014, UNICEF trucks carrying humanitarian supplies crossed the Turkey-Syria border at the Nusaybin crossing. Since then, only one other UNICEF shipment - just last week - was able to pass through, this time carrying urgently needed education materials and water supplies.
"We call our governorate the forgotten area," said Jihad, a humanitarian volunteer worker from Al- Hasakeh. "No one helps us here - all the support is centralized in Damascus," he laments. Jihad works with a local NGO that is now part of UNICEF's network of humanitarian partners in the governorate.
The UN estimates that 38 per cent of the Al-Hasakeh population is in need. According to OCHA, fighting escalated in May of this year and insecurity increased, leading to the roads being cut off in neighboring Ar-Raqqa and Derez-Ezor governorates. As consequence, many people are trapped within Al-Hasakeh with the only way out is by air, using the Quamishli airport. In addition, normal delivery of basic supplies has been disrupted.
This new shipment of UNICEF humanitarian supplies will make a difference. For example, 100,000 children in Al-Hasakeh will receive school bags containing stationary supplies such as notebooks, pens and colouring pencils before the end of November 2014.
"Distribution teams are getting ready to distribute these goods to every school in the governorate," says Eltayeb Adam, UNICEF Head of Office in Qamishly.
In an effort to reach children and families in need, UNCEF has managed to deliver urgent supplies by air. "Although it is a costly and difficult method of transportation, UNICEF is depending on airlifting to reach this governorate," Saeed says.
Just a few days ago, and following dozens of failed attempts, two air shipments managed to off-load 57,000 kilograms of a water purification liquid to Qamishly airport. The shipment will help provide safe drinking water to the population of Al-Hasakeh for approximately three months. Clean water is essential to prevent water-borne diseases and outbreaks.
"These deliveries of emergency supplies are helping to make a positive difference for many conflict-affected children and their families in Al-Hasakeh governorate, but much more needs to be done," says Saeed.