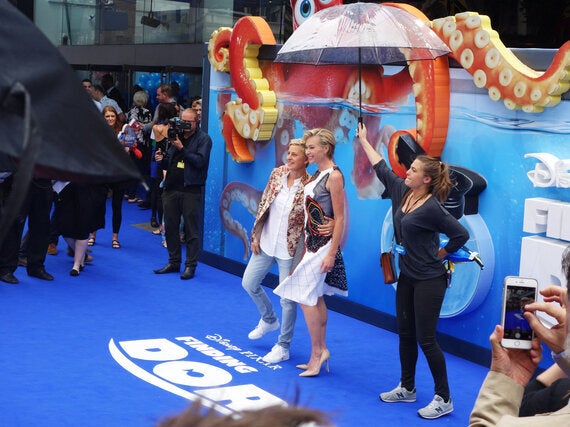 Finding Dory made a splash at its UK Premiere, as the rain began to pour with the arrival of the films main star, Ellen DeGeneres. Thankfully it didn't last long, as although the animation is centred around water loving creatures, it's never a friend on the red carpet. Or in this case, deep blue.
As Ellen fever hit Leicester Square, the morning saw celebrities with their families such as Tamara Ecclestone, Stacey Solomon and partner Joe Swash, Alesha Dixon, and Michelle Heaton.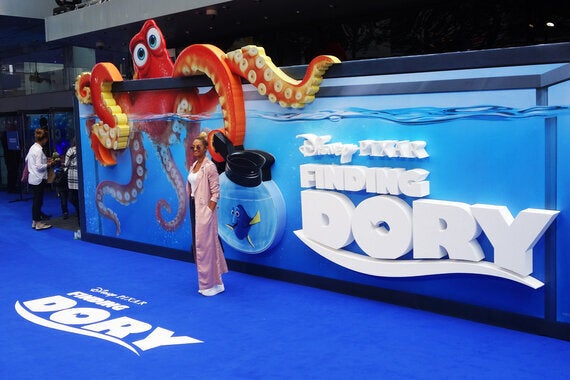 Tom Daley, who arrived with fiancé Dustin Lance Black, and Rebecca Adlington showed their support as they recently launched 'Just Keep Moving' campaign, inspired by the movie to encourage children to keep active this Summer.
Ellen DeGeneres, who voices Dory, arrived at the event with wife Portia de Rossi in hand and they both defied the elements to charm the photographers and interviewers together. Dominic West was also on the carpet, who lends his vocals to one half of a cockney sea lion duo, alongside Idris Elba.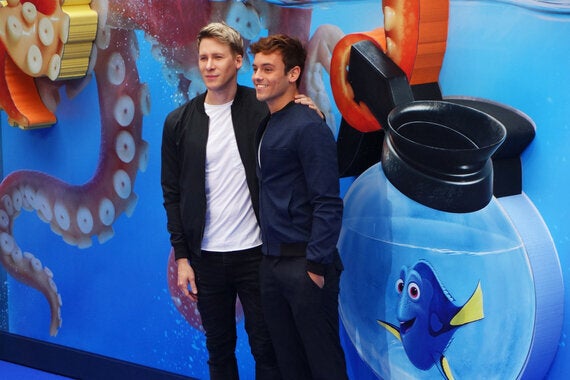 Inside the cinema, there was fun in the foyer, with balloon artists, Dory props and colouring in for the kids. And perhaps a few grown up kids too. The Director, Andrew Stanton, introduced the cast and crew, namely Lindsey Collins, Angus MacLane and stars Dominic West and Ellen DeGeneres.
There was also a little surprise in store as an adjudicator from the Guinness World Records took to the stage to present not one, but two certificates of records, namely The fastest animated movie to gross $100 million at the box office and the highest opening weekend box office ever for an animated movie.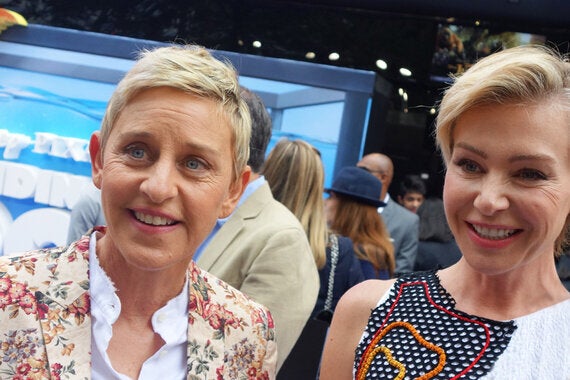 This comes as no surprise though, as the Disney Pixar film made a whopping $54.95 million on its first day of release in the US and now holds the top spot for biggest animation opening, biggest opening day and biggest Thursday previews of all time. The US results saw Finding Dory surpass Toy Story 3's $110.3 million to become the biggest Disney/Pixar opening film ever.
The film welcomes back to the big screen everyone's favourite forgetful blue tang Dory, picking up the story a year after where the first film left off. Now living happily in the reef with Nemo (voice of Hayden Rolence) and Marlin (voice of Albert Brooks), Dory suddenly remembers that she has a family out there, and the journey to find them begins. Along the way we are introduced to a whole host of new characters along the way; including Hank (voice of Ed O'Neill) who a cantankerous octopus who frequently gives employees the slip, Bailey (voice of Ty Burrell), a beluga whale who is convinced his echolocation skills are on the fritz; and Destiny (voice of Kaitlin Olson), a near-sighted whale shark. There's also an appearance from Sigourney Weaver, but I'll let you discover that one when you see the film.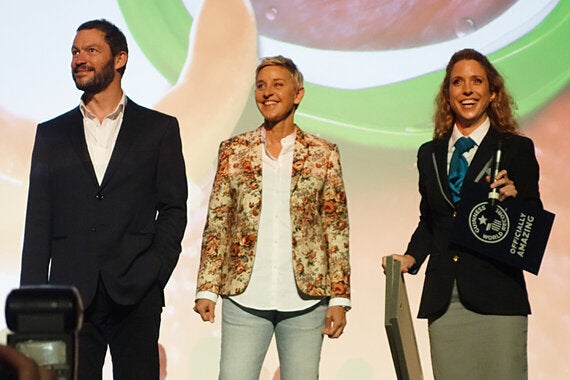 It has taken 13 years to bring out this sequel to Finding Nemo, but it's well worth the wait. The film is funny, thoughtful and pulls at the heartstrings. New character, Hank the octopus, is a wonderful addition to the cast and there is also a good few cameos from the characters you loved first time around. Ellen says in the video below, if you didn't cry during this movie then "you're a cold heartless person!" I might not of formed an actual tear, but I was very touched by the story of Dory's journey. On top of everything, Pixar and Disney have once again outdone themselves to create a visual masterpiece, with animation that is out of this world. And I'm sure it will just keep swimming to more success at the UK box office.
Images:Richard Brownlie-Marshall