The boat was crammed with nearly 1,000 people fleeing impending war and fearing the worst. But when it reached land, all on board were refused safe haven - all but a handful.
It was 1939. The boat, the St Louis, was carrying 936 Jews who had managed to get out of Germany. They were desperate to land in Cuba, Canada or the United States. But the previous month, a poll showed 83% of Americans opposed lifting immigration restrictions, and the president of Cuba sponsored a demonstration of 40,000 against Jewish immigration.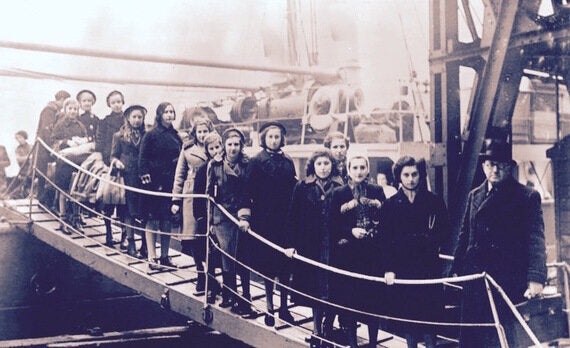 All but 29 of the boat people were forced back across the Atlantic. Many ended up in the hands of the Nazis and were killed. Their tragic journey became known as "The Voyage of the Damned".
The shame of the St Louis, now memorialized in holocaust museums around the world, is a timely reminder. Since the beginning of this year some 340,000 people have piled into boats or trekked overland to reach Europe. They have been called a "swarm", "marauders" and "cockroaches". By August, more than 2,000 had drowned crossing the Mediterranean.
"As Europe debates the best way to deal with the rising crisis on the Mediterranean, we must be clear: most of the people arriving by sea in Europe are refugees, seeking protection from war and persecution," says António Guterres, UN High Commissioner for Refugees.
Two out of every three are from Syria, Eritrea and Afghanistan. The citizens of these countries almost always have the right to refuge in Europe, as do many of those coming from Darfur, Iraq, Somalia and Nigeria.
The European Union as a whole has so far failed to adopt a common policy adequate to the crisis. Several nations have, instead, invested in razor wire, steel fences and other deterrents to keep the new arrivals out. Even where the refugees are able to come ashore or move inland, daily news coverage shows how little preparation and organization is in place to receive and process the steady surge of humanity.
This week German Chancellor Angela Merkel and French President François Hollande called for a new, European asylum policy in which all 28 EU countries would take part. In a startling announcement Ms Merkel said Germany had suspended the so-called "Dublin Protocol" which forces refugees to seek asylum in their European country of arrival. Germany now expects to accept 800,000 refugees this year.
Chancellor Merkel also spoke out against the extreme xenophobia that has threatened parts of her country. "Germany is a compassionate country and will not allow refugees to be met here by hateful slogans or alcohol-fuelled loudmouths," she said.
One European leader who is likely to welcome her words is Italian Prime Minister Matteo Renzi. He made an impassioned appeal during the European leaders summit in June which failed to adopt compulsory quotas. He declared:
"Europe isn't a bundle of economic ties, it's a community of people, a shared destiny, and ideals. If this common purpose is diminished, we lose our European identity. We want to fight for a set of values, for civility and peace. If we ignore them now, while the Mediterranean seethes, and children drown, it is Europe itself that we lose. If selfishness and fear prevail, we risk losing the noble idea underpinning the European project. Everyone must be saved and helped. Europe should be a beacon of civilisation, not a wall of fear."
Whether Germany's dramatic gesture moves the hearts of other European leaders or not, the "beacon of civilization" is already burning in a very different way. Day after day, countless brave and remarkably generous volunteers all over Europe are working to compensate for the failures - and abuses - of governments.
These are "the people of hope." They pick up "the damned" from the sea. They feed and care for them. Often, they provide desperately needed medical aid. They provide child care and rudimentary schools. They offer a support net of guidance and advice on social and legal services for the new arrivials in their countries. It's a "flotilla" on both land and sea, made up of individuals, families and organized groups. The life-saving work they are doing has gone largely - but not entirely -- unreported.
The volunteers can be on active front-line duty for organizations such as The Red Cross and Médecins Sans Frontières (MSF), or part of the thousands of donors who make their work possible. In the first two months of its operations in the Mediterranean, MSF saved 5,555 people over the course of 27 rescues.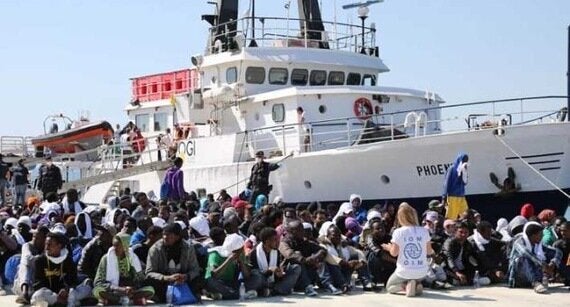 Among the small fleet of rescue ships is The Phoenix, a 130-foot yacht refitted and staffed by a Maltese couple, Christopher and Regina Catambrone. They set up a Migrant Offshore Aid Station in 2013 after 366 people drowned off the island of Lampedusa.
Like Christopher and Regina who felt not enough was being done, others have gone into action because they were "sick and tired" of what they were seeing night after night on their TV screens.
There is now a small team of British people working in the so-called "Jungle" of Calais, a make-shift camp of over 3,000. Among the Brits providing food, shelter and medical services is Tom McElholm, 19, a university student from the West Midlands. Recently interviewed by the BBC, he said he decided to help after seeing members of the anti-immigration group "Britain First" being "disrespectful" towards the migrants.
"I used to have a quiet pride that Britain was more liberal than most countries," he told the BBC. "But now there is a worrying strand of xenophobia running through social media and the press."
While the Hungarian government is hastily erecting a razor wire fence along its border with Serbia to keep the flow of people out, a small organization called "Migration Aid" has been set up. Interviewed in the capital's main railway station which is now home to hundreds of refugees, volunteer Zsuzsanna Zsohar, said: "I feel ashamed of my country. Each day around 2,000 people come over the border to Hungary. If you have a guest, it is all about how you react."
Her group of volunteers brings food, water, clothing and support to all the "guests" now stranded in the corridors of the station and elsewhere in the city. Everything - even translation -- is provided free, thanks to the volunteers and donors.
If you want to support any of the many groups and organizations who are offering hope, welcome and support in the midst of this vast humanitarian crisis, simply go on line. You can type in "volunteers and donors support refugees in europe" or any other similar request. There are a remarkable number of people of hope out there, waiting for you to join them or support them in whatever way you can.
Related