Despite it becoming quickly evident that French Gate existed only in the head of the Telegraph's Simon Johnson it certainly set the cat amongst the pigeons. Scottish Labour mobilised the troops and many of the Labour heavyweights sprinted to condemn Nicola Sturgeon and the SNP only to delete their tweets a couple of days later. Luckily you can still see the Tweets at Deleted by MP's. Awkward!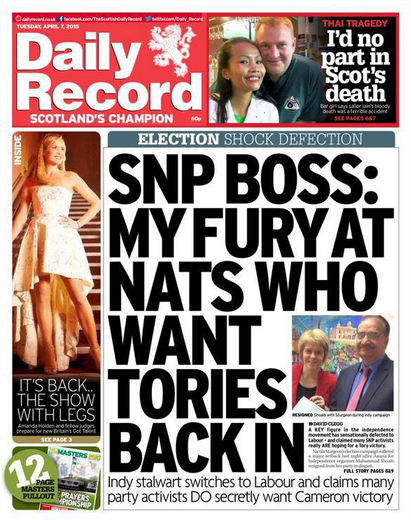 Another day and another SNP attack, this time from the 'Boss', No... Not Nicola Sturgeon and Not Alex Salmond; Muhammad Shoaib. When the 'story' broke last night many SNP members (including myself) were scratching their heads wondering who this 'Boss' was...
Muhammad Shoaib was a Scottish Labour Councillor who denied allegations that he billed his own constituents for advice in 1998 and fought a three year battle to clear his name following benefit fraud charges in 2003. Shoaib was acquitted following a not proven verdict.
During the independence referendum Shoaib was the organiser of Scots Asians for Independence group and later sought to challenge Labour's Anas Sarwar in the Glasgow Central constituency by running as an SNP candidate. Things didn't go to plan for Shoaib when party members endorsed another candidate and he claimed the selection process was unfair and that the SNP had 'played fast and loose' by snubbing him.
No one quite knows when Muhammad Shoaib became an 'SNP Boss' and it has led to party members posting a range of 'boss' themed tweets, images and GIF's under the hashtag #SNPboss.
If you know when Muhammad Shoaib became an SNP boss, please let me know.