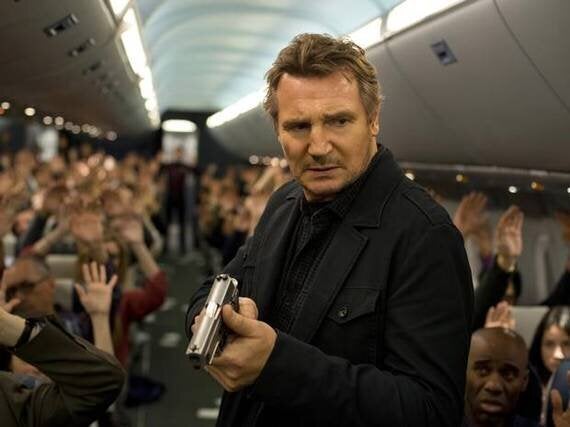 Image credit: StudioCanal
When you see Liam Neeson holding a gun and looking grumpy on a poster or DVD cover, it's easy to dismiss the advertised film as a Taken knock-off not worthy of your precious time and money. Neeson might seem to many like a brilliant actor who has been sadly burdened and pigeon-holed by Hollywood's desire to sell a very specific skill-set.
If opening weekend box office statistics are anything to go by, Non-Stop's haul could be considered a signal for disinterest in the 'Liam Neeson with a Gun' cinematic sub-genre.
Non-Stop took nearly $29 million in that first weekend, far from Neeson's best, and only $4 million better than the original Taken, which actually took most of its money later in the run and on DVD. Non-Stop's effort is completed dwarfed by that of Taken 2, which took an impressive $49 million in its first weekend back in 2012.
Does Non-Stop deserve to be remembered as a signifier for a multi-million dollar loss of interest? Not at all, in this writer's opinion. It's actually a film with far more positives than negatives and deserves more-so to be remembered as a tightly-plotted thriller which is well worth a watch.
The film starts with Neeson's character Bill sitting dazed and bemused in his car outside an airport, solitarily sipping booze and clearly dreading the flight ahead. It's a non-generic start for an action film which works well. Rather than seeing our dashing hero in his happy home environment, with everything to lose, we are met right at the start by a normal-looking man who has already lost everything, including control of himself and his life. By going against expectations here, Non-Stop gets you engaged in its protagonist from the start.
Next we see Neeson loitering around the airport as his disgruntled performance continues to impress. This isn't a vengeful dad trying to save his daughter. This is clearly a damaged character with nothing to live for, evoked brilliantly by a note-perfect Neeson performance, reminding us of his range as an actor beyond just holding a gun.
While I didn't expect much from director Jaume Collet-Serra, best known for previous Neeson vehicle Unknown and the 2005 House of Wax, he too puts in a great display by effectively tying together clever visual techniques to create a stylish visual landscape for the film.
It's the little things that make Collet-Sera's bleak world work beautifully; the whole airport is out of focus in early scenes, reflecting Bill's distance from the rest of society. This is a great touch which pays off nicely as the action heats up and the world snaps back into focus with Bill confronted by a terrorist situation.
This central act of terror unfolds as a wickedly un-guessable whodunit scenario in which Collet-Sera holds a mirror to modern prejudices and has fun with audience expectations throughout. Playing out the unseen terrorist's ransom threats through text messages is a nice modern twist and is well executed through Sherlock-style text-on-screen.
As the world becomes convinced that Bill isn't as trustworthy as a nice badge and a police history would suggest, and more information from his backstory is revealed, you'll really find yourself emotionally rooting for this central character, something you might not expect in a movie of this ilk.
The action is strong too. Where some directors might become shackled into blandness by a much-recycled airplane setting, Collet-Sera delivers new twists on all the tropes including a fantastically claustrophobic fight scene in the bathroom.
I found proof enough in this mix of clever direction, deceptive plotting and stellar performances that Non-Stop is more than just a heartless cash-cow trying to reap the rewards of the recognisability of Liam Neeson holding a gun, and I'd recommend that you check it out too.
If he keeps knocking out performances of this calibre, he can keep holding guns (on screen) as much as he likes.
What did you think of Non-Stop? Let us know in the comments.
If you liked this piece, you can read more of Robert's opinions on film here.