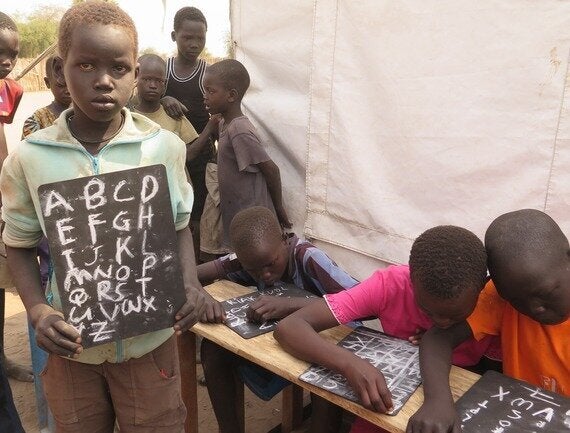 Support for education is vital for South Sudan's future (Credit: Plan International)
A sickening sense of déjà vu greeted me as I returned to South Sudan this year. Having worked in the region for much of the last 15 years, it is tragic to see that four years since independence was celebrated across the country, the horrific abuses and starvation that were the hallmark of the last civil war ( 1983-2004) have returned to the world's youngest nation.
Since the conflict broke out in South Sudan in December 2013, communities have been uprooted, children have been traumatised and thousands are unable to attend school or return to their homes. In 2015, four years after the world's newest country was born, more than one in three (3.8 million) people require humanitarian assistance. Close to two million people have fled their homes - more than 400,000 to neighbouring countries. Several states in South Sudan have seen significant levels of violence, particularly in Upper Nile, Unity and Jonglei states. Some 100,000 people are taking shelter inside United Nations sites across the country, where they have fled to escape violence. In some areas the conflict has meant those in need have been even more difficult to reach, resulting in huge areas with emergency levels of need.
While the situation in many parts of South Sudan is desperate, it is uncertain whether the threshold defining the crisis as famine (mass scale death from hunger) will be crossed. While this is good news it also means that South Sudan remains off the front pages, and donors and the global public lack the impetus and awareness to give generously. This is a significant problem as the response is seriously underfunded.
The UN and humanitarian agencies are appealing for $1.6billion (£1.04bn) for the coming year. Thus far only $672million (£437million) has been received. With so many other conflicts raging across the globe, South Sudan is in danger of being forgotten at a time when aid operations are critical.
This leaves advocates like me asking the question: What does it take to galvanise international action - and funding - for such a crisis? The great tragedy is that in South Sudan's recent history this situation is not an aberration but the norm. The last civil war lasted from 1983-2004 in which 2million people died. The Darfur conflict, beginning in 2003, still burns away.
Each year humanitarian needs are stated, relief agencies and the UN request funding and some, usually not enough, is given. These crises have all been man-made with protracted violence reinforcing hatreds and destroying opportunities for human development and the chance to break out of this loop. Even now a perfunctory peace process rumbles away hosted by neighbouring Ethiopia, yet the there seems little likelihood that the conflicting parties will resolve their differences any time soon.
Ultimately time is the only ingredient that will allow for the eventual creation of a durable peace and the long, hard road of reconciliation and institution-building to create a strong state, a political culture without violence and a population educated and empowered to demand better from their leaders. To recognise that peace and development are many decades away is not to say the situation is hopeless. Quite the opposite. Recognising and accepting the depth and duration of these conflicts should help us move away from the annual struggle to beg for funding and the constantly frustrated hope than peace may be just around the corner.
Significant recognition and investment is needed in national reconciliation. International donors must commit to fund such crises in a more predictable and generous way. And, even during war, education must be supported to strengthen South Sudanese society and enable people to develop themselves and their communities. In addition to food, water and shelter, children need schools to avoid becoming a lost generation, who have grown up knowing only violence and uncertainty.
Rocco Blume is Policy & Advocacy Manager at global children's charity Plan UK. For more information about Plan UK visit: www.plan-uk.org