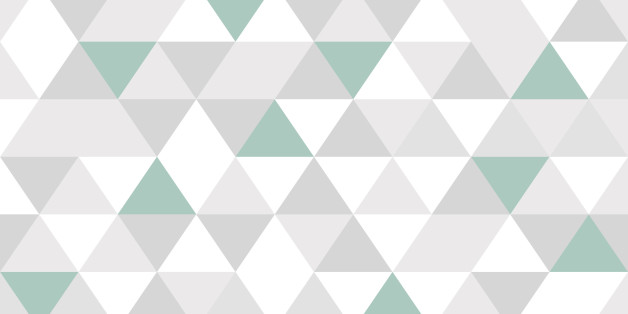 Tired of the relentless election campaigns? In our recent Truth About Britain research initiative, participants were given the opportunity to choose who they would vote for in the upcoming election - but with a difference. In this hypothetical election, participants were asked which brand or company - not which political party - would be best suited to lead the country.
And the outcome? The most trusted brands to lead the country are those that provide truly meaningful role in their everyday lives. However, it's not just utility that distinguishes the winners from the losers - winners tend to be inspiring, innovative, and iconoclastic.
The brand chosen to lead the country is Virgin (18% of general public) - British-born and a global hybrid of television provider, airline, radio station, mobile telephone service, hotelier, etc. Fronted by a charismatic, self-made entrepreneur, Virgin leads the vote for all segments of the population with the exception of Gen-Z who overwhelmingly voted for Google instead (21%).
This is not to say that global tech giants like Google, Apple, and Microsoft do not generate support in this brand election amongst other demographics - in fact, the research showed a close nationwide tie between Google (14%), Apple (12%), Amazon (11%), and Microsoft (10%).
Interestingly, while the vote tally for any one brand does not result in a clear majority - the predominant nationwide view (58%) is that "brands must stand up for what they believe in". Brands should, however, be wary of making outright political statements - almost half of Brits believe that brands shouldn't get involved in making political statements (48%), while for another third this type of brand activism is unimportant.
While this week's general election is clearly not a contest between brands, the results should provide insights not only for brands and marketers - but perhaps a few lessons for politicians too - whoever the next leader of the country will be.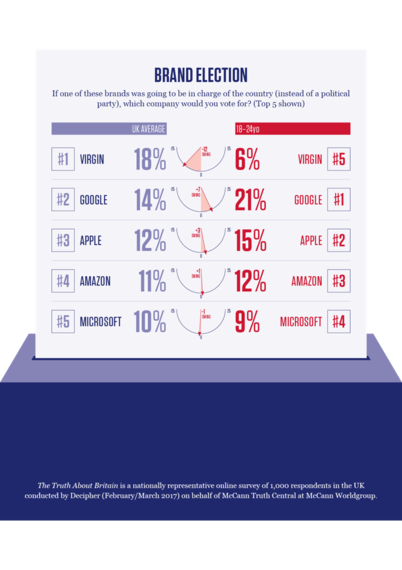 About the Study
The Truth about Britain is a nationally representative online survey of 1000 respondents in the UK conducted by Decipher (February/March 2017) on behalf of McCann Truth Central at McCann Worldgroup.
About McCann Truth Central
McCann Truth Central is McCann's global intelligence unit, with representation in more than 100 countries around the world. The group is dedicated to uncovering human truths to help brands make their mark in the world. For more about Truth Central or to access Truth Studies, visit: https://www.mccannworldgroup.com/about/truth