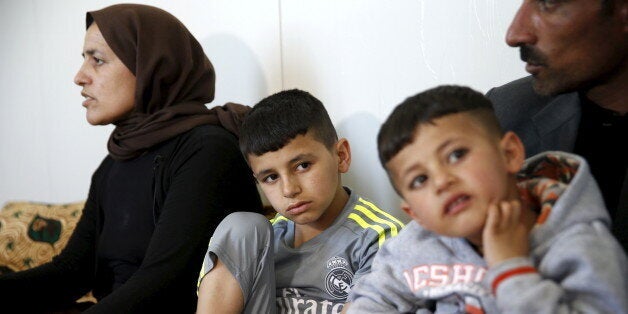 A year ago, an image of the body of a little boy called Aylan Kurdi, washed up on a tourist beach in Bodrun, sparked horror and profound distress around the world. Aylan and his family had been fleeing the war in Syria and were seeking sanctuary and the chance to build new lives in Europe.
Today, many of us have seen the footage of another small boy from Syria. Omran Dagneesh was pulled from the rubble of his home yesterday following an airstrike. He was placed in an ambulance alone while the rescue workers from the White Helmets went back for his family. Omran was in such profound shock that he sat in complete silence while he realised that what he was wiping from his face was blood.
Last year, the day before the picture of Aylan Kurdi was taken, I posted an event on Facebook to invite people to join a march in London asking that the UK government do more to welcome refugees. When the image of Aylan appeared in the papers, the event went viral, and 11 days later around 100,000 people marched to Parliament Square behind a banner reading 'Refugees Welcome Here'. In the week of that demonstration, the government agreed to resettle 20,000 Syrian refugees by 2020. It was far from enough, but it was an encouraging sign that policy can change in response to public outrage.
I don't understand why it is that some images seem to break through and are taken up by our press and seen by millions, when there are so very many similar images created every day, but I know that when I look at these pictures my heart breaks and it's all too easy to imagine that any of these children could be my own small daughter. I know that others feel the same. It's important to remember that for every Aylan and Omran there are tens of thousands of children who are suffering and dying, away from the cameras.
In the year since the death of Aylan Kurdi, the conflict in Syria has not improved. Indeed it is worse than ever. Of course, to resolve the situation, there need to be solutions in Syria. There needs to be greater effort for a ceasefire and for a broader settlement of the conflict. But this won't happen overnight, and in the meantime people need urgent help. Omran can't stay in this hell. And he can't drown like Aylan. These people need to be brought to safety, safely.
Millions are still stuck in wretched camps in Turkey, Lebanon and Jordan. On our own doorstep, the running sore of Calais shames us all. Greece is overwhelmed, with many sleeping on pavements, or in overcrowded camps. Malnourishment is normal, and traumatised children are selling their bodies on the street to get the money to survive. In Europe. Right now.
The Greek people, despite their own appalling financial conditions have responded with extraordinary generosity. But while the rest of Europe turns away, the system simply can't cope with processing so many claims, so families remain separated and people remain stuck in limbo unable to work, study, make a home, or build a future.
We have to do better than this.
There are a large number of great initiatives you can support to get aid to refugees. But as well as doing our own bit, we need to convince our government to do more. Much more.. So how can we do that?
On September 19th and 20th, world leaders will be meeting at two crucial summits in New York at which they will discuss ways to approach the crisis.
Just a couple of days before, on September 17th, I am organising another march which I hope will send a powerful message to Theresa May. This will be her first chance to speak as Prime Minister at a global summit, and to show the world what sort of country the UK will be post-Brexit. And we want her to go to New York and demonstrate in her words and deeds that UK is open, inclusive, and welcoming. That we step up to our responsibilities. That we don't let children like Omran suffer even more trauma. That we can be the good guys.
What we as a country do now will define us to our own children. Either we will appear to them as honourable, examples of what is best, or as shameful. We cannot end this terrible suffering. But when our on children grow up, they should be able to look back at what we tried to do with respect, not with shame.
http://swruk.org/refugees-welcome-here-2016/