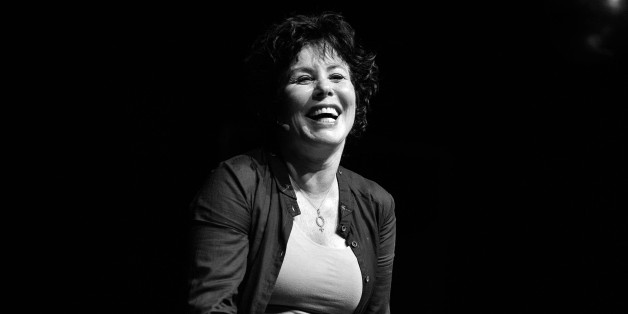 Southbank Centre London/Flickr
I'm on my Frazzled tour around the UK. I can't tell you exactly where I am each day because I'm directed to a train and then told to get off at a certain point. I think it's better not to know where you're going, it just gets complicated. I love being on a train, I'm able to shut out the world and happily type away on the next book with no interruption. But my favourite moments on this tour are meeting the audience during the interval. When people start telling me their stories, any energy I've expended in the first half of the scripted part of the show gets shot right back at me. I'm so happy feeling held in the heart of my tribe and cutting out the small talk that we do incessantly in real life, asking people about their kids, (like you really give a shit). In the theatre, it feels as if everyone's being their real self; which is ironic since you go to the theatre to watch someone act. Nope, no one's acting at my show, everyone's being realer than real.
A few nights ago, in the second half when it was the audience's turn to speak, a man asked how mindfulness would work for someone with multiple personality disorder. He was wondering, if one of the personalities learns how to do it will the others who habituate his brain get the benefits? I asked if he was talking about himself? Yes, he was and the reason he was asking was he once went on a stop smoking course and stopped but because the other personalities were smokers, he started smoking again.
I asked if he was kidding and he and his partner said he wasn't and that he had a disorder called D.I D, which is delusional identity disorder, the name for those afflicted with multiple personalities. I asked if the different people in his head had names. I was told one is a child, another a tough guy and a few others who shall remain nameless in case you know any of them.
He was completely mesmerizing and I thought to myself 'why am I doing a show'? This guy is far more interesting. I asked if we could meet afterwards in the foyer to talk more and he agreed. His girlfriend said she met him on an online dating site and that he's the most interesting man (men) she's ever met. She feels completely safe with him; they've been together seven years and are still deeply in love. He's got this illness because his father violently beat him when he was a boy (not sexual abuse - but extreme physical abuse). He explained, sometimes what happens to a child who's brutalised is that another personality develops to take on the father and protect the child. The guy I was talking to, he explained, is who he really is and only when he saw a psychiatrist did he become aware of the other personas. He's on medication to control the disorder but if a situation makes him overly stressed, he may switch into one of his repertoire of characters and when he comes back to himself he has no idea where he was. The girlfriend only saw him switch once when he became a vulnerable child who she thought was adorable. She's luckily never encountering one of the more sinister personalities.
He told me that he now takes care of his father who's old and can't survive on his own. He bathes, feeds and supports him in his spare time, with absolutely no anger. He told me his father asked him at one point if he had done anything wrong in the past. The son answered, "No". Humans don't get any more inspiring. Aren't I lucky to meet these people?
Ruby is on tour in the UK and Australia throughout 2017 with her #Frazzled Show - tickets on sale now.
You can buy Ruby's no. 1 best selling book A Mindfulness Guide for the Frazzled online and from all good bookshops.
If you want to be the first to know when Ruby's next book will be published, as well as exclusive news, special offers and other things that might be useful to you, just tell Ruby where to get in touch.