We are all taken aback by the striking images projected in the wake of devastating natural disasters. In recent months the British media was flooded with appeals for money and support for those affected by the Nepal earthquake. This earthquake struck on 25th April 2015, reaching a massive 7.8 magnitude and touching the lives of an estimated eight million people, killing over 8800 and injuring tens of thousands more. On top of the loss of human life was the loss of homes, schools, hospitals, communities and livelihoods, which left victims even more vulnerable. A second earthquake measuring 7.3 on the Richter scale hit the country a little over two weeks later, causing further destruction.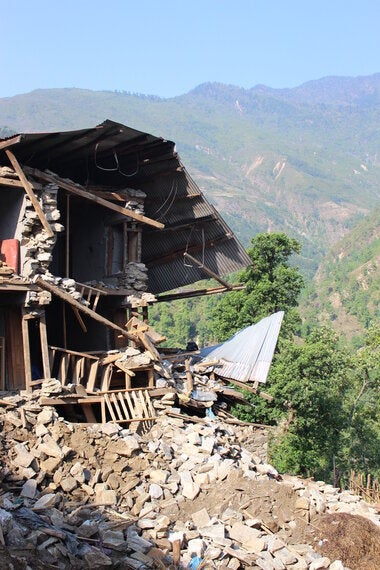 Damage in Katike, Sindhupalchok District : © Solidarités International
The images were shocking on a human level, but the reality is that pre-existing vulnerabilities made the earthquake all the more devastating. As well as killing thousands of people, and injuring many more, it also highlighted shortfalls which have existed in Nepal for many years - poor housing, lack of communications and infrastructure, lack of access to clean water and lack of awareness of good hygiene and sanitation practices.
We know that this stage of the recovery process is essential if we're to ensure that future disasters won't have the impact of this one. Now is the time to build infrastructure that's designed to resist earthquakes - and to mobilise communities, creating a culture of good practice, and a sense of ownership of these structures.
Historically the accepted view was to send people out from countries like the UK to provide technical knowledge and lead emergency aid and reconstruction efforts. What organisations such as RedR (who initially deployed workers overseas in this manner) realised was that their impact would be much greater - and more sustainable - if they focused on building local capacity. They believe in community empowerment and mobilisation, and work to ensure that those who are first to respond to disasters like this one have the skills to do so.
Kalpana Giri received training on Safer Shelter Construction facilitated by the charity RedR. She works for a local Nepalese charity in Dakshini Kali, an area of Nepal which experienced severe damage in the wake of the earthquake and aftershocks. The area is predominantly inhabited by unmarried women or women whose husbands are migrant workers. Kalpana passes on her newly-acquired skills to women in the area. This type of training empowers local people (in this case local women) to support the aid effort in their communities.
"I feel there is nothing that I as a woman cannot do," says Kalpana. "I feel I am technically equipped to pass on my learning to the women of my community...[and] because the majority of population are women, it was women who had to start the basic reconstruction work after the earthquake struck. I do not have a technical background. Yet I was able to learn a lot through the audio visuals and the practical sessions."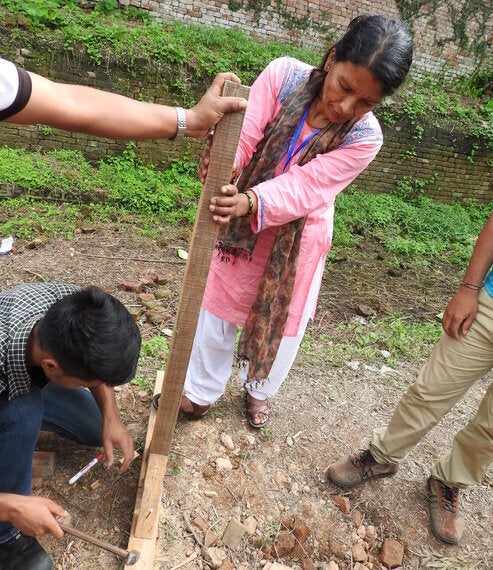 Kalpana Giri : © RedR India
Media coverage peaks during the immediate emergency response to a disaster, and understandably so. Stories, media and images aren't able to present such dramatic, moving images of training, but it is crucially important. Effective relief efforts are only possible if people have been trained in how to respond. The training of aid workers is just as important as training doctors, lawyers or indeed engineers: it is a profession it its own right. Furthermore, raising awareness and passing on knowledge empowers and enables the people on the ground who are living through the disaster to respond quickly, efficiently - and safely.
Organisations like RedR are some of the first on the ground. They were there before the major disaster occurred, and they'll stay long after the story fades from the headlines. They aren't there to simply put bricks and mortar back into place from where they originally stood. The aim is to build back better through the training of local NGO staff, government employees and communities, ensuring that they have the skills they need to help the people of Nepal recover from the earthquakes - and to prepare for and mitigate the impact of future disasters.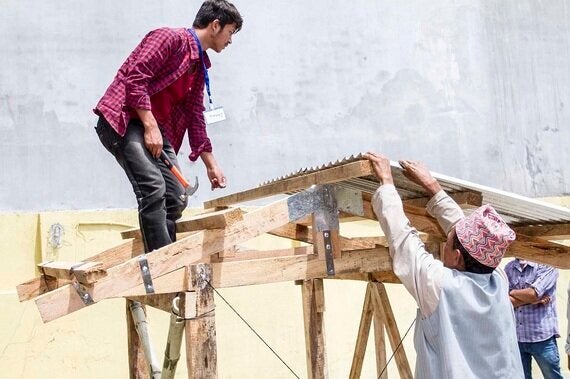 Shelter training : © Sam Spickett for RedR India
Wednesday 19th August marked World Humanitarian Day, highlighting stories from aid workers, humanitarians and people on the ground from all over the world. NGOs (non-governmental organisations) and aid workers arrive on the ground when a disaster strikes, but the first to respond to disasters are often the local people in the community that has been affected. It's one official day, but really we should be supporting those who make this day every day. Those who build out of more than bricks and mortar, those who build back with skills and knowledge.