As the world stands in shock at the worsening death and destruction in Syria four years after the start of the crisis, many millions of people are being failed by lack of action. Disasters Emergency Committee members and their local partners work around the clock to save lives and reduce suffering for children, women and men and yet the situation deteriorates day by day.
This week, most of our member agencies launched social media campaigns, organised vigils, published reports offering policy recommendations, and met with politicians because this seemingly intractable crisis desperately needs political solutions - aid alone is not enough.
This week, 21 humanitarian and human rights organisations - including some DEC members - called this the "worst year" for civilians in Syria since the conflict began. The United Nations resolutions designed to help those trapped inside the country have failed to translate from resolve to tangible change on the ground, they said.
The new report Failing Syria calls the catastrophe "a stain on the conscience of the international community" and says: "Humanitarian needs have increased by nearly a third compared with 2013. More than 11.6million people are now in urgent need of clean water and nearly ten million people do not have enough to eat. In December 2013 Unicef declared that there were 4.3million children in need of humanitarian assistance inside Syria. By December 2014 this number had risen to 5.6million. More than 212,000 people are still living in besieged locations and more than 4.8million reside in areas that aid agencies operating from inside Syria can either reach only sporadically or in many locations not at all."
When this month, the UN announced that two of its essential humanitarian staff, responsible for negotiating access for urgent supplies, were asked to leave Syria, OCHA's Chief of Policy Development Hansjoerg Strohmeyer responded: "The work of humanitarian workers - those entrusted with providing neutral and impartial assistance to the innocent victims of conflict and disasters - has never been more difficult and dangerous than it is right now. The consequences of this are catastrophic."
Since three Security Council resolutions were adopted last year demanding action to secure protection and assistance for civilians, humanitarian access has reduced. Just over one million people benefitted from inter-agency aid convoys from Damascus in 2014, compared to almost three million in 2013.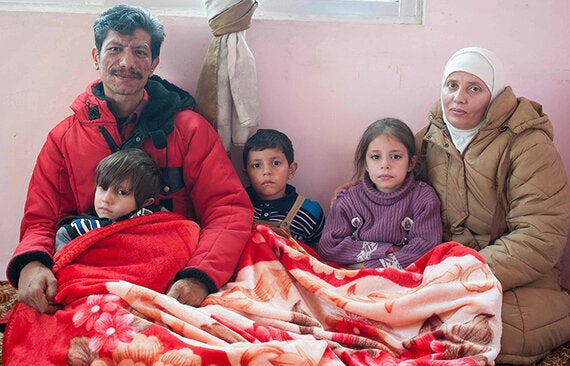 Jalil and his family who fled Syria after their home was destroyed in 2013
When I was in Jordan two years ago I met Jalil and his family who had fled Syria after their home was destroyed. He told me his children shook with fear when they heard planes overhead, even in the safety of Jordan. He worried about his friends still in Syria who "have no electricity and no bread".
Years later, millions of people continue to live in fear without the very basics they need to survive.
This does not mean that no aid is getting through and nothing can be done. DEC agencies, using funds we raised, have reached more than 391,000 people with aid since our appeal launched two years ago - 66% of those people are in Syria, 25% in Jordan, five percent in Lebanon and four percent in Iraq. While our member agencies are also reaching many more with funds from other sources, the number of people receiving support from the humanitarian community remains wholly inadequate.
All we can do is continue to provide lifesaving aid and push for solutions, despite the challenges stacked against us. It's important to recognise what we are able to achieve - the international community must keep investing in humanitarian relief and striving for a sustainable peace.
In Syria, DEC funds have meant that more than 155,000 people have benefitted from the restoration and purification of water supplies, 87,450 people have been given food parcels and more than 51,600 people have received winterisation packages, including thermal blankets and fuel, winter clothing, or health and hygiene kits. These are no small successes but they will not end the conflict.
Failing Syria concludes: "Practical steps must be taken as a matter of urgency."
We can play our part by standing by those who are brave, innovative and determined enough to keep working for change - Syrian people have not given up, humanitarian staff working continue to provide clean water, food, healthcare and relief supplies and passionate campaigners across the world redouble their call for real solutions to the conflict.
You can continue to support DEC agencies doing all they can to support people in the midst of crisis - it's not enough but it is helping many people such as Jalil cope with the devastation around them.