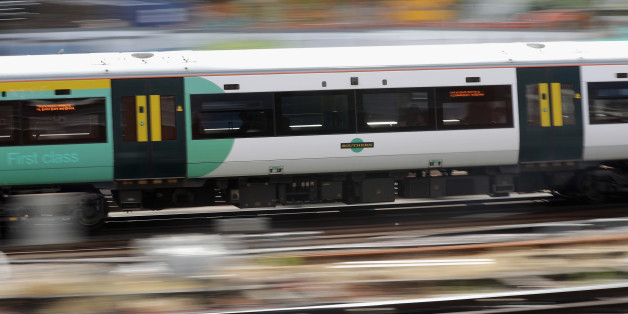 Dan Kitwood via Getty Images
A small window on the chaos that Jeremy Corbyn and John McDonnell would create for ordinary people can be seen in the transport nightmare facing Southern Rail passengers this week.
The strikes on Tuesday and Thursday by the RMT Union have caused yet more indignation for so many of my constituents in East Surrey who commute into London for work and all the other passengers reliant on the service.
So often over the past few months they have had to endure a service blighted by strikes; getting home late to pick up their children and worrying about their jobs as they cannot make it into work on time - if at all. This simply cannot be allowed to continue.
What makes it all the more galling for the passengers is the persistent support the unions receive from Jeremy Corbyn. Rather than condemning the union bosses for playing games, the Labour leader has made it abundantly clear he stands with the union barons.
This is even though the independent report by Chris Gibb for the Department of Transport revealed the single most disruptive cause of Southern Rail's problems is the constant industrial action. The walk-outs are preventing the integration of new technologies - used across much of Europe and the UK already - to improve service by modernising their fleet of trains.
Labour have power here and influence over their union paymasters. Jeremy Corbyn and John McDonnell have them on speed dial and they could end this with one phone call. The unions have consistently shown a complete disregard for the public's ability to go about their daily lives undisturbed and it is therefore unsurprising that the Labour leadership care not either.
With the number of people moving to urban areas increasing every year - by 2050, seven out of every ten people will live in a city - we need a strong partnership between government, the private sector and the people who work on the railway to help make these changes. We must embrace technology and new ways of working to make sure all these new passengers can rely on the rail network.
This is where the world is going and to revert to Corbyn's idea of a stifling, state-centric plan is sheer madness and shows just how out-of-touch he is with what a modern economy looks like.
Just take the recent disastrous decision to revoke Uber's license to operate in London. Sadiq Khan, the Labour Mayor, has made a decision that will affect more than 3.5 million people that use the service as well as put 40,000 jobs in jeopardy. We haven't heard a peep from Jeremy Corbyn. The vast majority of those at risk of losing their job are often from poorer backgrounds and from immigrant communities. So, where is the outcry for their loss of livelihood?
It is also typical of Corbyn to spare not one second thinking about the millions of passengers who have benefitted from the improvement of transport options, especially late at night. Instead, he has decided to protect the narrow interest of the few to punish the many. That's why, I, along with many of my colleagues have called for the decision to be reversed.
Although Uber has its problems; it definitely needs to improve its safety checks on drivers and make the vetting process more robust, these changes should have been conditions of their licence being renewed, not a reason to remove it.
Uber is a prime example of what can happen when individuals seize an opportunity and, through the use of technology, provide a service to willing customers whilst creating jobs. Their innovation has helped reform the wider taxi community and forced them to modernise to keep up.
With a smartphone in hand, you can do almost anything these days and in this digital ecosystem lies our future, this I strongly believe.
This goes beyond which side Labour back in the row over trains or a taxi app, it goes to the very heart of what it means for our future. They are striking their banners for the unions to create disruption to foment a form of revolution. And, in doing this, Jeremy Corbyn has forsaken the users of these services; you and me.
If Labour's slogan of 'for the many, not the few' is more than a string of empty words, he and his party need to condemn, and bring an end to, strike action which is causing misery for thousands. Labour, instead, seem set on turning their back on innovation and entrepreneurship in the same way they want their policies to take us back to the future they dreamed of in the 1970s.
Nostalgia is a great thing, but not if you are trying to help build a modern and thriving 21st Century economy.
Sam Gyimah is the prisons and probation minister and Conservative MP for East Surreysa