My most memorable Christmas was in 1990 - the year my mother had a zillion jobs to ensure she could brilliantly (and believably) keep the facade of Santa alive on her income alone.
One of said jobs was being a cleaner, and driving to drop her off at a factory very early each morning, my mum, grandfather, sister and I would count all the Christmas trees zinging cheerfully from living rooms in our town en route.
We'd laugh at people who loved the whole thing so much, they'd have decorations everywhere from November. We'd tut-tut at those cold-looking blue, silver and white trees. But most of all, as Christmas got closer, we'd really look forward to our daily drive. It was genuinely exciting. Empty roads, bright lights everywhere and that snug lovely feeling of being wrapped up cosily in the bloody freezing Scottish winter.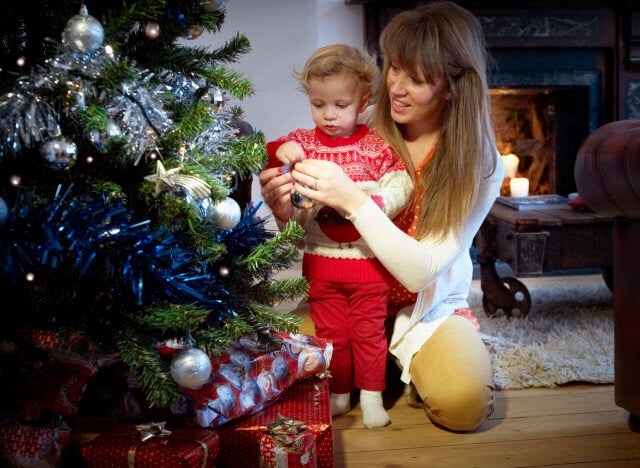 The thing I never wondered was what it all meant to my mother. I never pieced together the full picture of what was going on. Why she worked so many hours. Why this was our normal. Never considered the maddening fact that come Christmas day some imaginary guy (Santa) would get all the credit for her choosing, buying and wrapping those obsessed over gifts by herself.
Yet our Christmases were always brilliant thanks to her hard work. So, here's to all the single mothers getting ready for December 25 - and five things you only know if on Christmas Day when you were growing up, it was just you and her...
1. She always asks for rubbish presents. Slippers, cheap bubble bath, her favourite chocolate. Actually, she doesn't really need anything she'll tell you - so don't spend your money on her. My mum still insists every Christmas that what she'd really, really love is a nice pair of tights.
2. There's always a couple of mental Christmas presents in your stocking. Essentially because there's no one there to really insist that most kids don't want a bookmark made of "dreamstone" or another paperweight. She sees things, she likes them, and as a result, each year your pile of presents consists of 30% quirky stuff, 10% things she thinks are hilarious and 60% stuff you asked for. I've got so many books about a) cats and b) punctuation, it's not even funny.
3. Christmas dinner is a fluid concept. So your friends across the road sit down at 1pm sharp for lunch and your cousins alternate turkey with beef every second year. Meanwhile, round yours the schedule's a bit less rigid. Christmas dinner WILL happen, your mum reassures you, but it might be wise to open the After Eights in the meantime.
4. You dress up big time. Partly because you spend half the day touring around seeing everyone, EVERYONE, in your family and partly because this is a big deal. She's worked hard for this day and dammit, she'll look good in the pictures.
5. The best part of the day is when all the traditional traditions are done and dusted. It's just you, her and whatever Christmas telly you fancy. Jammies? Check. Huge tin of chocolates? Check. A couch with your names on it? Huge check. It's the perfect end to the perfect day and you wouldn't change a single moment.