Much of the focus for International Women's Day 2014 is on girls' education.
Increasingly the attention on girls and women at the heart of social and economic development means that how girls are educated and what skills women bring to the workplace come to the fore.
I have just returned from a remote and rural part of northern Ghana where I travelled with Sport Relief to see how the education projects they support - Voluntary Service Overseas and Afrikids, are making a difference for marginalised and vulnerable children.
Ghana has made great progress towards the Millennium Development Goal target to get every child in school by 2015. The rate of primary school enrolment grew by more than 20% between 2004 and 2013, bringing more than 270,000 girls into education.
Visiting the Kparigu school north of Tamale I witnessed the vibrancy of a small school that has just had its first electricity link up. They are able to keep the school open longer thanks to electric light and will ultimately be able to benefit from the government's computer programme, which is delivering machines later in the year. The school has an active PTA. It runs girls' clubs with strong role models, has a good feeding programme and its in-service teacher training will have a lasting legacy.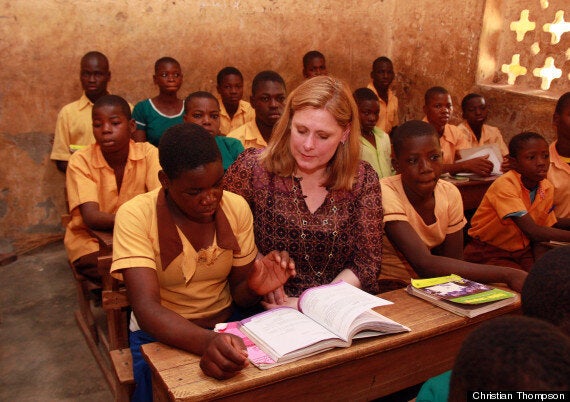 Further down the road a second school was being built and in the shadow of the construction site children were learning at desks under a tree - a blackboard nailed to its trunk. The local head of Ghana Education introduced me and asked the children who had heard of Britain or London. We were faced with a sea of blank faces. There are, of course, more important things for them to learn about just now and I feel humbled to be from somewhere that did not exist for them. But I hope one day they will hear about, and maybe visit, some of the world's most exciting places.
Visiting an Afrikids program in Bolgavinka in the north, I met teenage girls Victoria and Serena whose family circumstances had meant several years working in dangerous gold mines. Afrikids provides the emotional support for them to transfer back to school and supplies backpacks, pens and pencils.
They also directly support the mothers with micro loans to start their own businesses, which brings in regular income for them to feed their families and be able to buy school uniform and books. Today Victoria and Serena are nurturing greater ambitions - thanks to the goats they 'earn' for each year completed at secondary school - to go on train as nurses and build a future where they are able to still support their families but with a much better quality of life.
I spend most of my time pestering people in the various corridors of power, or addressing groups of young people to encourage their activism, so it was a rare privilege to really get out and see what happens in a rural community for the girls we are trying to support.
What is clear is that the investment made by charities such as Comic Relief into small projects, projects that work to change systems and support advocacy, do make a huge difference. PTAs calling for by-law changes and lobbying for IT investment yields results. A microloan to a mother results in her daughter holding ambitions for secondary education and professional training. Something she could not have imagined in her time locked in child labour to help feed her family
We know that every year a girl stays in school increases her earning potential by 10-20%. There is an overall reward for a country's economic development if we get enough girls to go to school and train for the future. The barriers that exist - child labour, early marriage and even violence - need to come down and all our efforts add to make that difference.
As I left the last school I visited I have an abiding memory of the debating class sharing their slogan with me - YES to education, NO to child labour.
Sarah Brown is President of Theirworld and co-founder of aworldatschool.org, the digital mobilisation initiative to get every child into school and learning by 2015
Sport Relief creates lasting change for people in the UK and across the world. Find out how you can get involved at sportrelief.com
Related