Remember when you were little and your mum used to wear No7 make up and you thought it was SO grown up? I vividly recall being desperate to get my hands on my mum's trio of grey eye shadows from an early age when my experience of make up was strictly limited to experimenting with my Girl's World.
On that glorious day when I was finally deemed old enough to wear make up, I went straight down to the big Boots in Ilford and made for the 17 display. I felt No7 was for the more accomplished make up wearer, not some novice like me.
With its elegant packaging and - at that point - more muted hues, it was way too sophisticated for my youthful tastes. But, as with so many classics (and olives), eventually I grew into it and now, from the wonderful Poppy King collaborations to their incredibly advanced skincare products, I'm discovering just how good No7 really is.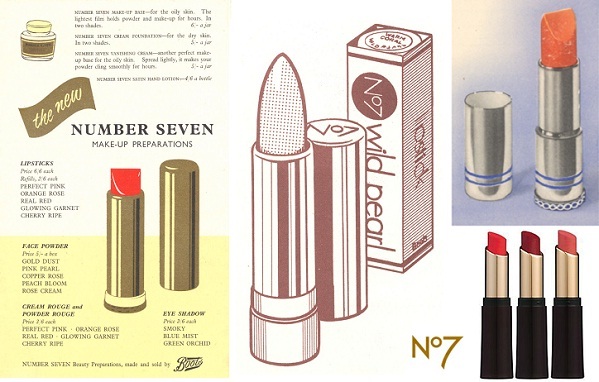 The No 7 Heritage - left, 1960s advert for Number Seven Lipstick in Gay Geranium; centre, 1970s image featuring the No7 Wild Pearl Lipstick; top right, 1930s image of the original Number Seven Lipstick; bottom right, today's No7 Stay Perfect Lipstick, which is still available in the classic Gay Geranium shade which was first introduced over 50 years ago.
A true British beauty industry success story, 'Number Seven' was launched by Boots in 1935 with a range of just 11 products, most of which were skincare, followed in 1937 by colour cosmetics, making this year the make up range's 75th anniversary. The name was chosen to draw on the fact that the number seven was often used to signify perfection, and Boots wanted No7 to stand out from the various other own-brand lotions and potions they produced.
The brand, which has only had eight redesigns in its history, has gone from strength to strength over the years. In 2007 the BBC put No7's skincare firmly on the 'must have' map when it's Horizon show investigated skincare. Their research showed that No7 Protect and Perfect anti-ageing beauty serum did indeed work, leaving skin visibly smoother. It created the biggest furore on the High Street with crazy queues, stockpiling, sell-outs and even talk of waiting lists. I remember looking for it in every Boots I went in out of sheer curiosity but it took months to find because as soon as it hit the shelves, it was gone again. Savvy No7 knew a good thing when they saw it and quickly expanded Protect & Perfect to include creams, foundation, body products and men's skincare.
From its humble beginnings as a skincare range, No7 has made great strides; adding men's skincare, beauty accessories, bathing and sun protection product strings to its already impressive bow. My favourite of their recent products have been from the collaborations with Poppy King, an innovative high end lipstick designer who also produced lipsticks for Lady Gaga's 2011 charity project, Gaga's Workshop, at top New York department store, Barney's.
These uplifting, fun Poppy King products with their on trend colours in modern finishes and super cute polka dot packaging are what drew me in to No7, then the hot pink Vital Brights lipstick with it's modern white casing suckered me and, whilst I'm still getting to grips with the new Lift & Luminate day and night face serums (both come in the same box but in separate tubes which I thought was pretty cool), I've definitely been won over. It might even be time for my own eye shadow trio.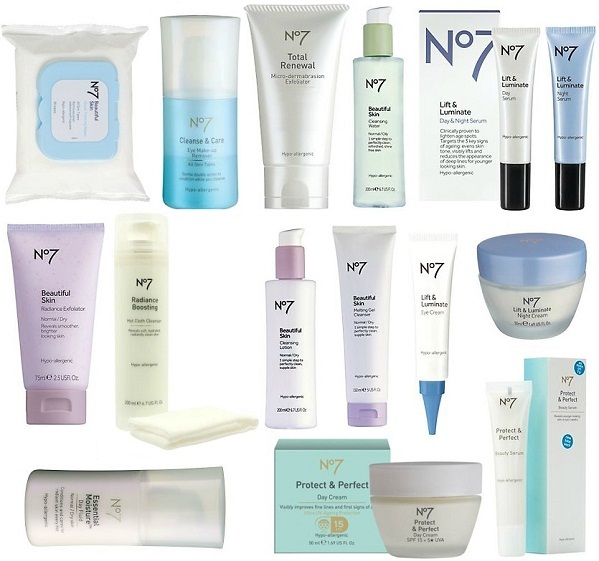 Top row:No7 Beautiful Skin Quick Thinking Wipes, £7; No7 Cleanse & Care Eye Make up Remover 100ml, £7.75; No7 Total Renewal Micro-Dermabrasion Exfoliator 75ml, £11; No7 Beautiful Skin Cleansing Water for Normal / Oily Skin 200ml, £9; No7 Lift & Luminate Day & Night Serum 30ml, £24.95.
Second row:No7 Beautiful Skin Radiance Exfoliator, £8; No7 Radiance Boosting Hot Cloth Cleanser 200ml, £10; No7 Beautiful Skin Cleansing Lotion for Normal / Dry Skin 200ml, £9; No7 Beautiful Skin Melting Gel Cleanser for Normal / Dry Skin 150ml, £9; No7 Lift & Luminate Eye Cream 15ml, £16; No7 Lift & Luminate Night Cream 50ml, £23.
Third row:No7 Essential Moisture Day Fluid, £10; No7 Protect & Perfect Day Cream, £21; No7 Protect & Perfect Intense Beauty Serum - Tube 30ml, £23.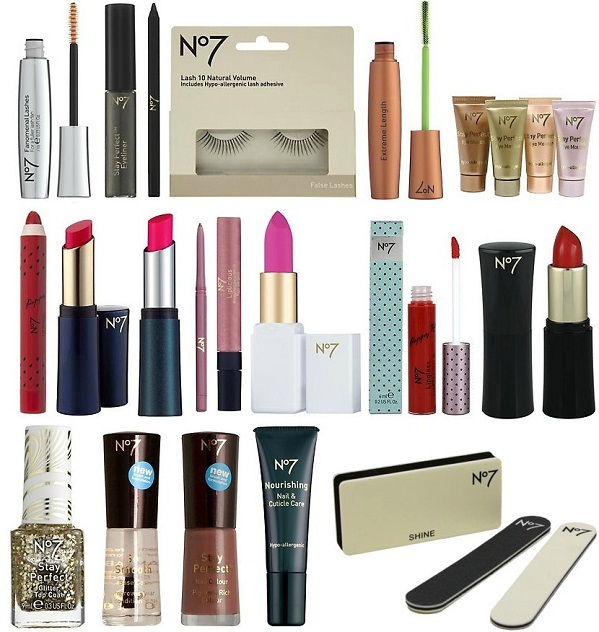 Top row:No7 Fanomenal Lashes Mascara, £12.95; No7 Stay Perfect Eyeliner, £8.75; No7 Metallic Eye Pencil, £7.75; No7 False Eyelashes 10 Natural Volume, £7.50; No7 Extreme Length Mascara 7ml, £12.50; No7 Stay Perfect Eye Mousse 5ml tubes, £9 each.
Second row:No7 Poppy King Lip Crayon from the Raindrops Collection, £11.50; No7 Wild Volume Lipstick, £10; No7 Sheer Temptation Lipstick, £10; No7 Perfect Lips Liner, £7.50; No7 Liplicious lip gloss, £10; No7 Vital Brights Lipstick, £10; No7 Poppy King Lipgloss, £11; No7 Moisture Drench Lipstick, £10.
Third row:No7 Nail Glitter Top Coat in Gold, £8; No7 So Smooth Base Coat 10ml, £7; No7 Stay Perfect Nail Colour, £7; No7 Nourishing Nail & Cuticle Care, £7; No7 Ultimate File and Nail Buffer, £2.19.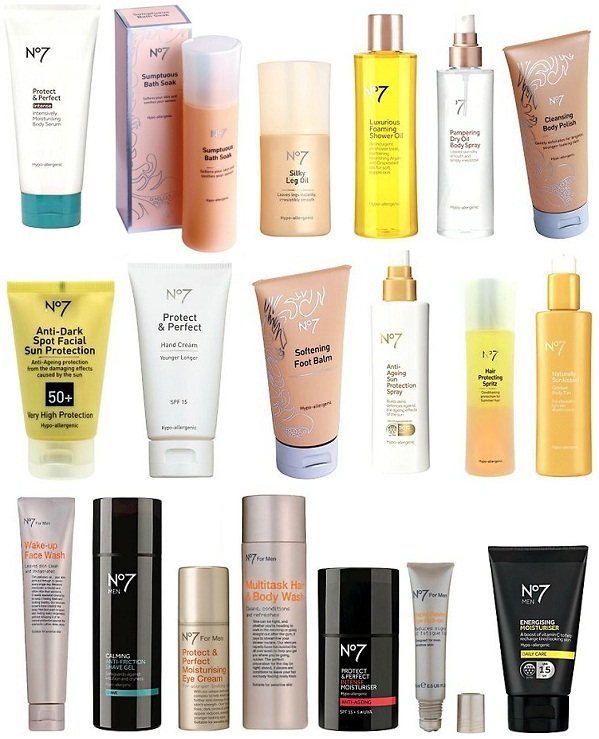 Top row:No7 Protect & Perfect Intense Body Serum, £27; No7 Sumptuous Bath Soak 200ml, £9; No7 Silky Leg Oil 100ml, £11; No7 Luxurious Foaming Shower Oil, £9; No7 Pampering Dry Skin Oil Body Spray 200ml, £8.75; No7 Cleansing Body Polish 200ml, £9.
Second row: No7 Anti-Ageing Facial Protect SPF 50 50ml, £11; No7 Protect & Perfect Hand Cream 75ml, £10.50; No7 Softening Foot Balm 75ml, £10; No7 Anti-Ageing Sun Protection Spray SPF30 200ml, £12.50; No7 Hair Protecting Spritz 200ml, £6; No7 Naturally Sun Kissed Gradual Body Tan, £9.50.
Third row:No7 For Men Wake Up Face Wash 150ml, £7; No7 For Men Anti-Friction Shave Gel, £6.75; No7 For Men Protect & Perfect Moisturising Eye Cream 15ml, £12; No7 For Men Multi-Tasking Hair & Body Wash 200ml, £7; No7 For Men Energising Moisturiser, £8.25; No7 For Men Rapid Revival Eye Roll On, £12; No7 For Men Protect & Perfect Intense Anti-Ageing Moisturiser, £22.