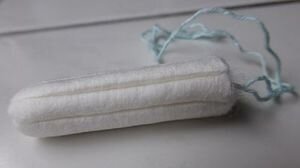 Since moving from London to Johannesburg I have been struck by the high cost of tampons. I had an inkling that this wasn't because my mental currency conversions were off - this essential product is out of reach of many South African women.
In the UK you can pick up much cheaper own-brand alternatives, but here the choices are limited: the major brands jostle for shelf space and come at a cost. With each period costing an estimated R37.50 (just over £2) in sanitary products, this is simply not affordable when essentials like food are a priority.
Many women and girls are forced to use unhygienic alternatives like rags, newspapers and leaves which are uncomfortable, risk infection and often fail. With these make-do options girls are too embarrassed to risk going to school. According to UNICEF, more than one in ten school-age girls either skips school when she is menstruating or drops out entirely. Many miss up to a week of school each month, making it impossible to catch up.
This tragic dilemma has disastrous consequences for girls: a lifetime of poverty, illiteracy, and diminished choices. While condoms are made available free of charge, where are the free sanitary pads to address this disaster for women's productivity and education?
In 2011, South African President Jacob Zuma acknowledged the need for pads in schools with a proposal that free sanitary towels should be provided to schoolgirls. It's 2014 and with no sign of an official policy, any chance of gender equality progress has taken a severe blow.
The solution seems so simple: give girls the pads they need. But providing pads goes hand in hand with having a private place to change and bins for safe disposal. This all costs money. Some corporate initiatives have made a dent, such as Procter and Gamble's 'Protecting Futures' programme. Working in several African countries, they have built toilet facilities, educated teachers, and distributed free pads. But schemes like this do not provide a sustainable solution to the lack of affordable products.
Now back in March last year I heard about this ingenious Indian man's achievements: when he realised his wife's monthly predicament and discovered it was a problem the whole community secretly faced, he set about inventing a machine that could cheaply manufacture the pads she needed. He has now established a whole network of women across India who manufacture and sell directly to other women. A similar venture must surely be possible in South Africa.
The solution that a charity called Dignity Dreams (based in Gauteng province where I live) has come up with are reusable sanitary packs. These contain washable pads which they distribute in underprivileged areas. One pack costs R80 (£4.50) and has everything a girl needs for two years. Not only do they impact young women's lives but also those of the community:
"We are very proud of our contribution to lower unemployment - we employ unskilled women in Pretoria, thereby transferring skills and contributing to their economic empowerment."
And I was delighted to discover that Dignity Dreams are not the only ones. Sue Barnes used her background as a pattern maker and designer to invent 'Subz' pads when she realised that donations of disposable pads just weren't going to cut it. Subz packs consist of underpants and reusable pads that clip on with poppers - and Barnes reckons they will last for three to five years.
While handing out Subz packs through Project Dignity, Barnes also gives the girls a set of education sessions on puberty, menstruation, personal hygiene, sexual health and HIV.
"The girls are so excited to get help with this as they don't want to miss school," she says. "For some, it is the first time they have received panties."
This industry sponsored video explains the project's journey:
30,000 Subz packs have been distributed so far and the project continues to grow across South Africa. Barnes has been awarded funding to recognise her achievement and keep the work going.
"What I do is incredibly rewarding," she says, "providing a sustainable solution and seeing these young girls who can flourish and contribute to the fabric of our society."
I like the sound of all of this. These projects kill two birds with one stone: affordable sanitary protection that offers young women a real chance at a future, and an environmentally friendly solution too. I think we could all get on board with that.