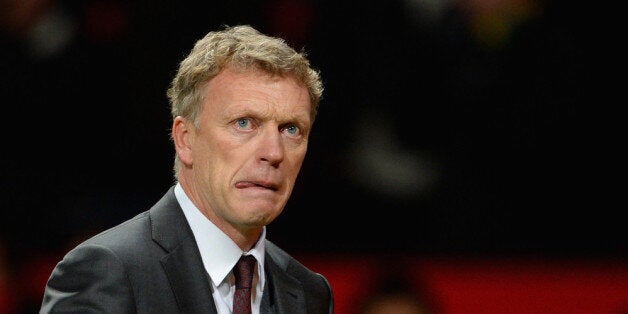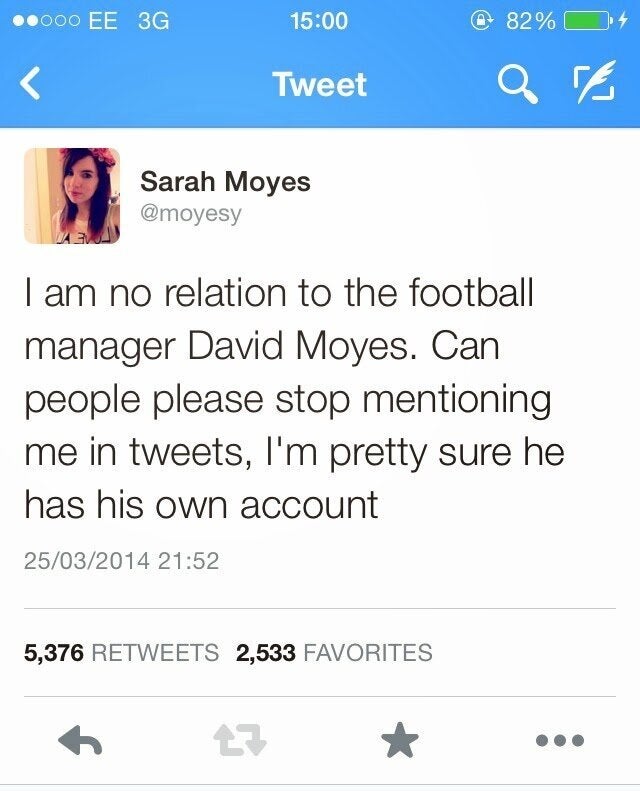 This is how the whole thing started. It was meant to be a harmless tweet directed at the people who tweet me every single time Manchester United play. For some odd reason, people seem to think I am actually David Moyes or they just assume we're related, with most thinking I'm his daughter (who looks nothing like me). Most of the tweets were pretty harmless before this week, and usually just asked me to sort out the team. However what's happened since this tweet was posted on Tuesday night has been completely unbelievable.
In the first 24 hours, it had been retweeted about 1,000 times. That's not counting the hundreds of new followers, favourites and mentions I was receiving every few minutes. By this point I'd already been contacted by the Manchester Evening News and had a call from Key 103 in Manchester about appearing on the Breakfast Show the next day.
Then on Wednesday evening, Gary Lineker retweeted it and my phone literally had a meltdown. I can't begin to explain how many times per second I was receiving new notifications on Twitter. It actually took me about 15 minutes to scroll through them all to see the notification of his retweet because of the volume of mentions coming through.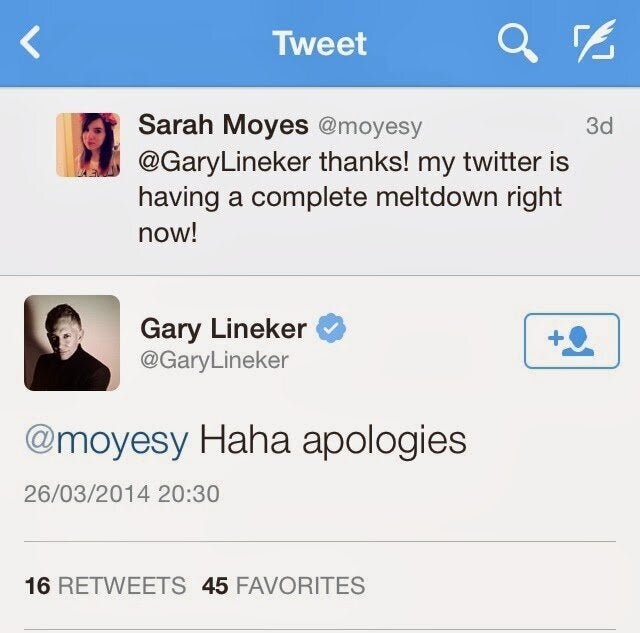 I guess that's when the really abusive tweets started. I'd heard about trolling before and I was bulled in school, but I have never ever experienced anything like this. I understand that these people don't know me and they probably do it to lots of other people, but that doesn't make it any easier to read. Here's a very small selection of some of the most extreme ones...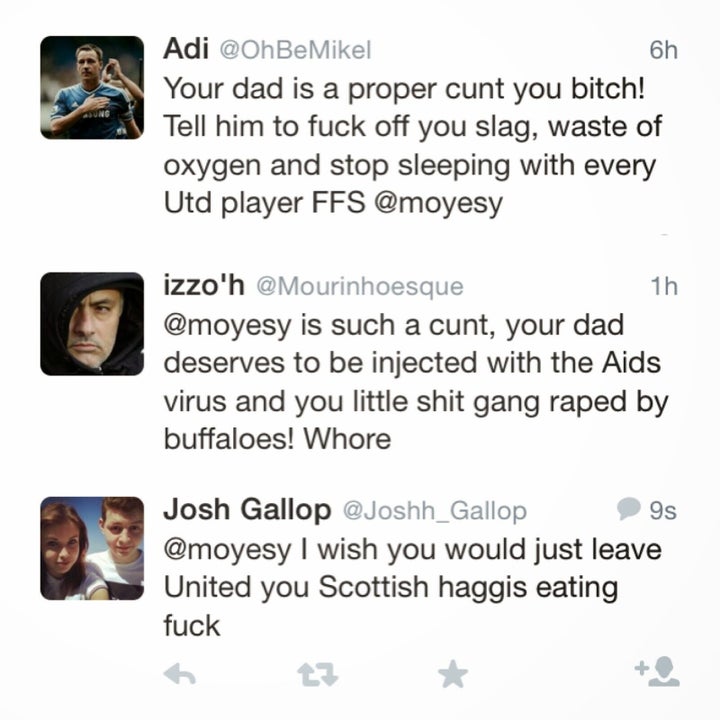 While these are horrific, I've lost count of the number of tweets I got telling me how ugly I am. It's not nice for any girl (I might be 27, but I still feel weird being called a woman) to read. While it can be easy to put on a brave face and brush off the extreme ones, I think I found it harder to read the ones attacking my appearance. You just have to ask my best friends how little self confidence I have at the best of times, especially when it comes to how I look. So by Friday night, I was pretty upset over the sheer volume of horrible tweets that were coming through.
It also makes you wonder if I'd have got the same amount of abuse had I been a guy. About 95% of the abuse was from men, the only girls having a go where those who told me to change my name. But I can't imagine they'd be calling another guy half those names, if it had been a man in my position.
Lucky I have some of the best friends in the world who have been lovely throughout the whole thing, and others who I may not have heard from in a while, but who definitely had my back. It was nice to see some comedians coming out to support me too (even if I don't actually know them)...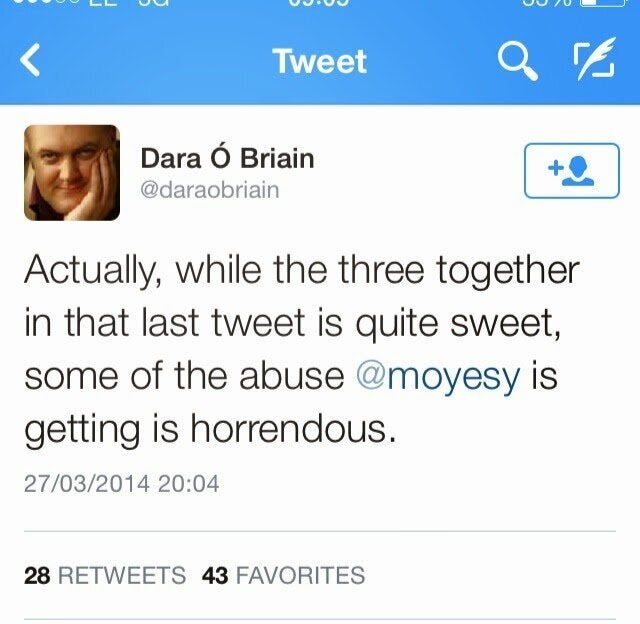 So when I woke up on Friday, my face was splashed across the Sun, Daily Record and Edinburgh Evening News...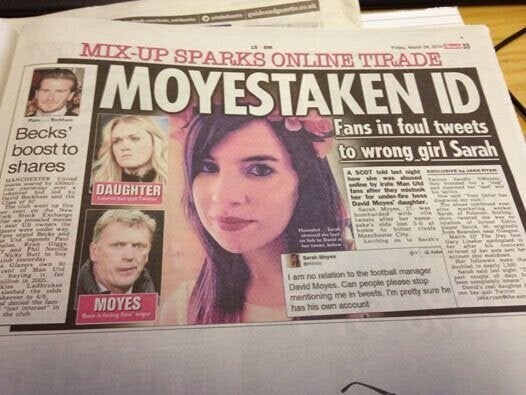 That's not to count the various websites who picked up on the story including Daily Mail and Buzzfeed. I also ended up getting interviewed for Radio Forth, and I spoke to Des and Jennie on the Capital FM Breakfast show on Friday morning too.
One of the main misconceptions from the people tweeting me and who still are tweeting me, is that I love the attention. I've got hundreds of tweets like these telling me so and calling me names in the process...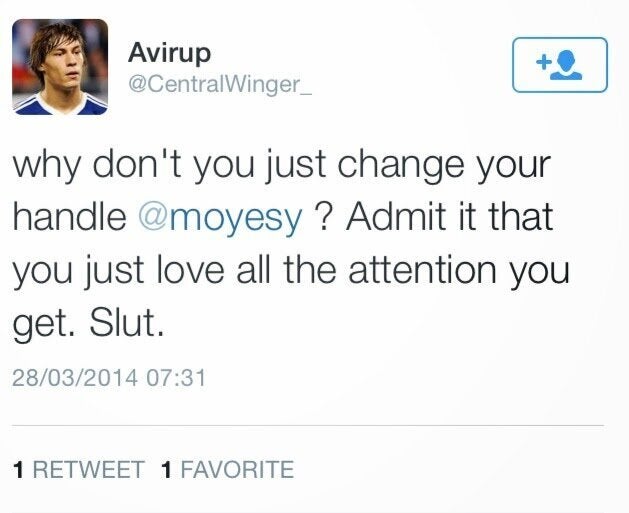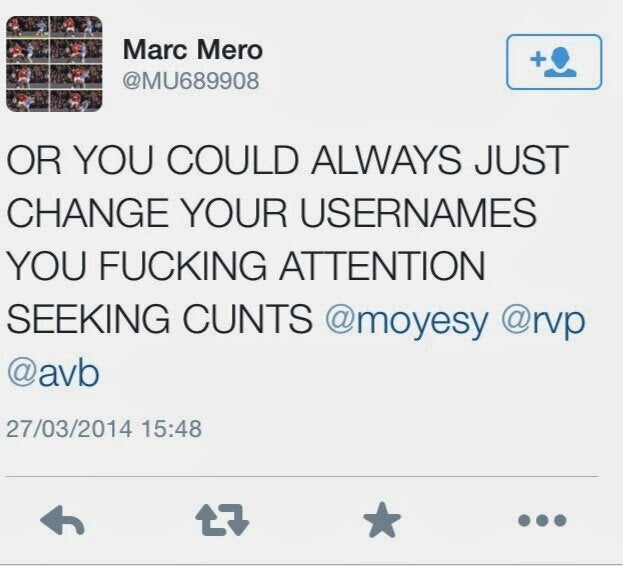 I can safely say I DID NOT enjoy the attention. I have enough anxiety about things without all this going on too. I was pretty excited to be mentioned on Buzzfeed considering how much time I spend doing quizzes to find out which member of Girls I'm most like. But that doesn't mean I'm an attention seeker at all.
The reason I don't want to change my name is simple, it's because that's what people have called me since I was 16. The first time I got called Moyesy was by a journalist at the Falkirk Herald when I was on work experience from school. I wasn't overly keen on it at the time, but then Zane Lowe called me it during some work experience at MTV, and it just kind of stuck. More friends call my Moyesy than Sarah, and it's also the name I use on various other social networking sites. I guess I'd feel defeated if I changed it now, and I really don't want to do it.
It's now been five days since it all kicked off and things are finally starting to die down. I'm still getting lots of new followers, mentions and retweets every hour. And I'm also getting lots of new Facebook friend requests from people on the other side of the world thanks to some Indonesian website called Boladoang posting the story. I think it's fairly safe to say the worst of it is definitely over though.
I also want to say thank you to EVERYONE who sent me lovely messages over the past couple of days, it really has made all the difference. While some of it has been funny, it's also been pretty intense and I do appreciate the support I've had.
And before I forget, can we all pray that Man United win against Bayern Munich on Tuesday?!
P.S - Thanks to Tony Jameson for the blog post title. If you saw his Fringe show last year, then it'll probably make more sense.
Related