Last week I visited a school in North London with Cllr Catherine West and Vera Baird QC, following the launch of Labour's Women's Safety Commission report. We held the first of a new series of girls' safety summits, part of our ongoing strategy to prevent the escalation of gender-based violence.
The event also marked the end of the global 16 days of action to eliminate gender-based violence. As domestic violence and sexual assaults are increasing in the UK and in other nations, the big challenge we now face is how to effectively intervene to reduce the impact and prevalence in the next generation.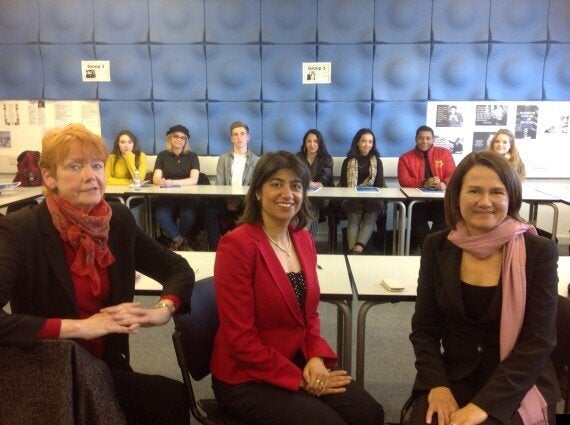 Something in modern culture seems to be starting to normalise violence in relationships. One in six teenagers in relationships say they have experienced sexual violence. One in three teenagers say they have had to put up with unwanted groping or harassment in school. And in the digital age that we now live, violent or abusive sexual images are only ever a few clicks away. Exposure to these can have a profound effect on young people's understanding of sex and relationships.
Young people today are navigating a very different world, and a strong message that emerged from the summit last week is that adults have got their head in the sand. All too often decisions are made on a perception of young people's lives rather than the reality. And a common thread through the discussion was the need for high quality, age appropriate and non-patronising sex and relationships education.
"What do you do if you are subject to an abusive relationship?" asked one student who later revealed her friend was in an abusive relationship but hadn't known who to tell. "She's safer now as she's at uni. But teachers should have known why she was missing class or wasn't getting her grades. There is no one for kids to go to for psychological abuse counselling which they know will be confidential. They turn to their friends who also don't know how to deal with it."
"The sex and relationships education we had... we weren't taught healthy relationships in a way we could relate to - we felt patronised."
Reflections on the internet were also revealing in formation of cultural attitudes, but also as a source of advice particularly when no other advice is available. "It's true, there can be a lot of negative things on the internet, but it can also be where we go to look for advice and solutions" said one Year 13 student. "But we also know it can influence behaviour," said another. "On YouTube, you can put anything. There is no control. There was one guy who put up a video where he touched girls in the street and then pretended it wasn't him. Those sort of prank videos can mean people become desensitised."
Another talked about comments on The Lad Bible, and the impact they have. "All those derogatory comments can lead to an entitlement thing - where men think it is ok to shout "nice tits" at a girl walking down the street in school uniform. We also know boys go out in the evening looking for girls who will do what they have seen in the porn videos. And we know boys are watching porn even when they are aged 12 - by the time they have sex and relationships education a few years later it's too late."
But it wasn't just girls raising concerns. One young boy said: "Yes, I know I watch them, but in music videos you'll have a guy surrounded by girls who are like possessions and it sends the message that you just need money and women. In the media the way girls and boys are presented suggests behaving a certain way is acceptable. Adults and the media has to take more responsibility."
So how do politicians respond? There's a long way to go, and compulsory relationships and sex education is a first step, but the bigger change is going to need to be a shift in society that says it is no longer acceptable to sit back and do nothing as our young people grapple with the challenges posed by an increasingly complex world. If we want the next generation to have every chance of growing up in a fair, safe and equal world, all of us - including politicians - need to act.
Popular in the Community