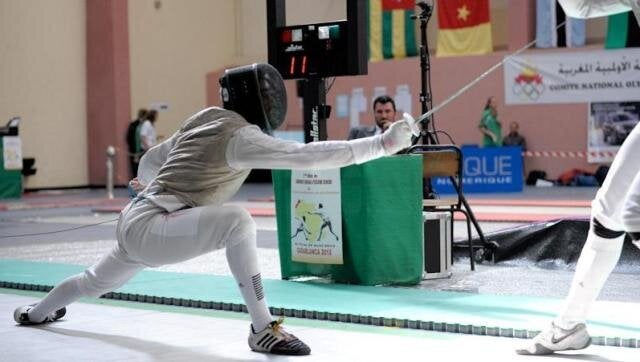 At the 1996 Atlanta Games, 26 countries did not send women and by the 2008 Beijing Games, only three countries (Saudi Arabia, Qatar and Brunei) did not have female Olympians. It is therefore a very important milestone that every Muslim majority country competing at the London 2012 Olympics will now have at least one woman in their team. Even if Muslim women don't win any medals they are guaranteed to be a source of inspiration for many young Muslim girls across the world wanting to take up sports.
As these Olympics will host the most Muslim women in the games history, I have decided to highlight my favourite Muslim female Olympians from past to present. My list mainly includes women who have made history by being pioneers or have had to overcome substantial obstacles just to compete. I am giving special attention to Muslim sportswomen because they are comparatively small in number. I consider them extraordinary because of the many challenges they have to overcome.
Their biggest hurdle preventing girls from taking up sports is religious extremism, particularly for those living in conservative Muslim countries. Although there is nothing in the Quran forbidding women and girls from exercising and playing sports, religious scholars are making Islam more restrictive than it should be through misinterpretations. They disregard the fact that Islam encourages health and fitness for both men and women.
Clerics also conveniently ignore Islamic history, which tells us that female warriors took part in battles. The likelihood is that these women were involved in very physical and demanding activities. Other barriers holding girls back from sports include: lack of funds and training facilities, family, and dress codes. However, girls are now starting to become aware that participating in sports is not against Islam and are slowly getting involved in sports. Some are even choosing to combine their faith with their chosen sport by competing in a headscarf and by wearing modest sportswear.
Before I highlight a few of my favourite Muslim female Olympians, one British Muslim woman not on my list deserves a special mention. Zaha Hadid has played an important role in London 2012. The globally renowned and award winning Iraqi born architect designed the iconic Aquatic Centre where the swimming events are taking place. It is also important to recognize that a Muslim woman has designed one of the Olympic landmark buildings.
Some of the Muslim female Olympians from past to present that I would like people to know about are:
First Muslim Woman to Compete in the Olympics
The first Muslim woman to compete in the Olympics was archeologist, Halet Cambel. When the founder of the Turkish republic, Kemal Ataturk promoted women's sports, she took up fencing and represented Turkey in the 1936 Berlin Games. She was even invited by a female German Official to meet Hitler, but refused on political grounds.
Nawal El Moutawakel (Morocco)
First Muslim to Woman Gold Medal
Nawal El Moutawakel made history at the 1984 Los Angeles Games. When she won the 400m hurdles race, she by became the first Muslim woman and first African female to win an Olympic gold medal. The victory was a breakthrough for sporting women in Morocco and other Muslim countries. Since her Olympic win, El Moutawakel has continued to be a role model and break new ground.
In the late 1990s El Moutawakel organised the first Moroccan women's 10 km race through the streets of Casablanca. It now attracts more than 27,000 participants annually. She was appointed inspector at the Ministry of Sport and Youth, as well as the national sprint and hurdle coach. She was named Minister of Sports in 2007. She became a pioneer again in 2008 when she became the first Muslim woman to be elected to the powerful executive board of the International Olympic Committee (IOC), who are responsible for setting the Olympic agenda. Her huge contribution towards women in sport was recognized when she received her Lifetime Achievement Award in 2010.
Hassiba Boulmerka (Algeria)
First to win Olympic Gold for Algeria
Hassiba Boulmerka made history for Algeria. She won a gold medal in the 1500m race at the 1992 Barcelona Olympics. It was Algeria's first gold medal at the Olympic Games. Although she was hailed as a national hero by some, Boulmerka was also condemned by extremist groups for showing too much of her body while competing. Death threats eventually forced her to move to Europe for training. Boulmerka went on to win medals at the World Championships - a bronze in 1993 and a gold in 1995. She retired from athletics in 1997 and is now a successful businesswoman.
Ruqaya Al Ghasara (Bahrain)
First Muslim woman to wear hijab at Olympics
When Ruqaya Al Ghasara represented Bahrain in the 2004 Athens Games, she became the first female athlete to wear a full hijab (headscarf) at the Olympics. She was also one of the first women to represent her country at the games (although Bahraini women had participated in the 1984 Paralympics). To participate in the 100m sprint races she had to overcome a lot of objections from fundamentalists. Although Ghasra did not win a medal, she went on to win a gold at the Asian Games in the 200m race and also competed in the 2008 Beijing Olympics, where she was her country's flag bearer. She is not participating in the London 2012 Olympics as she retired in 2009.
First female to win Olympic gold for her country
When Nurcan Taylan claimed gold at the 2004 Athens Games, she became Turkey's first female Olympic gold medalist. However, the 5ft tall reigning world champion and six times European champion is not participating in the London games after failing a drugs test. The 28-year-old now faces a four-year ban. Although Taylan has been involved in a doping scandal, I felt she deserved to be mentioned because she is a weight lifting legend in 48kg category - she holds six European and one world record with another two tied world records.
Nur Suryani Mohammed Taibi (Malaysia)
A few days after finding out she was selected for the Olympic team for London 2012, Taibi, found out she was pregnant. Only a few pregnant women have competed in the Olympics, but Taibi is certainly making history by being the most pregnant woman to participate in the games at eight months pregnant. These are Taibi's first Olympics, and the Games will be even more special because she is sharing the moment with the baby daughter inside of her. Taibi is ranked 47th in the world and won two gold medals at the Southeast Asian Games in 10 metre air rifle and 50 metre rifle in last November.
Khadija Mohammed (United Arab Emirates)
First female weight lifter from the Gulf
This 17-year-old is a future star because she is the first female Emirati and one of the few Muslim women who qualified outright for the Olympics. Many others were given wild card entries because they did not meet the Olympic qualifying standard. Khadija Mohammed is also making history by being the first female weight lifter from the Gulf at the Olympics.
She was only introduced to weight lifting two years ago by former Egyptian Olympic lifter Najwan El Zawawi, who established a gym in the U.A.E Mohammed who will be competing in the 75kg category is fortunate that her family is supporting her dreams. There is widespread resistance to weight lifting in Muslim families and societies because it is confused with bodybuilding - they fear girls will develop masculine bodies and not receive marriage proposals.
Sarah Attar and Wojdan Ali Seraj Abdulrahim (Saudi Arabia)
Making history for Saudi Arabia
Sarah Attar is competing in the 800m race and Wojdan Ali Seraj Abdulrahim in judo at the London 2012 Games. They are making history by becoming the first women to represent Saudi Arabia. Although they both actually live outside of the Kingdom, this is a very important breakthrough for one of the most religiously conservative countries in the world. This paves the way for women activists to demand internal policy changes, enactment of laws and provision to allow women and girls to play sports and compete within and outside the kingdom.
Woroud Sawalha (Palestine)
Making it to the Olympics despite living in an area of conflict
Woroud Sawalha has made it to the London 2012 games despite being surrounded by violence, subjected to travel restrictions, facing regular security checks and having no training facilities. The 20-year old is taking part in the 800m event. Sawalha is unlikely to win a medal because her personal best is 53 seconds slower than the Olympic gold medal-winning time. However, for her just competing under the Palestinian flag will be a source of pride. The U.N. does not recognize a Palestinian state but athletes have been allowed to compete under a Palestinian flag by the International Olympic Committee since 1996. Sawalha will not be the first woman to represent Palestine as they sent the first female athlete in 2000.
Tahmina Kohistani (Afghanistan)
Female athlete from a war torn country
Tahmina Kohistani will be Afghanistan's only female athlete at the London Games. She will be competing in the 100 and 200m events. The 23-year-old runner will be the third woman ever from the war-torn country to compete in the Olympics. Kohistani has been training at Kabul's Ghazi Stadium, a place where the Taliban used to carry out public executions - a reminder of the brutality of the former regime.
However, Afghanistan still remains one of the most dangerous places in the world to be a woman. Kohistani's presence at the games is therefore even more important because she will not only be representing herself but all women of Afghanistan. She will be helping to pave the way for other Afghan girls to follow in her footsteps. A woman participating in sports was something unthinkable 10 years ago when the Taliban were in control. Despite breaking barriers, Kohistani does not have the whole nation behind her. Olympics preparations took place behind guarded doors due to fear of retribution. She has encountered hostility from a very religiously conservative society that severely opposes women playing sports and participating in any form of public life.
Fatima Sulaiman Dahman (Yemen)
Only female athlete representing her country
Fatima Sulaiman will be the only female athlete representing Yemen at the London Olympics. She has had to overcome strong male prejudices and civil unrest to make it to the games. In Yemen girls are only allowed to train inside stadiums. So whenever Dahman wants to train outside, she waits until dark so no one can see her. During the uprisings in Yemen it was difficult for Dahman to leave her home to train. When Dahman was able to travel to the stadium, she had to mostly practice alone because there are only a few other female athletes in her country. When she first joined her sports club, there were 20 girls but now she is the only one left because the others did not receive support from their families to continue. The lack of family encouragement is not surprising in such a strongly male-dominated and tribal society, where child marriage is common. However, Dahman's parent, both doctors, encouraged her to compete. The 19-year-old received an Olympic scholarship and entered the women's 100m event.
Bahia Al Hamad, Nada Arkaji, Noor Al-Malki and Aia Mohamed (Qatar)
First Qatari women to compete in Olympics
Shooter, Bahia Al Hamad, swimmer, Nada Arkaji, sprinter, Noor Al-Malki and table tennis player, Aia Mohamed are making history for Qatar by becoming the first women to represent their tiny nation at the Olympics. Bahia Al Hamad was also given the privilege of carrying her country's flag at the opening ceremony. Perhaps it is no surprise that Qatar are encouraging women to play sports because they will be bidding to host the 2024 Olympic Games. Qatar can lead the way in the Gulf region and in the rest of the Muslim world by promoting sports for women.
Egyptian Women's Olympic Team
Country with the largest delegation of Muslim women
Egypt has the most Muslim women in their team compared with any other Arab or Islamic nations at the London 2012 Olympics. Despite their political instability, Egypt has 36 female Olympians, which is the largest female delegation it has ever sent. The number breaks the previous record of 29 Egyptian women athletes at the 2008 Beijing Olympics. The women will be competing in archery, athletics, badminton, fencing, gymnastics, pentathlon, rowing, shooting, swimming (including synchronized swimming), table tennis, taekwondo, weight lifting and wrestling.
Related