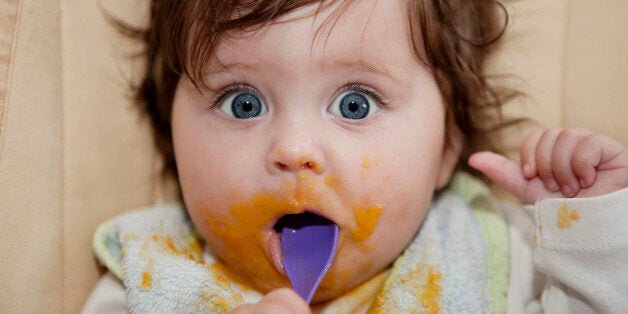 Babies. Our bundles of joy. What we wouldn't give up for them? What energy we wouldn't expend for them?
The Department of Human Nutrition at the University of Glasgow have released a report which claims that a baby would need to eat two times as much shop bought food to get the same energy and protein they would receive from a portion of home cooked food. As part of the report, the researchers tested baby food products from major producers such as Cow and Gate and Ella's Kitchen. The report also stated that controversially most producers provided a variety of products that were for babies 4+ months.
The Department of Health currently advises that solids should only be introduced from 6+ months and that "mothers who wish to introduce solids before six months should always talk to health professionals first." When I checked the various babyfood producer websites, there was no mention of the 4+ v 6+ month debate. Interesting!
I thought back to my time as a young mum. The baby food industry was nothing like the £611 Million annual UK industry it is today. Attitudes were different. I always made sure that I was at home around meal times and the odd time we went on a day trip, I had a bag of little pots made up ready to go. I'd retrieve the flask of hot water and place the little pots in there to heat up. Was this the best from a food safety perspective? Probably not, but it was the 80s, it was the norm and well hell, my kids are alright.
So why did I make these pots and not buy the ready-made versions? I could say the reason for this was financial, but it was more that there was a stigma attached to those who didn't cook. How hard was it to make a little extra and freeze it for another time? It also gave you more choice in what to feed your little ones.
Over time society grew to accept store bought baby food, but now it's beginning to change back as more and more people choose to cook healthy options for their children when they're at home. But on the road - convenience is king.
It's clear that the key to getting more nutrients in and having more control over the sugar input is to cook the right meals when you're home and have the time. So how do you do this?
Annabel Karmel (the children's chef) has some great ideas and recipes for cooking with kids, getting fussy eaters eating, how to style food for children's parties etc. However, what she has done (in my humble opinion) is to alienate children's food as a separate event from the family dinner. A parent spends the whole day perfecting her baby tomato sauce and butternut squash or fillets of plaice puree, but what do they do for their own dinner? I'd like to say they make a whole second meal, but often the reality is a quick takeaway or ready made meal. And what if the baby doesn't like your version of Annabel's concoctions? You can't exactly feed takeaways and ready meals, which are high in salt and sugar to a baby. What to do?
The key is to set the tone now. If you start preparing extensive secondary meals, you're setting yourself up for problems in the future. Cow and Gate state: why not start with simple vegetable tastes like carrot or parsnip and direct you to their pre packed Creamy Carrot and Potato pot (currently retailing at 65p per pot on mysupermaket.co.uk). I ask, why not make your own? Cook mum and dad a simple chicken dinner with unsalted carrots and potatoes and blend some extra veg for baby. Easy peasy.
Here some extra ideas of dishes you can make which are perfect for baby, teens and mum and dad. Once you're comfortable with this, check out Sian's Plan for more ideas.
- Beef stew seasoned with herbs - add extra veg for babies and toddlers,
- Bolognese - serve with rice for babies and toddlers
- Stewed apple with custard - yummy as is for all the family
- Salmon with potatoes and peas - blend for babies and toddlers
- Tomato and lentil soup - cooled for babies and toddlers
While you're at it, why not make double portions, separate them into small containers and pop the in the freezer for your next outing. I have no problem using the food companies' products every now and again. They can certainly help out in a pickle. But next time you're out, I am sure 'Todd' from 'Starbucks' would only be delighted to heat up the little pot of mushed carrots you have for your baby. You've paid £4 pounds for your coffee. It's the least he could do.