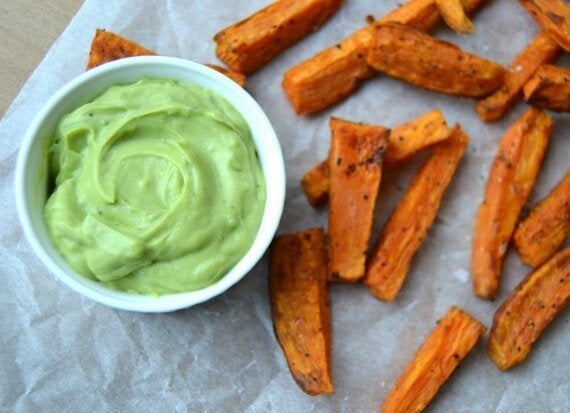 This spicy avocado dip is so creamy and delicious with sweet potato wedges. Avocados are everywhere these days. You see them in smoothies, on toast with lavish toppings, and made into decadent chocolate mousse. I love them as they're versatile and full of healthy fats and nutrition for your body. It only takes a few simple ingredients and they're transformed into something amazing every time.
As for sweet potatoes, they're increasing in popularity as an alternative to your usual white potatoes and they've become another favourite of mine. I actually crave them most days now! I love to make one or two as a snack with lots of coconut oil and cinnamon for a sweeter take or make a dip and create something a bit more savoury as is here.
You can make the dip a bit chunkier like guacamole but I love it really smooth. If you don't like it spicy, you can easily leave out the ginger. The combination of both the avocado and sweet potato creates a yummy snack or side dish.
1 clove of garlic, minced
1 tbsp. extra virgin olive oil
1 tsp. fresh basil, chopped
1-2 medium sweet potatoes
1. Preheat your oven to 350° while you slice the sweet potatoes in wedges. Add the coconut oil to a baking tray and pop in the oven for a minute or two to melt.
2. Remove from the oven and add the sweet potato wedges. Coat them with the coconut oil and season with salt and pepper.
3. Pop these in the oven for 25-35 minutes, turning once, until browned around the edges.
4. While the sweet potatoes are roasting, make the avocado dip. Add the avocado, garlic, ginger, basil, lime juice/zest, and olive oil to a food processor and blend until smooth.
5. Remove the sweet potato wedges from the oven and enjoy with the avocado dip.