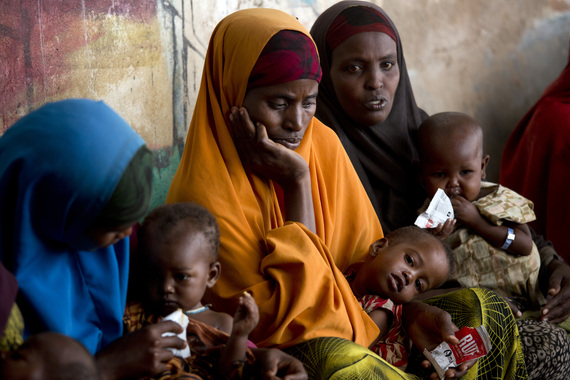 Mothers bring their children to a health clinic in an IDP camp in Baidoa, Somalia. C. UNICEFSomalia/2017/Prinsloo
Baidoa is a dusty town haunted by the memory of the past famine in which a quarter of a million people - half of them children - died. As the sun beats down on the parched grass, everyone from the local farmers to politicians and aid workers have only one issue on their minds - the possibility that if aid does not arrive, history could repeat itself.
A 50 minute flight north west of Mogadishu brought us to Baidoa's deserted airstrip guarded by soldiers. Nearby was one of the town's many makeshift settlements of basic huts made from grass, sticks and scraps, home to families who have fled drought and conflict over the years. And once again thousands of desperate families from the countryside are moving to towns in search of food and water after two seasons of failed rains. Their local rivers and wells have dried up, crops have failed and animals are dying and they have no means to pay for jerry cans of dirty water or food to eat.
It is always the children who suffer the most - and the rise in the already high number of malnourished children is a terrible warning sign of an impending crisis.
In a dimly lit Nutrition Centre supported by the United Nations Children's Fund UNICEF - children are measured and weighed and the parents of the most severely malnourished are given a supply of sachets of therapeutic peanut paste to treat them.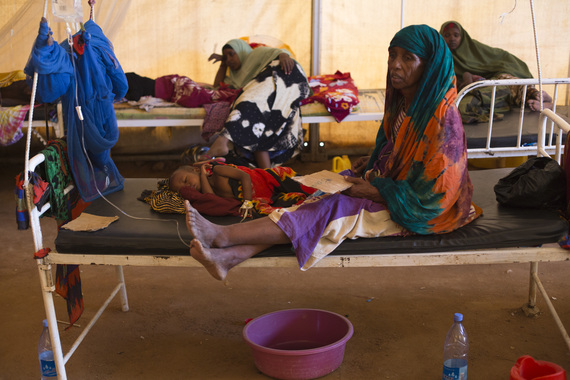 Children suffering from acute watery diarrhoea in the stabilisation centre for malnourished children in Baidoa, Somalia. C. UNICEFSomalia/2017/Prinsloo
Barwuo Hussein, a widow, brought her two year old Ware - who is the youngest of six and severely malnourished. She said there was no water at all and no food and she was collecting firewood to try to make money.
"The water truck comes sometimes but the water is so expensive - even to water a tiny bit of land," she said. "So we have no food unless I manage to collect firewood and make some money or we get given some."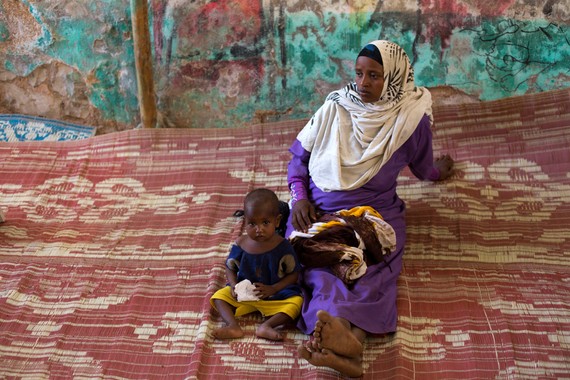 Barwuo is picture with her two year old, Ware. C. UNICEFSomalia/2017/Prinsloo
A community worker Fawzia Mohamed, who has been teaching mothers at the Centre about the importance of breastfeeding and nourishing food said the mothers she sees here are desperate.
"They tell me there's no water or food at home and the children are the first to suffer," she said. "This is an area where they grow the cereal sorghum but there hasn't been any harvest at all."
The children lie on their mothers' laps - quiet and solemn. Most have become malnourished because of illness - vomiting and diarrhoea - which drains their small bodies of any nutrients. They become weaker, have no nutritious food and become more prone to illness. On any given day there are around 71,000 children who are in need of lifesaving assistance. And one of the main causes of disease - is water.
Families have few options when it comes to water - a local river or a communal well even when it makes people sick. In times of drought the options are even more limited and water points become contaminated and water borne diseases flourish. More than a thousand people had come into the Baidoa's basic Bay Regional Hospital in January suffering from Acute Watery Diarrhoea (AWD).
Children and their parents lie silently on the beds crowded together in a massive tent. Mariam Hassan swots the flies away from her 14 month old grand daughter Hafsa.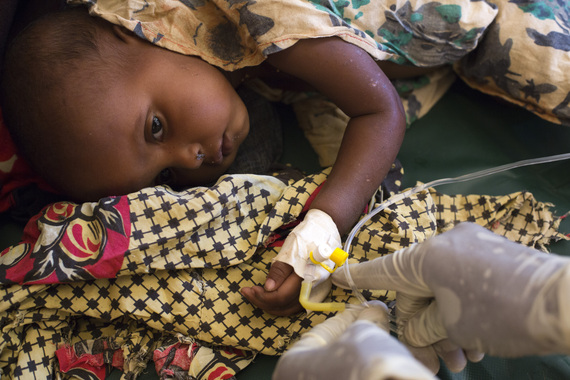 Fourteen month old Hafsa, suffering from acute watery diarrhea, receives a dehydration drip in the stabilisation centre for malnourished children. C. UNICEFSomalia/2017/Prinsloo
"Maybe it's the water - maybe the food," she said. "We don't know - but her sisters were here and have left. She started throwing up at night and brought her here three days ago."
The symptoms and treatment for AWD are similar to cholera and it can be life threatening to children due to the loss of fluids. So far 15 people have died in the hospital this year but it is likely many more died at home without ever making it to the Cholera Treatment Centre.
The situation in Baidoa and many other areas across the country looks bleak but there is still time to avert a famine if humanitarian assistance reaches suffering populations at scale. Even if it rains, it will be too late to avert a crisis unless accompanied by help. This time, in contrast to the lead up to the 2011 famine, warnings are being taken seriously, aid agencies are stepping up their life saving activities and donors including DFID which provided timely critical crucial funding.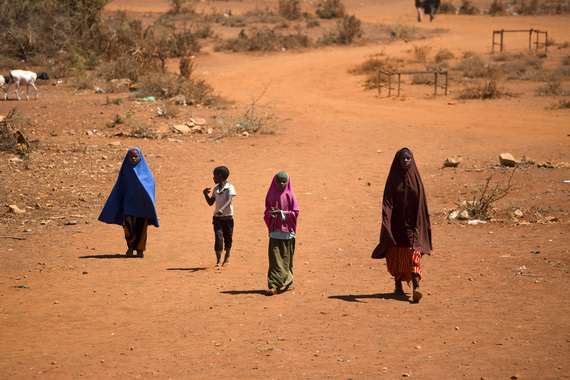 People can be seen in an IDP camp in Baidoa, Somalia. The severe drought is now affecting all areas of Somalia such as this and there is a serious possibility of famine. C. UNICEFSomalia/2017/Prinsloo
"We know that there is a small window of opportunity to stop a humanitarian crisis and we are working with other UN agencies such as the World Food Program, FAO and our local and international partner organizations to scale up massively," said Steven Lauwerier, UNICEF Somalia Representative. "If we wait for a famine to be declared it will be too late but if we act now we can and we will save thousands of lives."