Tracey Emin stands in a rain swept Time Square at midnight, lit by giant advertising screens that in tired parlance never sleep.
Pieces from her digital collection "I Promise to Love You" are slowly inked in neon hand across the New York night, momentarily displacing adverts for the "The Real Thing" and the pulse of the NYSE ticker.
"Everything's bright, everything's light, everything's advertising," Emin says to camera, as her work takes over the Square. "Just for a few minutes, we could actually think about things we feel."
Is Emin right? In a world where we spend an increasing part of our lives staring at screens, could Digital Art give us a moment to "think about things we feel"? Can it rescue us from the constant commerce by communicating to us in the medium of our time, or is Digital Art simply a poor substitute for The Real Thing?
Whichever side of the debate you fall, one thing's for sure. As a nation, we're hopelessly screen bound. The average Briton we're told now spends a total of nine hours per day looking at screens of one kind or another - some smartphone, laptop, advertising hording, TV or tablet seemingly always in our field of vision. We spend more time engaging with screens than we devote to sleeping. Thanks in no small part to the rapid emergence of mobile, the screen has become our significant other, our primary lens on the world. Many of us exhibit classic symptoms of addiction. We have gone through the looking glass.
And yet - galleries, museums and private collections apart - how many of us mere mortals actually own a digital piece of art? Despite our love affair with the screen, Digital Art remains the privilege of the collecting few and not the mobile many. But things are changing. The ubiquitous screen space around us affords new creative opportunities. Like empty warehouses on the edge of the city, the art community is slowly colonising these pixelated places. And by doing so, they're making art available to each and every one of us - as within reach as the remote control.
At the heart of this movement to reclaim our screens is a revolutionary content platform with ambitions to change the way we collect, view and share digital art. s[edition] was launched in 2011 by Robert Norton, former CEO of Saatchi Online and Harry Blaine, founder of Haunch of Venison, the contemporary art house. Like a cross between the White Cube gallery and Facebook, s[edition] makes available digital works by some of the world's most iconic contemporary artists including Tracey Emin, Damien Hirst and Bill Viola.
Free to join, s[edition] members can log in and purchase incredibly high-resolution digital artworks - specially created for the platform. Once you've purchased your Hirst or your Emin, you can display it on pretty much any screen format you care to think of, from your 4.5" smartphone screen to your 100" flat screen at home. Even - as demonstrated by s[edition] - on Time Square's giant advertising screens, should you have that kind of access.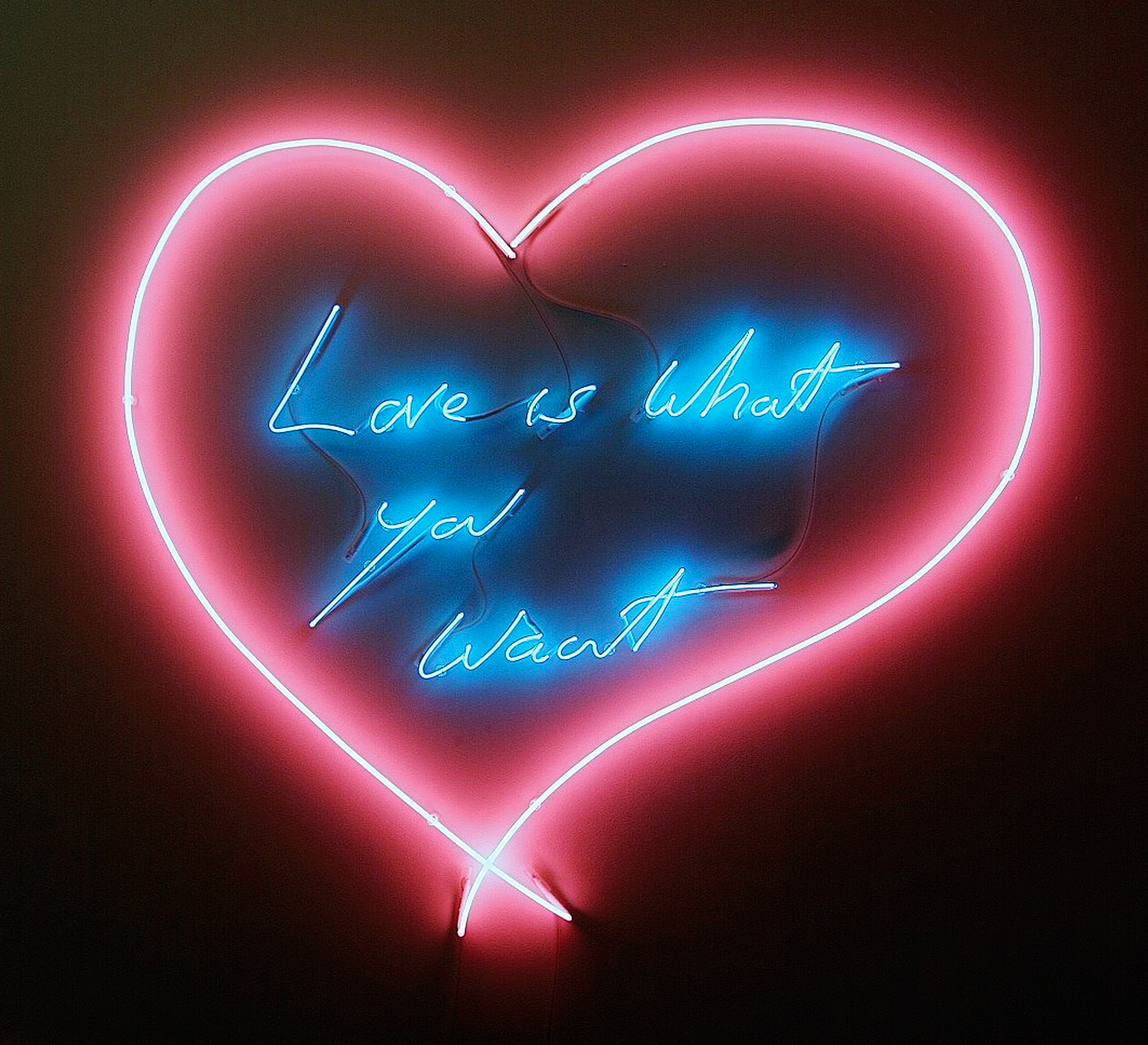 Tracey Emin, Love Is What You Want. Digital limited edition ©Tracey Emin, courtesy of www.seditionart.com
Each piece comes with a digital authentication certificate signed by the artist so unlike other ephemeral digital purchases - say of music or apps - there's a viable secondary market. The value of your digital art collection can appreciate, and you can resell. All very well, but perhaps the biggest hurdle s[edition] faces is engineering a more fundamental change. A change in the way that everyday people think of and value Digital Art.
'Digital Art' is in some ways a challenging classification, concedes Norton.
"What you've got to remember is that the artists we work with don't consider themselves digital artists - they're artists in their own right, who sometimes happen to work with a digital medium."
Absolutely - it would be ludicrous to suggest that David Hockney became a "digital" artist the day he picked up his iPad. And yet, digital's potential for endless reproduction does appear to run contrary to the common understanding (and veneration) of The Original Work of Art and The Artist as Maker. The common understanding is of course a popular nonsense - fact is, digital or not, the work s[edition] deals in is Art with a capital A.
But while the digital art on s[edition] may never have quite the same cache or monetary value as physical works by the same artists, it does open up the opportunity to collect art to practically everyone. The editions available on s[edition] range from £20 all the way up to £500 for a piece of Damien Hirst's glittering skullduggery. Thanks to s[edition], the point of entry for collecting art by established artists is now incredibly low, equivalent in price to downloading the latest series from HBO. Almost everyone has the means to do it.
So will Digital enable the next big democratisation of Art? Norton thinks so. He points to the speed of development and to the latest Smart TVs from s[edition] partner Samsung, connected to the internet and able to download and showcase your art collection seamlessly.
"Think about it," says Norton. "Screen technology is becoming so cheap, it'll soon become pretty much ubiquitous. There'll be new screens that will cover our walls. We can even see a market emerging for new kinds of devices for the home - large screens developed specifically to display art."
Rather than crowd art out, digital is providing new places where art can take hold. Even on the very small screen of your mobile device. Artist Christian Kerrigan has explored ways to harness Augmented Reality (AR) as an artistic medium. In his series "Hidden Garden", first exhibited at the Victoria & Albert museum back in 2012, Kerrigan created video pieces which he then integrated into the built environment using AR platform Aurasma. The viewer, using their mobile device, could "unlock" the hidden digital art, viewing it on their hand-held display, augmented into the physical world.
Kerrigan views mobile devices as simply another tool available to the artist although he agrees, being hand held, it does limit how long people are likely to look a piece. But watch this space - with the advent of new wearable devices such as Google Glass (glasses which may one day be capable of augmenting the real world with digital content) artists could soon have an entirely new canvas to work with. "Augmented Reality offers an exciting opportunity to place digital content in a physical setting," Kerrigan tells me. "It is a space between."
So perhaps this is the future. As we slide inexorably towards a total fusion of the physical and digital worlds, art will grow amongst the ruins of the "real", taking root with whatever devices and technologies we use to create and consume content. Artists will adopt and repurpose new mediums and we will look to them to reflect back new truths about the way we live and think.
Artists have a uniquely relevant role at times like these, according to Henrietta Thompson, author and Editor-at-Large for Wallpaper* magazine.
"The rate of technological and societal change at the moment is phenomenal. Just like during the industrial revolution, or at the dawn of Capitalism, people start looking to art to make sense of it all."
New mobile devices such as Google Glass will be appropriated for art's sake as will, predicts Thompson, makerbots - devices that could soon make 3D printing a mainstream reality. "I love the idea that art and design can be distributed via the internet as files that you can download and print, or have made locally to your specifications," she says, conjuring up a near future where we'll be able to download a Grayson Perry vase and print it off from the comfort of our own home.
Some established artists and dealers may shudder at the thought. But the future is not in their hands.
"To my mind, I can't see how it won't happen," says Thompson. "'Generation I' - who are children currently under ten years old - have grown up with the digital world. Unlike us, they don't make much distinction between the digital and the non-digital. When they start making or buying art, it's bound to be digital."
Suddenly, the digital pieces available on s[edition] seem like a very smart investment indeed. But whatever the future holds, we can be sure that Art will continue to morph and change with the times and that there will always be a few moments to, in Emin's words, "actually think about things we feel."
(Disclosure: I was previously head of marketing at Aurasma, the Augmented Reality platform referred to in the piece.)