A non-profit social enterprise has set out to empower women from low income communities in the West Bank by enabling them to use their talents and train them in artisan work to build a better future for themselves and their families.
Child's Cup Full is an organisation created by Dr Janette Habashi, Associate Professor of Educational Psychology from the University of Oklahoma and Executive Director of Child's Cup Full (CCF).
Habashi is determined to give Palestinian women the training and resources to use their skills in craft and design to build a career for themselves. Habashi's vision is to create long lasting opportunities of economic development for impoverished women and those from vulnerable communities in the West Bank so that they could stand on their own two feet and enable them to grow.
The organisation's goal is to train and employ women to make high quality children's toys and accessories and then open the doors for these women to sell to the global marketplace in particular, the US.
The inspirational organisation has opened up the doors for Palestinian women to excel and provide for their families as women have voiced their concerns regarding providing for their children's education, food and living conditions.
Habashi stated that, "Women in the West Bank inspire me by their determination to change their children and community living conditions, but just needed an opportunity".
She further stated that, "The project is helping women in the West Bank in many ways. Women are having a voice and empowered, as one women said, '"now my husband and in-laws are listening to me and not silencing me anymore".
In addition, the project is providing economic and social freedom and highlights women's skills and talents in the art and design sector. The organisation has played a significant role in changing the social and economic conditions of women in the West Bank who are now being able to provide for their children and community.
Abeer, one of the women who is working as an artisan at CCF stated that,
"I came to this place not knowing how to do anything, starting from square one with the tatreez (embroidery) and colours to make the children's toys. We are making these toys for children to enjoy. We hope to make more toys for them to get excited, so they'll like the colours, and so they'll enjoy how the toys look to make it educational".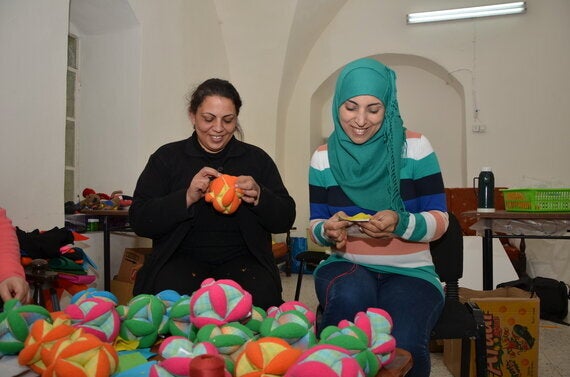 Abeer further stated that, "Our society needs women to work and not stay at home, that they go out and obtain their own salary and help their families with extra costs through this organization. We now have so many expenses to educate our children, pay for rent, transportation, and for our homes. This organization allowed me to contribute by working. I would urge any woman to work with such organization, to be determined to have goals, and to find her place in such an organization while bettering herself and her family. Through that, she can educate herself and give encouragement to her children".
Rasha, another artisan from CCF stated,
"I like the work here and enjoy the company of these women, I have been able to help my family and kids and thank god it's improved the quality of my life and has allowed me to be more confident. Hopefully the centre continues to last here, of course we would like it to last and we will support it until the very end because it's an amazing centre and we really enjoy it and it has given us all confidence in ourselves as well as creativity. It has helped increase quality of life here for Zababdeh and the women working here. Hopefully it remains like this so we can continue to be creative Palestinian Women".
Child's Cup Full, is running an Indiegogo campaign so that they can develop a consortium of artisans and grow the organisation's toy brand in the US, and eventually establish a self-sustaining wholesale/retail operation that helps to ensure that Palestinian women remain empowered and use their skills to better their lives.