As the holy month of Ramadan commenced on Thursday 18th June 2015 around the world, Muslims have started to fast from dawn till dusk. In Gaza, the backdrop whilst breaking fast is a reminder of the suffering, war and destruction that Palestinians are left to face with on a daily basis. The Israeli war of 2014 on Gaza left over 1500 civilians, mostly young children, dead and their houses either fully or partly destroyed.
As I commence my fast in the UK, I wanted to find out what Ramadan will be like for the people of Gaza and reflect on their experience and hopes for this blessed month. Ramadan is a time for selflessness, for drawing closer to God and it is also a time that is considered to be the best month for supplication to God for all your needs.
Sahar Fathi Zeyara, a 40 year old, mother of 5 boys and three girls shares her experience of Ramadan and remains hopeful for the future. Zeyara's house is situated in Al Shuja'aya neighbourhood, one of the most affected areas during the Israeli war on Gaza in 2014.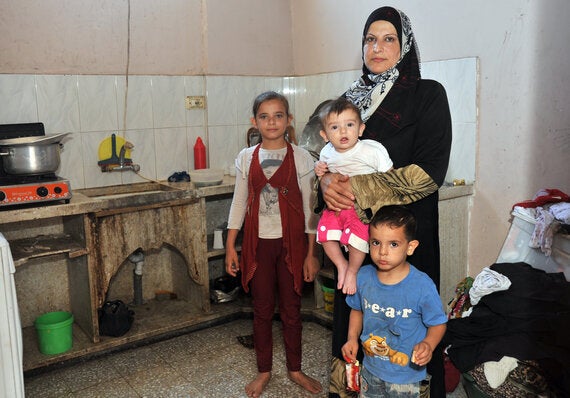 Sahar Fathi Zeyara & Family - Photo courtesy of UNWRA ©T.Nazeer
More heart-wrenching still, is the fact that the house where Zeyara stays with her family is almost empty with only some damaged furniture and a kitchen which holds a only a few plates and cups.
Zeyara describes the difficulties that she is faced with during Ramadan and said,
"It is hard for us to survive the hard living conditions that Gaza families are going through, the situation in Gaza is unprecedented. I am always worried that I will face the shortage of cooking gas where I will be in a situation to use wood to prepare a hot Iftar for my children, or that the electricity will be off"
In addition Zeyara has to look after her husband and children whilst finding ways to provide a meal for her family as her husband is unwell. Zeyara further stated that,
"My husband suffers from severe low vision, and accordingly cannot work or even walk by himself, he always needs somebody to lead him"
When asked about her wishes for her family this Ramadan Zeyara stated,
"All I wish for is to be able to keep up, and to fight the hard living conditions that affects my family and other poor families in the Gaza strip. My children's only wish is to drink cold water specially with the burning days of the summer time"
She further went on to say that, "We are full of hopes and good feelings that this holy month will overwhelm us with good things, and peaceful fasting unlike the previous Ramadan where we were under tremendous pressure, worries and fear. I wish that this Ramadan will be a peaceful month that is full of good things to us"
Middle East Monitor had stated that The Chamber of Commerce in Gaza had reported that nearly two million Palestinians are living under the worst economic conditions in decades this Ramadan. This is due to the fact the catastrophic effect of Israel's offensive last summer and the Israeli-led blockade, which has again commenced for the ninth year running.
Jehad Abed, a 37 years old mother of 4 girls and one boy lives in house full of holes on the walls due to bullets that had fallen during the war of 2014.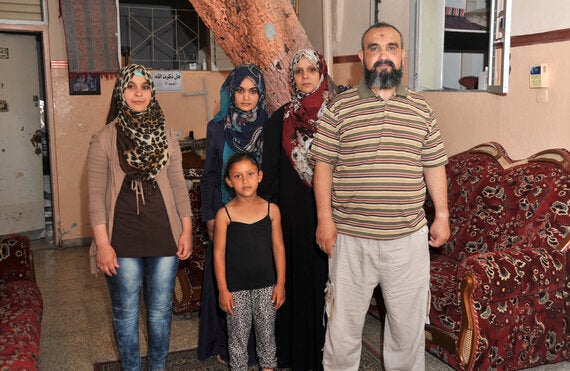 Jehad Abed & Family- Photo courtesy of UNWRA ©T.Nazeerr
When asked about her hopes for Gaza this Ramadan Abed stated that,
"Ramadan is a special month for us as Muslims, we hope that this Ramadan will give the chance for all the people in Gaza to enjoy it, since most of us were under tremendous fear last Ramadan"
The conditions of Ramadan in 2014 had seen an unprecedented, harsh war where civilians were left to bear the brunt of it. Many lives were lost without given the chance for rebuilding and rehabilitation. Abed stated that,
"Last Ramadan we lost the spiritual side which very important in Ramadan, because our minds focused on how to protect you children and to move to a safe place, it was crazy"
The job situation in Gaza is challenging, living in conditions when people cannot afford to look after their families and urgently need assistance.
Abed's husband Nabil stated that "The lack of job opportunities destroyed the people in Gaza, they became very desperate, they have nothing to do, they can't afford their families a decent life, food, and this is hard for a father to feel helpless in front of his family and his children"
My heart goes out to the people of Gaza and I would only hope that this Ramadan brings them courage, hope and a means of facilitating the rebuilding of their lives for a better future.