The Marbella Club is set in a stunning location on Marbella's golden mile - enjoying a beachfront location, striking mountain views and immaculate lush gardens. A white promenade, lined with palm trees, is situated adjacent to the hotel - with 'beautiful' people walking their dogs or honing their beach bodies, you could easily imagine that you are in California.
The hotel was once owned by legendary playboy Prince Alfonso von Hohenloe, where he firmly cemented its place amongst the international jet set by creating a glamorous retreat that played host to such esteemed guests as Audrey Hepburn, Brigitte Bardot and Roger Moore. Whilst the hotel has firmly moved with the times, it still retains its old school glitz and glamour, mixed perfectly with authentic Spanish charm. Prince Alfonso once said that 'children enrich every family experience' - they're very much welcome at the Marbella Club - it's extremely evident in the love bestowed on the creation of an incredible kids club.
As you would expect from a hotel that has earned its place as one of the Leading Hotels Of The World, the service is impeccable, but is delivered with a natural Spanish warmth and charm that simply cannot be staged. You truly get the feeling that the staff love the Marbella Club as much as the guests who return year after year!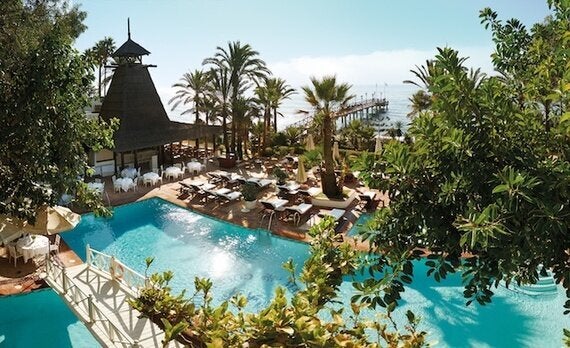 The resort has charm and character and the villas have been built in typical Andalusian style amongst jasmine scented gardens. We stayed in a garden suite with an outdoor furnished terrace. The rooms are decorated using a natural pallet and whilst contemporary they are still very much in keeping with the authentic surroundings. The marble bathroom is gorgeous, and the orange and tangerine in room products by Natura Bisse smell divine. A perfect space for a little pre dinner pampering!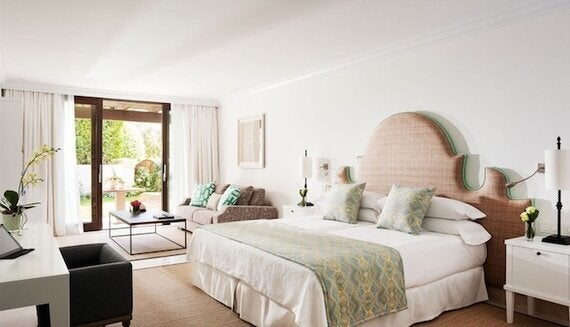 The main focal point of The Thalasso Spa is the incredible 800m2 dynamic seawater pool which draws pure mineral-rich waters directly from the sea. The spa benefits from 12 treatment rooms, Hamman steam baths and Finnish saunas.
I sampled the Vichy Exfoliating Treatment. As you relax on the treatment bed, warm seawater rain is sprinkled on your body, as your skin is firmly exfoliated with salts and oils. My skin is exceptionally dry and I have lost count of the number of times a therapist has asked me if I use moisturiser (I do!), but after this treatment and combined with the effects of the dynamic seawater pool I can honestly say that my skin has never felt more nourished.
The spa lounge is available to all guests - with floor to ceiling windows looking out to the deep blue sea it provides a relaxing setting to devour a magazine and enjoy one of the delicious teas that the spa provides. I loved the refreshing lemongrass and ginger.
The spa uses a variety of leading brands including pioneering German skincare brand Barbor, Morjana Cosmetiques, Thalion Cosmetics, and popular Spanish brand Natura bisse. I loved the feel and scent of their detox body balm.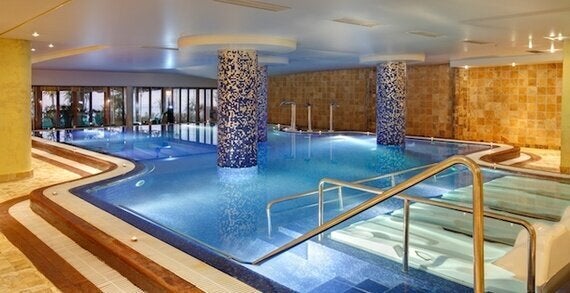 As well as an extensive choice of spa treatments The Marbella Club has launched an incredible range of wellness programmes which focus on both the body and mind.
I sampled a selection of sessions available on the wellness programmes. My journey started with a consultation with Carmen, who is the hotels expert dietician. We discussed what I wanted to achieve (I wanted to lose a few pounds - I'm sure I am not alone!) and cut down on my carbs, so I decided that I would dine on the healthy meal plan. She educated me on some of the choices I was making, which provides a great motivation to incorporate at least some of these changes into your day-to-day life. Carmen was present throughout the weekend, guiding me through my food selections. Don't think if you dine on the healthy plan you will be missing out - the pumpkin soup was so creamy and delicate it was hard to believe that it was the healthy option, although at the Sunday buffet if Carmen wasn't there to steer me in the right direction I would definitely have cheated! My weakness is cheese and the beautiful selection would have just proved too tempting to resist.
My personal trainer put me through my paces both on the beach and at the hotel gym. He was extremely knowledgeable and put a real emphasis on ensuring that I should learn exercises that I could put into practice at home - although my local gym doesn't provide quite the dramatic backdrop that my beach work out did.
My next stop of the weekend was a medical consultation. I was slightly nervous as I didn't know what to expect, but Medical Director Jose Luis Guijarro Arcas, quickly put me at ease with his warm demeanour. He is extremely experienced and we spent time having a friendly discussion about my general health. One of my concerns was stomach bloating, which I had self-diagnosed on Google (I know i know, I should know better) as a gluten allergy. Jose explained to me that as I wasn't experiencing pain the cause of my bloating could be down to the fact that I was rushing my food and that I should try to slow down my eating and chew my food more thoroughly. Simple, but effective advice. I also had my BMI and metabolic age analysed, I was naturally hoping for younger, but at least it was a match to my real age!
I also sampled PSCH_K, which uses subconscious beliefs that perpetuate old habits of thinking and behaviour that you would like to change. I must admit that I was very skeptical but I was able to overcome a negative feeling. It is a technique that is used in the stop smoking programme.
My final appointment was with life coach Alan Blundell who truly has a passion for his work; he was incredibly open inviting me to ask him about his life, as he feels that if a client is to let them into their world, he should let them into his.
With a large team of experts you can chose a wellness programme that suits your particular needs.These include The wellness weekend, Mediterranean Renewal, beauty, breathe easy/stop tobacco, stress management, boot camp, slimming and purifying programmes.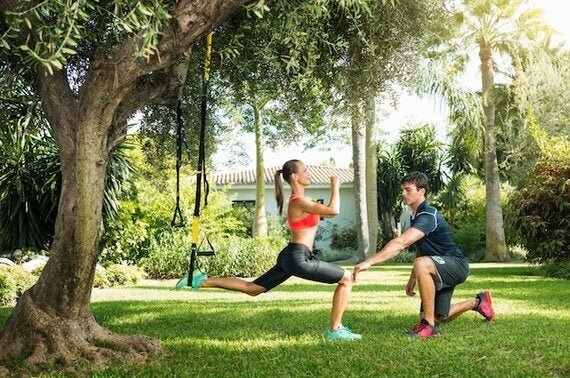 The buzzy Beach Club with pool and sea view serves an opulent daily buffet, and in summer months there is also the addition of MC Beach a stylish chrininguito, serving fresh seafood and delicious gourmet salads.
Popular with the glamorous locals throughout the year the MC Café offers Euro Asian fusion cuisine in an informal fashionable setting. You can imagine many a juicy story has been exchanged here!
The buffet breakfast is served in the winter garden and every need is catered for with eggs made to order, gluten free options and a choice of delicious organic cold pressed juice smoothies.
El Grill for dinner is decadent with beautiful silverware and the waiters dressed in white jackets adding to the feeling of old school glamour. The restaurant is candle lit and intimate creating a romantic ambience. In the summer evenings you can dine in the twinkling garden. Start your evening off with a glass of champagne in the sophisticated art deco Champagne Room or finish it off with a cocktail or two... you get the feeling that you don't want to go to bed incase you miss an impromptu party or an intriguing guest.
In peak season be sure to make your restaurant reservations in advance - these are the places to be seen at!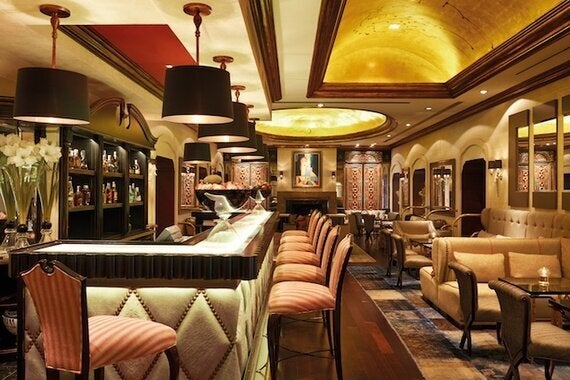 Children are entertained and stimulated at the most fabulous kids' club I have ever encountered. It includes a dance studio, a music room, a library, an art and pottery area, an enchanted forest, a vegetable garden, a cooking area, and an entertainment area.
The group wellness activities, such as cooking lessons, beach walking and yoga, which are complimentary to all guests.
Horse riding at the Marbella Club equestrian centre - a truly magical experience, with breathing taking views all the way to Gibraltar.
Sunrise yoga on the pier.
Rooms prices start at €299 per night.
Recharge with the 2 day weekend wellness plan which is priced at €690 euros and includes the following; Vichy Exfoliation, Anti Jet-Lag, Multi-Jet Bath with Magnesium, Marine Massage with Essential Oils, Back Relaxation Massage, Facial Thalasso and 2 Thalasso Centre Sessions.
The Marbella Club is approx. 35-40 minutes drive or taxi ride from Malaga airport.
Monarch, the scheduled leisure airline, operates flights to Malaga from Birmingham, London Gatwick, London Luton, Leeds Bradford and Manchester airports with fares, including taxes, starting from £59 one way (£110 return).
For further information or to book Monarch flights, Monarch Holidays or Monarch Hotels, please visit www.monarch.co.uk