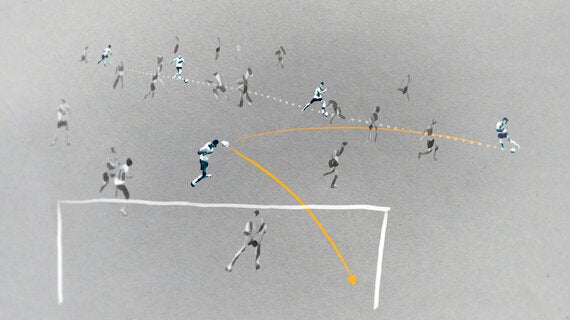 Tottenham's third goal v QPR following 48 consecutive passes. Illustration by Richard Swarbrick.
Nobody who saw stuttering Spurs beat a poor West Ham side on the opening day of the season thought they were anywhere close to clicking in the way new boss Mauricio Pochettino intended. But just a week later against Queens Park Rangers, the White Hart Lane crowd saw all the things promised by his appointment suddenly materialise before their very eyes. A high defensive line, terrier-like pressing in the opposition half, high tempo attacking and exuberant, richly entertaining performances from the forwards, in particular - at last - Erik Lamela.
No strangers to false dawns, the Spurs faithful filed out of the Lane to a murmured chorus of 'let's not get carried away' and it's certainly true that the opposition were some way short of formidable. But, while a much more thorough examination is in store when Liverpool come to visit next Sunday, the fact that Pochettino's plan was so clear and that it worked so comprehensively was as joyous to behold as it was unexpected.
Best of all it was the perfect antidote to the last two seasons. Under AVB there was a lot of possession but no dynamism at all in attack. His plan was keep the ball, keep the ball and keep the ball some more, presuming that openings would inevitably present themselves sooner or later. Sometimes they did, sometimes they didn't, but it was never very exciting to watch. As for Sherwood, he didn't really have a plan beyond working hard and 'scrapping' in the hope that 'the quality players will make something happen'. Poch's new model Spurs look like they have a way of playing that can not only work, but can be good to watch too.
Everyone played well but Lamela's chief rivals for the Man of the Match award were Eric Dier, this week starting at right back yet managing to maintain his goal-a-game record, and unlikely hero Nasa Chadli, who's selection had been greeted by a certain amount of puzzlement but who notched twice and proved a real handful for the beleaguered Rangers back line. But in Lamela - making two of the goals, the second with an exquisite chipped cross after a jinking run - Spurs have a man who is playing well and looks like he might might just get better and better.
Before the Liverpool game, AEL Limassol are in town on Thursday for what should be a stroll for Tottenham given that they are already 2-1 up from the first leg. The manager will be minded to rest key players like he did last week and give game time to those who need it. Paulinho, Dawson and Townsend were conspicuously absent against QPR. Paulinho was so poor in Cyprus it is possible that he was simply dropped altogether and Dawson is known to be close to completing a move to Hull but could Townsend also be on the move? Might he be the lubricant that eases Morgan Schneiderlin out of Southampton or Loic Remy - anonymous yesterday but rightly coveted by Pochettino - from QPR?
We'll know within a week and if Pochettino can get two or three top class recruits to slot into his precision-cut template, not getting carried away might start to be a problem.