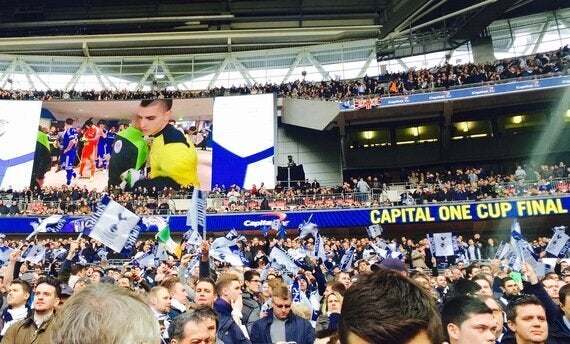 The moment before the rot set in. Pre-kick off at the League Cup Final between Tottenham and Chelsea.
Is it possible to go off football after 40 plus years of obsessional devotion? I only ask because on Saturday afternoon when Tottenham Hotspur, the team I have supported my whole life, were kicking off at Stoke City, I was sitting in a cinema with my wife and daughters watching the opening scenes of Far From The Madding Crowd.
That might not seem so remarkable but earlier in the season, even if I wasn't actually at the game, I would have been sitting at home desperately trying to find a dodgy live stream to watch it online or standing in a pub watching a transmission of dubious foreign provenance. The idea of missing the game - any Spurs game - was unthinkable. But all of a sudden, I couldn't give a toss.
This is a recent development. It set in after Spurs started to play rather limply following their defeat to Chelsea in the League Cup Final. The realisation that yet another season was to end without a trophy and a league finish outside the Champions League qualification places seemed to drain me of all enthusiasm. I've still been attending home games - though I had the good fortune to be on holiday when Tim Sherwood's Aston Villa won at White Hart Lane - and my insane hatred of Arsenal and Chelsea remains intact. But is it possible that my love for Spurs and football in general is now in inexorable decline?
I have heard of people who have given up their season tickets in middle age, citing the colossal waste of time and money it all is. My assumption has always been that these people must have been lightweights all along. Poseurs that went to the games just to seem like 'footy' aficionados who couldn't keep up the pretence.
But in my case the obsession has been total and all-consuming since early childhood. It's not just the enormous amount of time I have spent watching, reading and talking about it. It is the thinking time. My default mental state is football-rumination. This is not not something I am proud of. I have had no choice in the matter. It's been like a disease. But am I now on the way to some kind of recovery?
I did not see any of the action from Saturday's three-nil defeat until I tuned in to Goals On Sunday the following morning. There were very limited highlights but I was able to quickly ascertain that Spurs had been bloody useless. In particular Vertonghen, whose commitment has long been in question, and Chiriches, whose clownish displays leave no room for doubt, were rank. The front players, even Young Player of the Year Harry Kane, have gone completely off the boil. We were lucky to get nil.
In the summer, I concluded, Vertonghen and Chiriches should be invited to 'do one' along with Adebayor, Soldado, Paulinho, Capoue and Kaboul. If Lloris and Eriksen don't want to stick around, they can clear off too. We'll take the juicy transfer fees and reinvest them. Young Dele Alli and Alex Pritchard, perhaps joined by Scheiderlin, Alderweireld and Rodriguez from Southampton and a new striker, will be improvements because they will be the boss's own choices and therefore more committed to the cause.
The line up might look something like this: Vorm; Walker, Alderweireld, Dier, Rose; Schneiderlin, Bentaleb; Lamela, Pritchard, Rodriguez; Kane.
Those who think the the manager Pochettino's position should be reviewed should think again. He has done all he can with a basket case squad.
Deep into my detailed assessment of the quality of the understudies for each position a comforting, familiar feeling set in and I realised everything is alright. I haven't lost football. Football hasn't lost me. We're just having a little break.
I'll be feverishly checking News Now all summer for transfer news and I will wake up in the night wondering if we have enough quality cover in the heart of the defence. I renewed my season ticket weeks ago for God's sake and Poch, our glorious leader, has said that next year he's not targeting top four. Oh no. He's going for the title.
(By the way, Far From The Madding Crowd is kind of... meh).