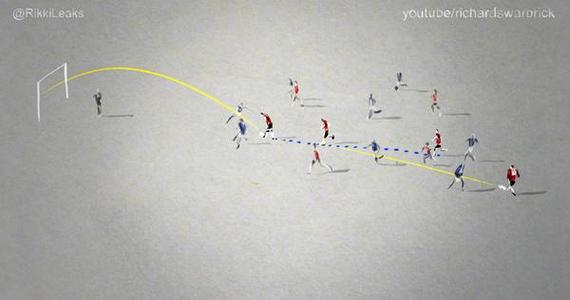 Manchester United - good going forward, useless at the back. Illustration by Richard Swarbrick.
For an explanation of the autumn spike in the suicide rate, look no further than the three bleak periods without any worthwhile football courtesy of Sepp Blatter's brutalist FIFA regime. There are few more depressing prospects, just as the autumn cold sets in, than another international break. At a time like this you need something - anything - to lift your chin.
Happily, if you are a Spurs fan, crumbs of comfort suddenly abound. Whereas the last grim hiatus came after the 0-3 home humbling by Liverpool in September, this one follows two consecutive games - the draw at Arsenal and the defeat of Southampton - that provide grounds for cautious optimism. Not even the most ardent of Lillywhites could claim that these were inspirational performances but, taken in context, they suddenly make previously dismissed hopes of Champions League qualification look much more plausible.
To secure a top four spot requires points-gathering form, but it also helps enormously if your rivals come up short. Chelsea and Manchester City are regarded as nailed on for the top two places but third and fourth will be contested between the five other 'big' teams and though Liverpool, Manchester United, Everton and Arsenal massively outspent Spurs in the summer, now, as the nights draw in, every one of them is faltering.
Of the four, only Manchester United currently lie above Spurs - on goal difference - but they look more and more like the modern version of Ossie Ardiles's flaky 1994 Tottenham team which had the best attack in the league and the worst defence. United conceded five goals at Leicester a couple of weeks ago and any team that does that is going to struggle to accumulate sufficient points for top four.
Arsenal are also less than solid thanks to Arsene Wenger's perennial aversion to signing defensive players. They have little cover for their ordinary looking back four and not a single defensive midfielder who would get into any other leading side, so they will continue to drop points when they come up against any decent opposition.
Liverpool, meanwhile, are all over the place after their supermarket sweep in the summer. It's true that they have the influential Daniel Sturridge to return from injury but one player is unlikely to be enough to arrest their decline. As for Everton, so impressive last year under the fresh stewardship of Roberto Martinez, they find themselves hovering above the relegation zone with a leaky defence and record signing Lukaku struggling badly for form.
Of course nobody could say Spurs haven't had their problems, but since the nadir of the home defeat to West Brom, Pochettino has taken his squad by the scruff of the neck and wrung out the kind of hard working performances that can generate regular points.
The manager was quick to point out after the Southampton game that these are still early days in his mission to transform the team's play. Reports from reputable sources have suggested that his emphasis on intense, lengthy training sessions hasn't gone down well with all the players, but Pochettino is beginning to weed out the refuseniks and inculcate his style so that it becomes second nature. Once that's done, Tottenham could be a force to be reckoned with in a division that has few others. The fans have that to cling to as England's games with San Marino and Estonia loom.