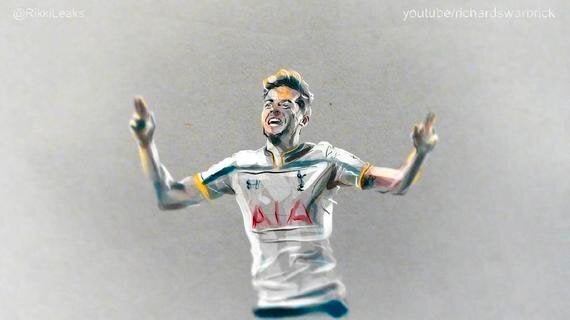 Ryan Mason, an essential component in the new un-Spursy Spurs. Illustration by Richard Swarbrick
Watching Tottenham Hotspur wrestle the points from a desperate Queens Park Rangers on Saturday afternoon, it was striking how un-Spursy the team has become under Mauricio Pochettino. 'Spursy', as defined in no dictionary I could find, can mean a collection of feeble characteristics including lack of backbone and a propensity to blow it at the last. Earlier this season Gary Neville summed it up on Sky television when he said that other teams have relished their games with Spurs over the years because, if push came to shove, they knew the Lillywhites were never going to be heaving the hardest.
But now things look different. Saturday's game was physical. Tottenham had better technical players but in the past this would not have necessarily been enough to overcome the sharp-elbowed exertions of their opponents. But they matched or bettered them in the essential qualities of spirit, determination, commitment, stamina and bloody-minded stickability. In recent months this new mentality has been apparent time and again in the way the team has kept going in games, very often scoring late or defending rabidly to protect the points haul.
Of course this new found resolve wasn't enough too prevent defeat in the Capitol One Cup Final against Chelsea who answer to the master pragmatist Mourinho. The league leaders' manager bluntly stated before the game that finals are for winning not playing, neatly defining the mentality that Pochettino is adding to Tottenham's finer qualities. There was little between Spurs and Chelsea on the day, but it was arguably the greater experience of Mourinho and his men in throttling victory out of a tight game that made the difference.
Since then Tottenham have completed a draining six game, seventeen day spell with back to back wins against Swansea and QPR. Far from demoralised and knackered after Wembley, they have come out fighting, their determination redoubled. They're still not entirely cured of their Spursiness - the crazy errors that led to defeat to Fiorentina in the Europa League prove that. And the squad is thin. Certain players - Vertonghen, Walker, Bentaleb, Mason, Eriksen and Kane - have no comparable deputies. Lose one or two of these - or God forbid the magnificent captain Lloris - and the season's run in will look considerably more daunting. But if Pochettino's lucky streak with injuries continues, the relatively relaxed match schedule that Spurs now face means that there isn't a team left to play that won't be given a thorough examination, Manchesters United and City included. They now have a reasonable shot at confounding the bookies and the pundits and finishing in the top four.
In just a few months Pochettino has managed to assert his authority in a way that none of his recent predecessors have. The football has been entertaining, the results have been good, but it is the manner in which they have been achieved that has been the clearest and most welcome manifestation of his influence. There's not a team in the land that looks forward to playing Tottenham now.