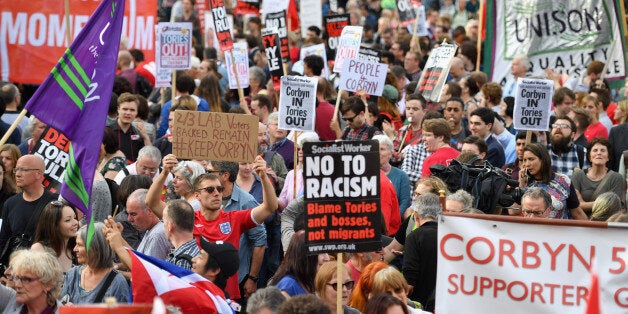 Labour is in crisis. Whoever stands in the next leadership contest will have to face its grassroots members, large numbers of whom joined the party to help elect Jeremy Corbyn in 2015.
With the help of YouGov and as part of an ESRC-funded project on UK party membership in the twenty-first century, we (Professor Tim Bale and Dr Monica Poletti (Queen Mary University of London) and Professor Paul Webb (University of Sussex)) have conducted a new survey of Labour's new members, fielded just after the May 2016 local, devolved and mayoral elections.
We have surveyed 2,026 members and registered supporters of the Labour Party who joined it after the May 2015 general election. This includes 876 people who joined as full members, 280 who initially joined as £3 registered supporters but then upgraded their membership (ie 1,156 full members in total) plus 870 people who are just registered supporters. Tables are available on request.
So what do they look like - and how do they compare with those members the team surveyed back in May 2015, the vast majority of whom were members when Ed Miliband was leader?
Labour's new members aren't on average much younger than those who were in the party before the general election. The average age of full members has actually nudged up from just under 51 to just over 51. They are similarly well-educated: around six out of ten of Labour's post-GE2015 members have degrees, which was the same for pre-GE2015 members.
They are, though, even more middle class, with 78% of them (compared to 70%) of them being ABC1s.
Contrary to some conventional wisdom, they are not any more likely to come from London: 14% of the new members come from the capital, rising to 20% of the registered supporters, compared to 15% when we surveyed members last year. They are, however, slightly more likely to come from Southern England (34% compared to 30%) than they were.
Previous political experience
A fair few of the full members are re-treads: although 58% of them haven't previously been a member of a political party, nearly a third of them (31%) have previously belonged to the Labour Party but, having left it, re-joined after GE2015. The number of re-treads, incidentally, rises to over 40% for those aged over 50. In short many of the new members may well be people who feel 'We've got our party back'.
There has been a lot of talk about Momentum - the organization that sprang up to help get Jeremy Corbyn elected leader and, which rather than packing up having done the job, has carried on, at least in the view of Labour's 'moderates', trying to ensure he stays as leader and pushing Labour to the left. One in ten of Labour's post-GE2015 consider themselves members of the group - slightly more if one takes only those who joined during the leadership contest or after Corbyn won it. To put this in perspective, though, this is about the same number who belong to the RSPB and English Heritage and about half of those who belong to the National Trust.
Possibly more importantly, 25% of post-GE2015 members belong to trade unions compared to 39% of members in our May 2015 survey. That said, at 30%, those new members who joined after Corbyn's election are slightly more likely than other new members to be trade unionists.
Ideology: left, liberal - and a fair few former Green voters
Labour's new members are, as expected, pretty left-wing across the board, although this was also the case, note, for pre-GE2015 members, the vast majority of whom tended to think badly of business and fondly of redistribution. New members and supporters are, though, even more anti-austerity and inclined to think that government spending cuts have gone much too far though. They are also more socially-liberal than pre-GE2015 members. This should not come as a surprise perhaps given the fact that a relatively high number of the post-GE2015 full members and registered supporters voted Green in 2015.
Some 17% of new members voted Green at the general election in 2015 - a figure which rises to 20% of registered supporters, 28% of those who first joined as registered supporters and then became full members, and 24% of those who joined the Party after Corbyn became leader. This compares to just 6% of pre-May 2015 members. Even in May 2016, nearly one in ten of those Londoners who joined Labour as members or registered supporters after the general election voted for the Green candidate, Sian Berry, rather than Sadiq Khan.
Not surprisingly, given the above, half (49%) of Labour's new members believe the membership should have more say over policy, with the figure rising to 54% and 65% respectively among those who joined during and after the leadership election.
The same pattern is repeated when we asked the post-GE2015 membership about who they would support if there were to be a challenge to Corbyn and he were to stand in another leadership contest. Some 64% of all those who are full members would vote for Corbyn. Although his support among £3 registered supporters (53%) and even lower among those who joined as full members before the last summer's leadership contest (46%), it is super-solid among those who joined the party during (68%) and after (80%) that contest.
The election of Jeremy Corbyn certainly seems to have convinced new members that the leadership respects them. In May 2015, some 26% of Labour members did not believe that it did. That feeling applies to just 8% of the new members. Some 89% of post-GE2015 members think the leadership respects them - a figure that rises to 95% of those who joined after Corbyn was elected.
These people, then, are Jezza's bezzas - his praetorian guard, if you like. And - surely rather alarmingly if you are one of those Labour MPs who isn't content to hold your tongue - they seem open to using the prospect of deselection to ensure that there is a price to pay for badmouthing the dear leader.
Alarmingly keen on deselection and mandatory reselection
'Only' a third (32%) of members, perhaps aware of the past voting record of Mr Corbyn and Mr McDonnell, say that 'Labour MPs who continually vote against the party's agreed line in Commons votes should be deselected'. But another 29% neither agreed nor disagreed with that statement, which presumably means they might be persuaded to back action. And among those who joined after the leadership contest, the proportion who need no persuading rises to 38%.
However, Labour's new members seem much, much keener to discipline MPs who lay into Jeremy himself. A clear majority (55%) believe that 'Labour MPs who persistently and publicly criticise the leadership in the media should be deselected' - a proportion that rises to two-thirds (68%) of those who joined after Corbyn was elected.
And possibly most worrying of all, there appears, at least among Labour's post-GE2015 membership, to be majority support (59% vs 25%) for the introduction of mandatory re-selection of all Labour MPs.
Confident that Jez he can - but more clicktivists and slacktivists than activists?
Those most recent joiners are almost most confident that a Labour Party led by Jeremy Corbyn will win the next general election. Despite the dire polls and the equally dire local election results, some 64% of Labour's post GE2015 membership believe Labour is likely to win the next general election - a figure which rises to 77% of those who joined after Corbyn became leader.
What is fascinating, however, is that if Labour is to win, it may have to do it largely without much practical help from its new members and registered supporters. Confirming the complaints of many a Labour MP and ward secretary, the newbies might talk (and tweet) a good game, but they don't necessarily turn up to do the hard yards.
Just over two-thirds of Labour's post-GE2015 members and supporters (68%) have retweeted, posted or forwarded a message supporting the Labour Party on social media and nearly nine out of ten (88%) claim to have signed a petition on behalf of the party. But only 15% of them have participated in door-to-door or telephone canvassing of voters or helped out at a party function, and only 28% of them claimed to have delivered leaflets. Indeed, some 63% said they had put in no time at all on behalf of the party during recent local, mayoral and devolved elections.
Finally, 61% of Labour's new members say they have never attended a party meeting - which could mean that MPs worried about their obvious enthusiasm for deselecting those hostile to Jeremy may have less to fear than they might think.
Related