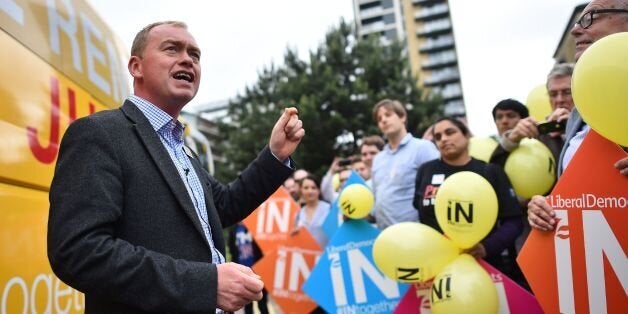 Today is World Refugee Day, and this year it is more important than ever.
It matters not just because in the last year Europe has seen an unprecedented number of refugees from Syria and the region making their way in boats and on foot to what they hope is a better future, many thousands of whom have lost their lives in the process. It also matters because this referendum campaign has exposed how far the right are willing to conflate migration with the refugee crisis in order to forward their own aims.
Nigel Farage, Boris Johnson and the Leave campaign should be ashamed of themselves for the way they have sullied Britain's strong reputation as a country which offers sanctuary to those in need. Just last Thursday Ukip were proudly sponsoring vans with images from last summer of refugees making their way on foot across central Europe. "Breaking point", the vans claimed.
I would agree with them, if they were talking about the countries surrounding Syria which are now hosting four million refugees between them, in some cases nearly doubling their populations. Those countries are, indeed, at breaking point. And it is our international development funding, also criticised by Ukip and right wing Tories alike, which is helping to keep things together.
But Nigel and Boris aren't concerned about the livelihood of Syrians or Iraqis fleeing Assad and Daesh. The aim of these vile posters is to make people equate EU membership with "floods of migrants". To fan the flames of islamophobia, a fear and hatred of others that some politicians and their press buddies have been stoking unrelentingly for a decade.
Regardless of your views on migration, whether you think there should be less or more or it's just about right, refugees have a special status under British and International law precisely because they are recognised as being vulnerable and in need of special protection. Their rights transcend race, religion, and nationality. They seek our help because they cannot stay in their homes. They are fleeing for their lives and they deserve to be shown sanctuary, not used for political campaigning which closely mirrors that which was used by the Nazis.
The legal framework underpinning that protection was, in fact, developed after the Second World War, but even before that the UK stood up for refugees and offered them sanctuary. The kindertransport, a campaign which rescued ten thousand Jewish children from Nazi persecution, is the most tangible. It is also depressingly relevant following reports this year of tens of thousands of unaccompanied refugee children subject to abuse and trafficking.
Whether we vote to stay or leave on Thursday, and I sincerely hope that we choose to stay and stand in solidarity and strength with our European partners, the refugee crisis will still be there. When we wake up on Friday 24 June hundreds of thousands of families and vulnerable refugee children will still be languishing in Europe. To meet the challenges that face us and address the refugee crisis in the Middle East and in Europe we will have to work internationally. But before we talk strategy, global deals, new models, before any of that, we must first go back to basics, stop the othering. Stop the hatred, the blame. We must first accept, once and for all, that refugees are the product of war, of oppression, of famine, of authoritarianism. And for that reason, they deserve our help, our protection, our love.
Tim Farron is leader of the Liberal Democrats and MP for Westmorland and Lonsdale
Popular in the Community