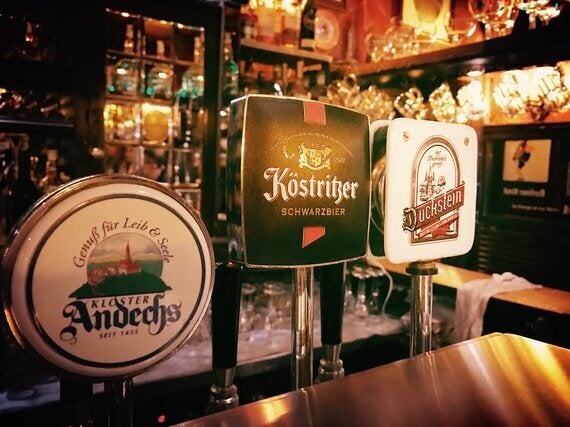 Most of us have heard about Berlin's legendary nightlife. Walking through this soggy city I feel like its reputation precedes it somewhat, and I wonder if every dour building under the grey and overcast sky might contain some weird and whacky alcohol-fuelled dungeon. I'm sure there are plenty of other bloggers out there who will dive into that scene far more deeply than I have time for.
No, for me the attraction to Berlin's drinking scene is the Kneipen that I have heard about. Traditional Berliner drinkeries that are something similar to the UK's pubs. As we know a pub can mean a lot of things now, but Kneipen are still very much in the traditional vein... cosy, often cluttered and predominantly popular with locals. After a busy couple of days running around at a trade show in Messe Berlin, which culminated in my flight out being cancelled, I decided the only solution was to find a Kneipe.
Stepping in from the cold winter's rain of Berlin to the warm golden light of Dicke Wirtin is a reward in itself. There is a gentle buzz of conversation and the familiar smokey smell of wurst from the kitchen. The sepia ceiling tiles are divided by heavy wooden beams and the walls are covered in pictures and paintings - some still life, some old Berlin, some appear to be family members. Above the archway to the backroom is a caricature of the dicke wirtin herself: the 'fat landlady'.
I pulled up a stool at the bar and surveyed the range of drinks. It looks like they do a nice line in liqueurs, which could be quite welcome on a cold night like this. I wanted to rack up a few more hits on Untappd so I approached the draft beers in one of the two best ways possible: right to left. With 9 options available you would think there is something for everyone, but being Germany there were 6 pilsners vying for top generic beer position, and 4 beers of note. Köstrizer had a very tasty dark lager, the Schwartzbier for which they are well known. Warming, toasty malts with the very drinkable freshness of a lager. The same brewery had their Kellarbier (cellar beer) on tap which I hadn't heard of before. Another variation on the lager, Kellarbier is unfiltered so it is deliberately cloudy and slightly similar in taste to a Weissbier.
Once you've navigated a couple of the beers, every visit to Dicke Wirtin should include a taste from the menu. Proper, home cooked German grub served in copious amounts. The lady next to me ordered a meatball as a starter, which looked more like a spherical burger. It was huge. My goulash seemed like a reasonable amount however there was no chance of finishing the lot. The thick and hearty sauce, sweet and spicy, alongside two delicious dumplings had me defeated but boy was it worth it. Delicious.
After a few more drinks and knowing I had a long journey the next day I headed back out into the cold. It had stopped raining fortunately. I am definitely coming back to Berlin on holiday some time, and when I do I will be seeking out a few more Kneipen. I am sure the all night clubs and the unspeakably cool cocktail bars are a blast but there is no substitute for a bit of old fashioned comfort and hospitality.