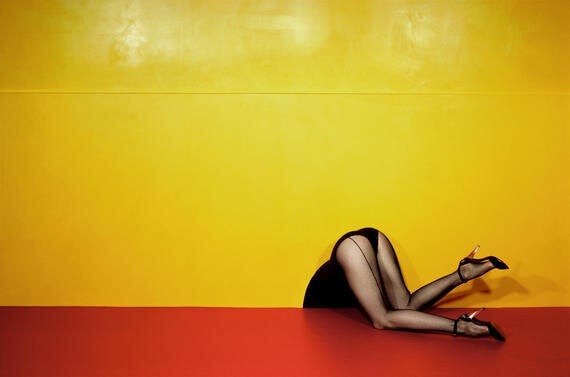 The new exhibition of Guy Bourdin's photography at Somerset House presents us with a conundrum. There is no doubting the man's eye and talent for image creation, but these images were taken over 30 years ago and today, many of them are deeply uncomfortable, some of them arguably offensive.
Bourdin was a pioneer. He transformed fashion photography in the late 1970s. He challenged the notion that fashion photographic images should be attractive and instead proposed that fashion photography should be designed to attract. A subtle difference but a profound one.
His bold, striking images of women were saturated with colour and had such fascinating, challenging compositions. Often they were cheeky, with great humour such as his famous image above of the women with seamed stockings seemingly lost over the edge of the red floor. Or the sexy image below with the perfectly heeled pair of legs up the top of a metal ladder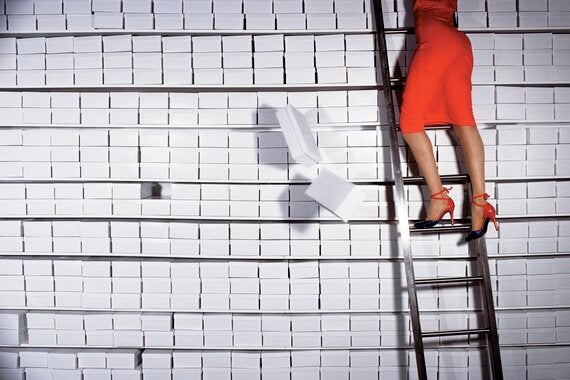 The influence of his mentor the surrealist Man Ray can be seen in Bourdin's incredibly clever range of adverts for Charles Jourdan shoes. A pair of disembodied mannequin legs in elegant shoes is shown in a variety of random interior and exterior settings, from sitting at a dinner table to feeding the ducks or waiting at a bus stop. There's a delicious humour to these - and they are very effective in grabbing the attention and were such a clever idea for selling pairs of shoes.
There are some who don't like even these pictures. I get that. I get the fact that some are uncomfortable with women being reduced to their body parts, where not even their complete body is necessary, let alone a soul.
Individually, we could dismiss a single photograph as anachronistic or simply part of the larger objectification of women in society that many are battling against. However, when you are faced with entire walls, whole galleries of these images, it is impossible to be so easy going.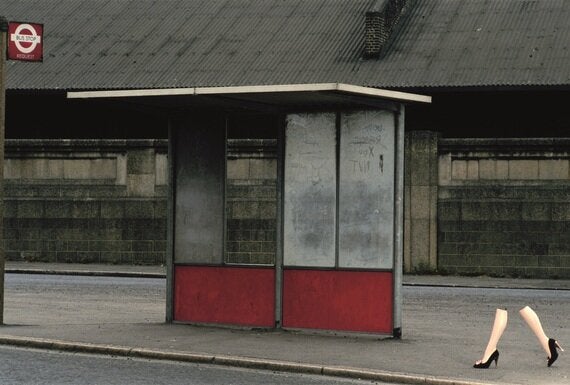 And when you look through the body of his work, there are some deeply disturbing images. There are photos of women with picture frames smashed through their heads, highly sexualised images of a bed full of naked underage girls and one of a naked unconscious woman with, what seems to be, blood pouring out of her mouth.
Worryingly, the last image of the woman in a pool of blood was selected by Somerset House, from all the images on display, to retail as a postcard in their gift shop. It was shocking to me to see this stark image of a naked woman who, for all purposes, had been violently attacked, in the shop for someone to purchase, scribble on the reverse and post off to friends and family.
Given the focus on violence against women, this was a wholly insensitive, even reprehensible, choice. I approached Somerset House for comment on this selection. I hoped they would realise their error of judgment, but no.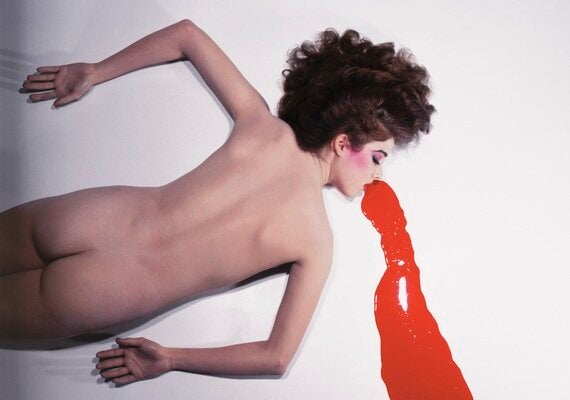 Instead they responded with "it is up to the viewer to infer the meaning - not everyone will come to the same conclusion and the reading of his images are purposefully more complex than a single interpretation... It may make for uncomfortable viewing in modern times and provoke debate, but this is often the role of art and culture in society. What we may find acceptable today might not be appropriate in 30 years from now, but it shouldn't necessarily be censored for future generations. The merchandise equally represents the breadth of the show and this particular piece is one of Bourdin's most iconic images."
First, it is faintly ridiculous to suggest there are alternative interpretations of this image. But second, this isn't about censorship. This isn't about whether Somerset House can display the picture (which is a separate question) but whether it was morally right for them to sell this picture for profit. For though we should always rally against censorship, we have to have a point when we say enough is enough.
But with regards to examining Guy Bourdin's creative process, the curation of the exhibition cannot be faulted. Not only have a huge number of Bourdin's published and unpublished photos been collated together, but there are also some of his film clips, paintings and polaroids.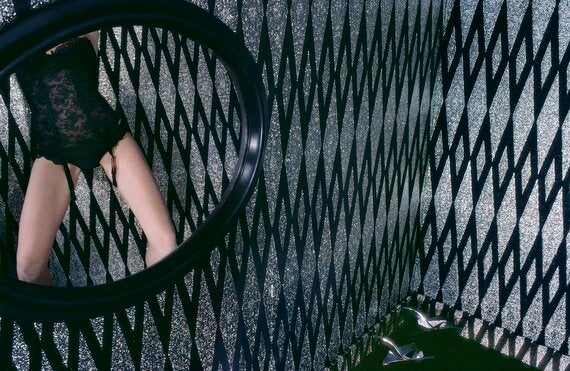 Unusually, Bourdin often filmed parts of his photo shoots on Super 8 and some of these film clips are projected onto the large white walls of the Somerset House galleries. And in the pre-digital age in which he worked, Bourdin often used polaroids as test shots to judge what needed to be amended in any of the compositions he was working on.
It was also interesting to see how much creative control Bourdin retained. He was loved at Paris Vogue who often allowed him to select not just the final image for production, but also how his images would be laid out on the magazine's pages.
But these are interesting points. How do we address this art and fashion from other times when the treatment of women like this was more or less accepted? Do we write it off? Do we contextualise it, see it as representative of the times? Or do we challenge it?
It's tricky. And I can't say that I have an answer. All I can say is that I found Bourdin's images at times witty and at other times deeply unsettling. And we are long past the point of tolerating pictures glamourizing violence against women being sold for profit.
Somerset House, London to March 15, 2015
Admission: £9 (concessions available)
1. Charles Jourdan, Spring 1979 © The Guy Bourdin Estate, 2014/Courtesy A+C
2. Charles Jourdan, Fall 1977 © The Guy Bourdin Estate, 2014/Courtesy A+C
3. Charles Jourdan, Autumn 1979 © The Guy Bourdin Estate, 2014/Courtesy A+C
4. Image: Pentax Calendar, 1980 © The Guy Bourdin Estate, 2014/Courtesy A+C
5. Charles Jourdan, January 1980 © The Guy Bourdin Estate, 2014/Courtesy A+C