We've been familiar with the work of Headspace - the organisation that aims to "demystify meditation" - for some time now, and since meditation is all about taking some time out, it seemed apt that we do just that this morning as we attended the launch of Headspace V2 (its second-phase App).
The inspiring panel - comprising Team GB's coach and practitioner Katie Warriner, Olympic Canoe champion Etienne Stott, Headspace's Dr David Cox and founder Andy Puddicombe, and Ariana Huffington - talked about the benefits of spending time on your own when you can connect to a place of clear reflection and the importance of, as Stott put it, "being comfortable with being uncomfortable".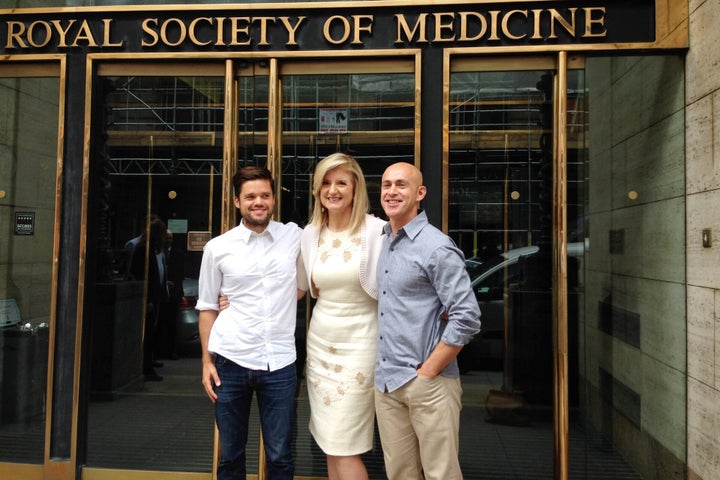 Arianna Huffington with Headspace founders Andy Puddicombe and Richard Pierson
"We all have a certain place - a place of wisdom, peace and strength. That's a part of human inheritance and most of us don't know it," said Huffington. "Many of us have glimpses of it, no one I know lives with it all the time - the question is how quickly we get to it. You don't have to believe in it - you just need to look at the data."
Headspace V2 aims to help you do just that with updates delivered daily to your device giving digestible, easy-to-adopt advice.
"If we are connected to that place, then the violence and all the things we're seeing in the world would not make sense," continued Huffington. "With mindfulness in schools and the movement in corporations, it gives the most stubborn of sceptics proof. There is no trade-off between productivity and achievement in taking the time to connect to this place."
Wise words that we have taken note of.
Find out more about the work of Headspace and how to download the new app (which launches June 26) at Headspace.com.