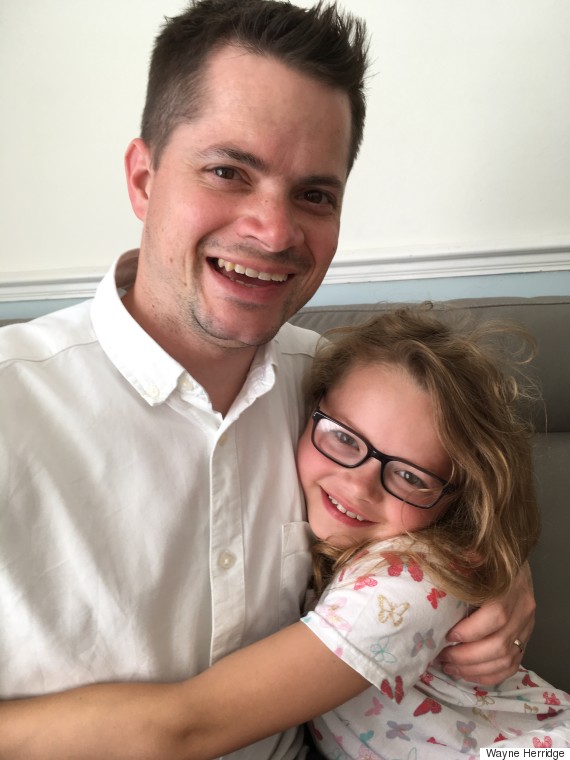 I was coming home from work when my wife, Evanna, said that she was taking Izzy to the hospital. They had been to the doctor and got sent straight to hospital so I met them there. Izzy was in such pain - she could not stand up and was inconsolable. It was just so quick.
It was September 2011 when she was diagnosed - it was leukaemia and treatment started straight away.
I didn't know if she was ever coming home. I guess you always know that things might happen in life, but suddenly you have to be prepared for the very worst. Seeing other children on the ward and just suddenly being in that world, it was so scary.
I felt helpless. As a dad and as a parent, you are there to fix things, but this was something we couldn't fix. I wanted to be able to get us out of the situation but I couldn't.
You have to trust in others - in the doctors, the nurses, and the research that has happened to enable the treatments. There are so many people out there who have been involved in Izzy's treatment and the care she has received. We are so thankful to all of those people - some of them were on the wards, but some we will never meet.  
Since those first weeks, some very special moments stand out. Even after about three weeks, I was sitting by her bed and she sat up and she started playing with her toys. She smiled and was not in pain. That was one of the best moments of my life - we had been so worried but it gave us such hope that things might be ok.
Treatment went on and it was tough - she had months and months of chemotherapy, but you get into a routine.
More special moments came when she could swim again, or have ice cream again - even the day that she could have tap water for the first time in years! We celebrated that day as the food restrictions that we had to have had been such a part of our lives.
Izzy has check-ups every 12 months now. She has been clear for nearly three and a half years and is nearly eight. It's amazing to be where we are now.
And the worry is still there - you always fear it could come back and we are always on standby, especially if Izzy is ever ill. That does not go away but we try to be as normal with Izzy and with our other children Ethan and Avery too. It has changed us all, but that normality is something we love now, and we have liked doing things to help raise awareness of Cancer Research UK too. It is a chance to give back.
Father's Day is always special. Izzy is usually the most excited of the three - she wants to share the day with me and I love seeing her excitement. I don't know what will happen this year but they always make cards and have a special plan with Evanna - they might make pancakes in the morning. Then Izzy always likes to get me a silly present as a joke - I got a tin of tomatoes last year, all wrapped up and everything - she found it so funny! I do wonder what she will find this year, I can't wait to find out."
Wayne is supporting Cancer Research UK's 'Right Now' campaign to beat cancer sooner. Visit cruk.org