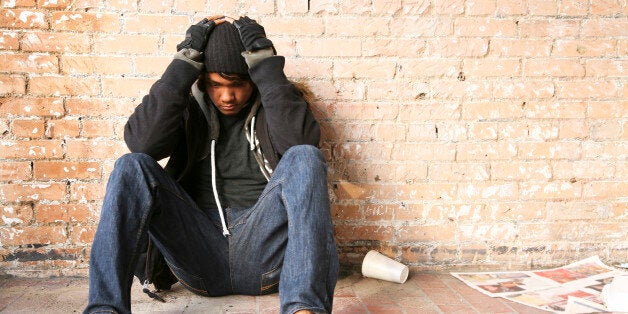 I have no idea if Brian had mental health issues but latest studies show at least 80% of homeless people living on the streets of the UK suffer from some form of mental health problems and if they had access to the correct daily medication and care needed their lives would be improved beyond all recognition.
A home isn't just having a physical roof over your head. It is having a place of safety to provide a sense of roots and wellbeing. This Christmas the other Brian I am about to describe will have none of that.
He was actually visibly shivering. You know that real involuntary shivering which can't be faked. No doubt caused by the cold December wind whipped in from the mouth of the Lagan as it runs down into the lough and the wafer thin dirty tracksuit top he was wearing.
I suppose he caught my eye because he contrasted so jarringly with his surroundings. Sitting squat as he did on the cold pavement at the entrance to the chic St George's Market Belfast with a paper coffee cup in front of him to collect few coins from strangers.
As with our regular trips to St George's Market after having a delicious brunch listening to the chilled live music from the band which is there every week I was out front having a smoke with the remains of my cappuccino engaged in that most joyous pursuits of people watching.
With it being the Sunday before Christmas the market was heaving with middle-class couples hopped up in their designer winter gear or dressed in a version of boho-chic mixed with the young groups of back pack carrying foreign tourists. All there to soak up the atmosphere and browse the eclectic mix of artisan food stalls selling everything from extortionately priced cupcakes to locally made cheeses. Or leisurely leafing through one of the local artists selling their wares to find that individual piece which would make the ideal and suitably tasteful gift.
I suppose in fairness I at least looked like I fell into one of those social up my own arse social stereotypes myself as I stood smugly sipping my expensive cappuccino in my designer scarf and North Face winter coat.
I watched him for a while and waited till there was no one passing by and then for reasons I can't fully explain I went over and started yarning with him. It turned out his name was Brian and when I told him I was a Brian too he genuinely seemed delighted and demanded to show me the obviously homemade Indian ink tattoo on his forearm which bore his name.
He looked in and around my age but with the harsh and dangerous way he was living he was most probably a decade younger in reality. He seemed genuinely shocked when I put out my hand to shake his. Close up his skin was badly mottled and his teeth disintegrating. He also had that look in his eyes anyone who has ever spent time suffering from mental health problems recognises straight away. Seemingly vacant but with pools of unfathomable depth of pain there for those who know what they are looking for.
As we say in N Ireland we yarned for a while about how he ended up in this situation, where he came from originally and the usual stuff two human beings chat about. As I walked away I wondered if he could see past my middle-class disguise because two years ago due to my own severe BPD , a suicide attempt and a relationship breakdown except for some very good friends and a slice of extreme luck it could just as easily have been me sitting on the cold pavement with a paper cup set in front of me and seemingly invisible to most of those scurrying in and out of the market with their purses and wallets full of money they were about to spend on overpriced local specialities and art.
I am not a sociologist, economist, politician or any kind of expert in the care for the homeless but as I walked back in to the market to join my adopted social tribe to join them in buying boho chic Christmas presents I knew This Christmas the other Brian would have none of that. If he was able to get a safe bed and a warm dinner on Christmas Day that would likely be as lucky as his day would get.
#bloggingformentalhealth2016
Read more at willlunnwriter.wordpress.com
Popular in the Community