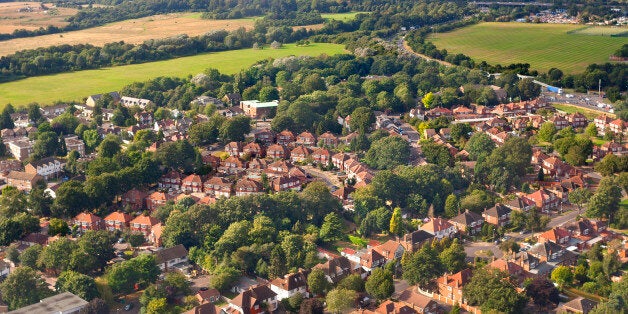 No matter which way you look at it, this country is divided. The young are angry with the old for owning all the property wealth. Non-graduates are angry with graduates for hording job opportunities. Our national conversation is becoming increasingly venomous. And then there is the chasm opened up by last year's vote to leave the European Union.
But there is perhaps no better way of understanding social division in Britain today than to look at the difference between towns and cities.
Of course, towns have always been different to cities. They have always been home to different types of people, and hosted different types of economic activity. But according to analysis by Professor Will Jennings of the University of Southampton for the New Economics Foundation, those differences are becoming increasingly pronounced in our politics.
Professor Jennings shows that there is a large and growing political divide between those who live in urban centres connected to global growth, and those who live in suburban, post-industrial or coastal towns. Labour's gains in England in the 2017 general election were most heavily concentrated in large urban centres, with younger, more educated and more diverse populations. The Conservatives, on the other hand, performed relatively better in smaller towns and less densely populated areas. And since 2005, the Conservatives have increased their share of the vote in small towns from 34.5% to 48%, while Labour support has remained stable.
This divide has been getting wider and wider over time. The more that a place has declined economically since 2005, the more that the Conservatives have gained electorally - while the reverse is true for Labour. Professor Jennings shows that this index of decline maps closely to the town-city divide, with cities much more likely to have improved economically than towns.
Of course, cities are home to vast inequalities and high poverty rates - generally with far starker extremes between rich and poor than smaller towns. They cannot be considered places of universal wealth and opportunity. Nonetheless, cities have arguably received far more focus than towns in debates about how to build a better economy.
Many towns are being left high and dry, disconnected from global growth and sidelined by our economic model. These are places which people call home. They are infused with history and meaning, and they serve as anchors for people's identity. Yet many towns are effectively being left behind.
At the New Economics Foundation, we are working with people in towns all over the country to start building better local economies from the ground up. These are people with a deep desire to gain some control over the economy where they live.
But they need help. That's why we are proposing a 'manifesto for towns', to start to ease the divisions between cities and towns. We make four recommendations:
1. Build up local supply chains: Local supply chains can give towns greater economic prosperity and cultural identity. They reduce the flight of resources away from an area, increasing their local retention and giving more bang for every pound.
2. Improve the quality of jobs in the 'foundational' economy: The foundational economy - those parts of the economy on which we all rely every day, and in which much of the workforce is employed, such as retail, utilities, health and education - exists in almost equal relative measure in towns as much as in cities. Any industrial strategy or regional development plan which prioritises the foundational economy over the more traditional hi-tech, city-centre led approach - would therefore be a huge boon to towns.
3. Build local infrastructure that supports thriving towns: For towns to thrive, the infrastructure that sustains them - particularly housing and transport - must be focused on drawing people into the town and not out of it. Infrastructure should create connections between economic sectors in a town and economic sectors in other places, rather than shifting activity out of town centres or into neighbouring bigger cities.
4. Develop more decentralised political institutions: Genuine devolution needs to occur. But this can only come from the centre letting go, which would then create opportunities for local government and local institutions to engage citizens in meaningful and innovative ways. These could include participatory and deliberative policymaking processes like participatory budgeting.
The divide between cities and towns is not unbridgeable. We hope our 'manifesto for towns' can be the start of a new effort to close the gap. We want to hear from all those seeking to build a better economy in places which desperately need it, whether they are national-level policymakers, local leaders, businesses, community groups or individuals.
Above all, we hope that when thinking about this country's economic problems, our towns are not forgotten.