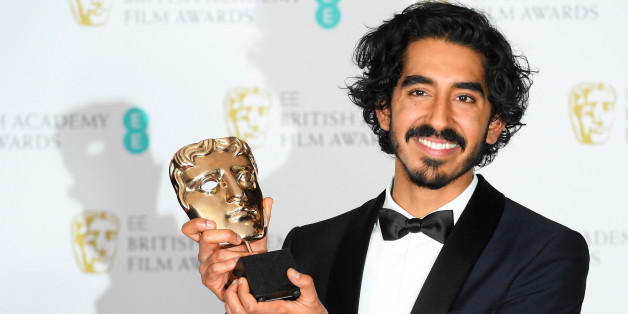 Toby Melville / Reuters
When Dev Patel took home the BAFTA award for Best Supporting Actor for his role in Lion it was undoubtedly a huge achievement for British talent. But even more so his win resonated with British South Asians who for so long have lacked true and accurate representation of themselves in cinema and television.
It's no surprise that South Asian actors have never quite been able to reach the upper echelons of the film or television industry. These spaces are usually reserved for white actors who are given roles that both challenge and develop them. For South Asian actors the roles they ever seem to land is a fleeting background appearance that assures producers they have met their diversity quota.
However, when they are fortunate enough to bag leading roles it's usually at the expense of their cultural heritage. Take Kunal Nayyar from The Big Bang Theory for example. A London born actor, he was only able to land such a prominent gig because his character, Raj Koorthrapalli, reinforces dated stereotypes of South Asians. These include ideas that we speak with accents, can't talk to the opposite sex and allow our culture to dictate every facet of our life. The same can be said for shows closer to home including the BBC sitcom Citizen Khan, which depicts British Muslims as wayward and whose culture exists simply for audiences to laugh at.
In the case of Dev Patel, he got his first big break playing Anwar in the E4 teen drama Skins. Despite the show's good intentions as representing real British teenage life, it was obvious that Dev's role was secondary to the roles played by his co-stars Hannah Murray and Nicholas Hoult. So when he went on to surprise producers and critics, who pegged Hoult as the one destined for Hollywood, to become the breakout star after landing the lead role in Danny Boyle's Slumdog Millionaire in 2007, it felt like someone who I related to was finally being given a platform to represent British South Asians as who we really are.
This is why Dev's status as one of the world's most sought after actors feels even more important because if you look historically at British south Asian actors, this level of success just doesn't happen to people like us. And what's better is that he got to this point without having to mock his Indian heritage - if anything in films such as the Best Exotic Marigold Hotel, he celebrated it. When he won the BAFTA award and stood there on that podium lost for words, it was a symbol to the children of immigrants, who spend most of their lives struggling to find a happy medium between British customs and their cultural background, that you can - and should - embrace both with open arms.
He was nominated for Best Supporting Actor again for his role in Lion at this year's 89th Academy Awards. He was only the third actor of Indian descent to be nominated in the ceremony's history. Previous nominees include Ben Kingsley in 2004 and Merle Oberon in 1932, who for much of her life hid her Indian heritage as it was only uncovered when she died.
His nomination spoke volumes of not only how far Dev has come in his short career but also at just how much work still needs to be done to address the exclusion of BME actors and what they bring to cinema. The hash tag #OscarsSoWhite plagued the event last year and did well to highlight the issue, but now it's time for the industry to get to work on making sure this isn't the case for future generations.
Dev eventually lost out to Mahershala Ali for his role in Moonlight. A worthy victory as Mahershala became the first Muslim actor to win an Oscar for a film that shone a light on the experience of queer black men. For millions of British South Asians, the fact Dev was even recognised for his work was a powerful statement that South Asians in film and television can embrace the beauty of their heritage and be celebrated for it. He may not have taken home the golden statue, but Dev has given us something far more valuable: a genuine and authentic representation of people like us for the first time.
Born and Raised is an an ongoing series that shares the experiences of British people from the BAME (Black, Asian and Minority Ethnic) communities in Britain. If you'd like to use our blogging platform to tell your story email ukblogteam@huffingtonpost.com or if there's an issue you'd like us to explore, email ukbornandraised@huffingtonpost.com