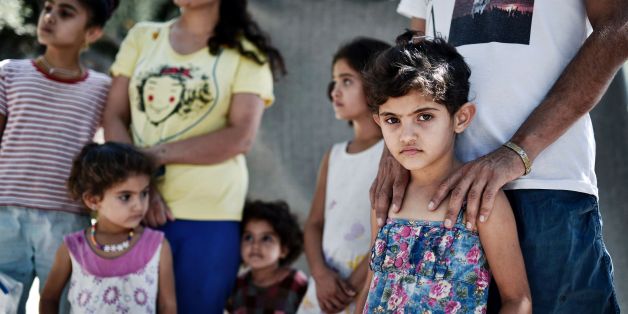 LOUISA GOULIAMAKI via Getty Images
Yasin is five years old. When I meet him he is attending a session at Baytna (meaning "Our Home" in Arabic) with his two year old brother and his mother who is pregnant. Yasin's father is missing.
At the session children play, learn and socialise. But none of these activities come easily to him. He is withdrawn, rarely communicative and clings to his mother. The Refugee Trauma Initiative therapist, who is leading the session, takes out a few small mirrors to begin mirror play for toddlers. Yasin's brother takes a mirror and starts to play. Seeing his "doubled" younger brother staring back at him, Yasin becomes animated. He squeals and shouts at the mirror. His mother, pulls him back and presses him to her chest.
Yasin's younger brother - is one of identical twin brothers. His twin was run over by a car in front of him when the family escaped Syria. "He hasn't been the same since," his mother says recounting the story. Seeing his brother's reflection in the mirror triggers a disturbing reaction in him.
Ensuring that children like Yasin get the support they need is why I am raising money on GoFundMe. His story, though horrific, is not unique. Thousands of refugee children currently in Europe have been exposed to multiple potentially-traumatic events - from losing their home to their families. The impact of these experiences range from the observable symptoms of trauma to subtle changes in a child's behaviour.
Children who have been exposed to these events may find it difficult to regulate their emotions, reactions or behaviour. This can lead to a difficulty in calming down or to or to emotional responses which may be unpredictable or explosive. They may display high levels of anxiety that can manifest in physical pain. Their caregivers, often struggling to cope with the very same trauma themselves, find it difficult and confusing to care for their children.
There is a huge body of evidence demonstrating that the psychological impact of war, displacement, and violence can affect people for generations to come. Studies that range from Vietnam veterans to children in the Balkan conflict in the 90's, evidence the devastating impact of trauma related stress on people's health, wellbeing and capacity to rebuild their lives. Yet very little attention is paid to the psychological and emotional needs of people who are impacted by this.
I experienced war first hand in Kabul, Afghanistan where I was born. Aged 11, I was forced to flee my home. The consequences of these experiences remain with me today. But I also know how much difference the right support can make.
That is why I co-founded Refugee Trauma Initiative - an organisation dedicated to meeting the emotional and psychological needs of refugees and supporting volunteers and aid workers to better help these communities. We need support from the public to continue this vital work and our fundraising campaign on Gofundme is one way you can help.
Our approach is simple. We create safe spaces for women, men and children to come together to support each other, emotionally and socially. To speak, work through the arts and share their concerns about the present, the past and the future. The safe spaces provide a containing environment guided by the pace of the participants. Our sessions foster hope and help refugees rebuild their emotional states so that they can more effectively address the physical and practical difficulties in their lives.
The RTI team has included, art therapists, psychologists, psychiatrists, and mindfulness practitioners, who usually speak the native languages and understand the culture of the refugees. We use the arts, mindfulness, talking and sharing as ways to help them process the difficult experiences they have gone through. Since our first session in March of 2016 in Northern Greece, we have supported hundreds of refugees in this way.
Yasin, his brother and his mother attend Baytna - our early childhood programme designed to help young children feel safe, calm and allow them to play--an essential part of childhood and learning. The programme is designed to reverse the impact of adversity in early childhood through play, learning and fostering secure attachment.
When children like Yasin attend our sessions - they benefit from the support of a therapist who ensures that their needs are met. Often this means providing additional support to the whole family - from family visits to one to one sessions with the children.
In Northern Greece, where we work, the refugee population is stuck in limbo with little to no support. Many of the larger NGO's are ending their operations, leaving a distressed population behind. Refugee Trauma Initiative is committed to staying and supporting families like Yasin's.
But we need your help. Our work is sustained by a team of professionals who relocate to Greece and work in challenging circumstances to support refugees. To keep our work going, we've launched a fundraising campaign on Gofundme to raise £50,000 - enough for two therapists to work with some of the most vulnerable children and their families. If we reach our target, we can continue to create spaces where children can heal from the devastating effects of war, and reclaim their childhoods.