So the Government* has issued a handy English language guide for Romanians, Bulgarians and other EU migrant workers arriving in the UK: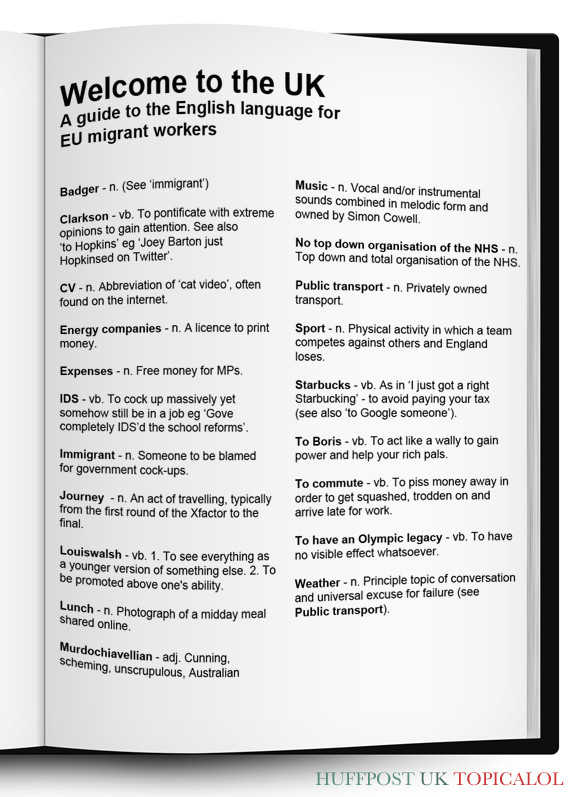 *David Schneider, Robin Flavell and David Beresford
MORE TOPICALOLS:


Also on HuffPost:
Loading Slideshow
German: Waldeinsamkeit

A feeling of solitude, being alone in the woods and a connectedness to nature.

Russian: Pochemuchka

Someone who asks a lot of questions.

Inuit: Iktsuarpok

The feeling of anticipation that leads you to go outside and check if anyone is coming.

Japanese: Komorebi

When sunlight filters through the trees - the interplay between the light and the leaves.

Spanish: Sobremesa

The period of time after a meal when you have food-induced conversations with the people you have shared the meal with.

Indonesian: Jayus

Someone who tells a joke so badly, that is so unfunny, you cannot help but laugh out loud.

Hawaiian: Pana Poʻo

When you scratch your head because it somehow seems to help you remember something.

Italian: Culaccino

The mark left on a table by a cold glass.

French: Dépaysement

The feeling that comes from not being in one's home country - of being a foreigner, or an immigrant, of being somewhat displaced from your origin.

Urdu: Goya

A contemplative 'as-if' that nonetheless feels like reality; a suspension of disbelief that can occur, often through good storytelling.

Swedish: Mångata

The glimmering, roadlike reflection that the moon creates on water.