Mother-to-be Josie Cunningham was so disappointed on learning the sex of her unborn baby she has taken up drinking and smoking with great gusto.
The 23-year-old recipient of an £4,800 NHS-funded breast enlargement is expecting her third son in two months.
She exclusively told The Mirror: "The evening I found out the sex of the baby was when I lit up my first cigarette. I'm not proud of it – but I couldn't stop myself. It changed everything."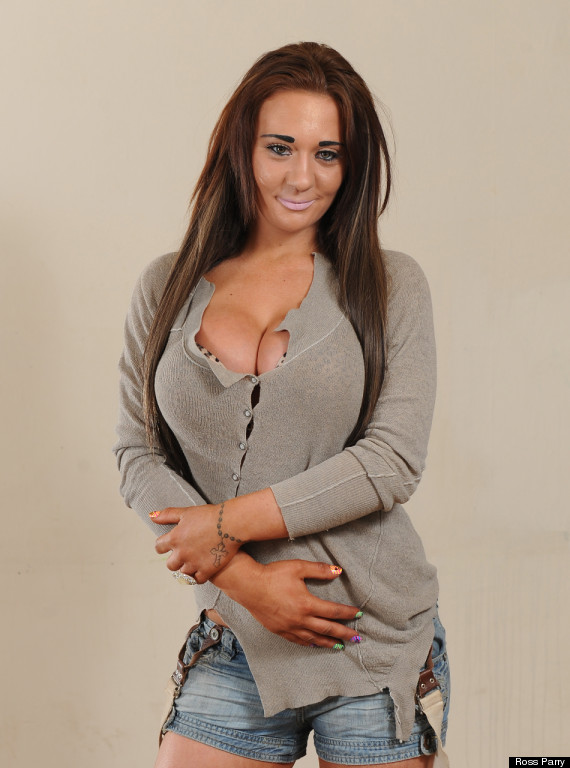 Josie Cunningham had a £4,800 breast enlargement operation on the NHS
Revealing she had several glasses of wine and smoked a whole packet of cigarettes that fateful night, Cunningham is now in the grip of a 20-a-day habit, but hopes to receive NHS help to kick it.
She said: "I knew it could harm my child but it didn't stop me. Deep down I know I wouldn't be smoking or drinking if I knew I was having a girl."
Cunningham, who is currently claiming £6,000 a year in tax-payer funded taxi rides because public transport gives her panic attacks, then appeared to compare carrying a son to a having a run-of-the-mill vehicle, as opposed to the "luxury car" experience of expecting a girl.
"If you've already got a couple of Fords and you're told your next car is going to be an Audi, your excitement goes through the roof.
"You make promises to yourself that you won't smoke inside the car or let people eat takeaway food in it. But if it was another Ford those things wouldn't be a problem.
"I know some people will find it disgusting that I started drinking and smoking again simply because I'm having another son, but I'm being honest," she said.
Earlier this year Cunningham announced her intention to have an abortion to increase her chances of appearing on Celebrity Big Brother, but later changed her mind.
And on Sunday she revealed she was mulling two book deals and expects to have a tell-all volume on the shelves by the end of the year.
I have been offered two book deals, I haven't signed either yet but I will next week - both are very appealing.

— Josie Cunningham (@JosieCOnline) June 29, 2014
She tweeted: "I understand why people are judging me in the way they are, all I ask is that before making your conclusive opinion on me, wait for my book to come out at the end of the year."
Online NHS literature states: "Every cigarette you smoke contains over 4,000 chemicals, so smoking when you are pregnant harms your unborn baby.
"Cigarettes can restrict the essential oxygen supply to your baby, so their heart has to beat harder every time you smoke."
It states children whose parents smoke are more likely to suffer from asthma and other more serious illnesses that may need hospital treatment.
Top 10 Holistic Tips to Help You Quit Smoking
Understanding what drives you to want or need a cigarette, or knowing what drives your desire to smoke is key to helping you quit. Once you know what they are, you can try and avoid these situations (or at least be prepared for them)

Exercise is the answer to many problems, helping with confidence issues, fitness levels, as well as, happiness. Being active will help you quit the dreaded habit, since it will not only make you feel great, but it will also help you to take your mind of any cravings

Making an effort to de-stress and calm your mind is key to being able to cut the cravings. Many people smoke to help relieve their stress, but if you can de-stress without cigarettes then you will be on the slow and steady pathway to successfully quitting the habit. You will eventually realise, that mentally, you don't need a cigarette

It is really important to speak up when you are having a bad day, and are struggling to stay off cigarettes. Often talking things through will help you understand how you are feeling, and what it is that is driving you need or want a cigarette. Once you know what's behind your cravings, you can go about making changes without the need for a cigarette. This will also help you, mentally and physically, realise that you don't really need it

People often use alternative nicotine products to help cut the cravings. They come in a range of products, from gum and patches, through to inhalers and sweets. You can also use e-cigarettes such as Socialites which allow you to vape without the 4,000 harmful chemicals or 60 known carcinogens found in traditional cigarettes. While not a quitting aid, they are a much healthier alternative to smoking and have a higher success rate as users still get to experience the hand-to-mouth action associated with smoking traditional cigarettes

It's really important when trying to quit that you have a support network around you, so that you don't feel alone. It's often good to club together and quit with friends or family members who smoke, as together you can be successful and reach your goal

With the money you have saved from reducing the amount you smoke (or if you have managed to quit all together), it's a good idea to treat or reward yourself with something nice as an incentive to stay off cigarettes in the future

Many people often try the replacement technique, replacing cigarettes for something else; often food. This is a good idea, so long as the smoking habit is being replaced with something healthy or productive, such as learning a new skill

Often making a list of reasons of why you want to quit and putting them up in different areas of your flat or house is a good way to keep you on track and ultimately off the cigarettes. It acts as a reminder of why you are quitting and importantly reminds you of your overall goal

It's often a good idea to tell co-workers, and other people around you, that you are planning to quit smoking so they can help encourage you and spur you on. If they see that you are flagging they will be able to get you back on track
It adds: "The sooner you stop smoking, the better. But even if you stop in the last few weeks of your pregnancy, this will benefit you and your baby."
Advice for pregnant women warns that drinking in the second half of pregnancy can affect how babies grow and develop, and can lead to learning difficulties and behavioural problems.
It also cautions that drinking more than six units a day can cause a serious condition called foetal alcohol syndrome.
The wannabe glamour model appears to have been courting the public's wrath since her breast enlargement last year, having subsequently gleefully revealed she's received £1,500 of Botox injections to treat excessive sweating and £2,500 of dental treatment – also funded by NHS.