Brace yourself: for the next four months, the news bulletins will be dominated by talk of the UK's referendum on whether to stay or leave the European Union. And, on June 23, we all get to vote.
Many people's first reaction is something like this.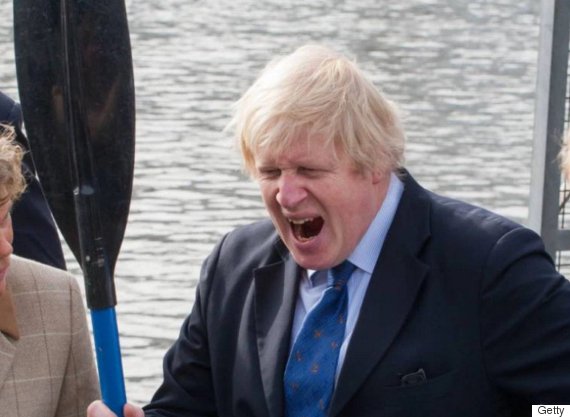 But stay with us. The referendum is arguably more important than any general election, changing Britain's relationship with Europe and, in turn, the rest of the world.
The arguments will range from the sublime to the ridiculous. The prosaic to the poetic. You'll hear about what it means if you've ever aspired to work abroad, watched Netflix on holiday in Spain or hired a Polish builder. But you'll also hear grand talk about power, sovereignty and Britain's place in the world.
There'll also be nonsense: scaremongering, dirty tricks, low politics. All in all, it should be a lot of fun.
Brass tacks. What are the facts?
Let's step back to January 2013. David Cameron promised the Tories would hold a vote on Britain's continued membership of the European Union, the now 28-country bloc of countries forged out of the Second World War. The promise was in its 2015 election manifesto, and a date was set for before 2017.
Here's the so-called Bloomberg speech.
The plan was to slay two dragons with one mighty swipe: Nigel Farage's insurgent Ukip, which was a real threat to the party's share of the vote, and eurosceptic Tory MPs, a thorn in the side of successive Conservative Party leaders.
Books have been written on why, and it's been a itch that has needed scratching for decades, according to Tories and tabloid newspapers.
But in a sentence: the EU has become bloated since its first incarnation, far outgrowing its original purpose as a trading zone and 'Brussels' - the derisory short-hand for the whole structure - now has too much influence over British life.
The Tories won the election and the country was set for its first referendum on the relationship since 1975, when it was more popularly known as the Common Market.
What's 'Brexit'?
You'll see the #brexit a lot. Those in the know call it that, short for 'Britain's exit' from Europe. Very clever.
Why the dash around Europe?
"Re-negotiating."
Part of the manifesto promise was to thrash out a new deal with EU member states to loosen its grip on the UK, and ensure Britain is not dragged further into a loveless relationship.
The niceties of the talks have kept political journalists in work, but perhaps the abiding image of the three-year "charm offensive" will be the awkward high-five with European Commission president Jean Claude Juncker at one of countless "crunch" summits.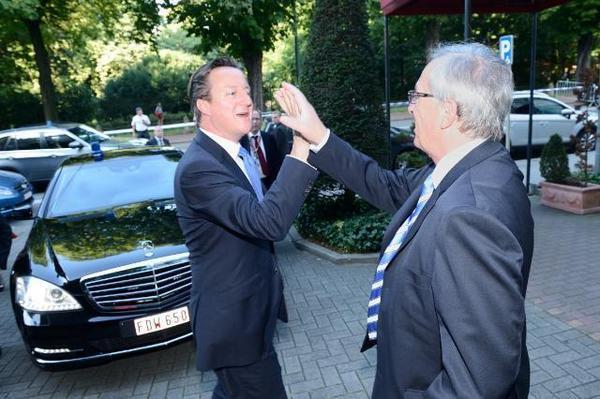 What he has been trying to achieve has been placed in four 'baskets'. Yes, 'baskets'.
Reducing benefits for migrants to discourage them coming to the UK.
Cutting red tape on business.
Exempting Britain from "ever closer union" with the EU
Introducing more protections for EU countries that don't have the euro, including the UK.
A package has now been finalised, and Cameron gave a press conference to spell out the details last night.
Isn't it "thin gruel"?
Well before it came out of the other end of the Brussels sausage factory, many have handed down their verdict.
"Thin gruel" is the old-fashioned phrase used by that most old-fashioned of Tory MPs, Jacob Rees-Mogg, to describe what Cameron's deal amounts to. The backbencher summed up what most eurosceptics thought in his savaging of the proposals.
In any case, critics are convinced the whole spectacle has been stage-managed: no-one in Europe wants Britain to leave, and they've got their own problems to deal with, not least a migrant crisis and sluggish economies. And Cameron's demands are not so outlandish to object beyond token grumbling.
Who is 'In'?
Cameron himself claims to be a eurosceptic, and has made plain he will not make up his mind until the deal is done. Yet few doubt he will do anything other than signal he will support staying in, and urge members of his party and government to do the same.
Labour, bar a handful of eurosceptics, is pro-Europe (though only really since the early-1980s) even though leader Jeremy Corbyn has in the past questioned whether the structure delivers more for business than it does workers. The Scottish National Party, the Liberal Democrats, Green Party and Welsh nationalists Plaid Cmyru are firmly in the 'In' camp.
And 'Out'?
It's Ukip's reason for being to exit the EU. Plus, according to some estimates, as many as 150 Conservative MPs want out too.
What about Boris?
The London mayor electrified the early stages of the campaign by announcing he would campaign for Britain to "leave". It was a crucial endorsement for many reasons. As a politician who reaches parts of the electorate others can't, the Tory MP's clout is a major win.
Plus, many thought he would back the "In" campaign - indeed, he chuckled at The Huffington Post's portrayal of him as the Vicky Pollard of politics. What many have latched on to is how it boosts his own ambition to be the next leader of the Tory party, and in turn Prime Minister.
If you think none of that matters, think again: the pound faced the biggest sell-off since 2010 on the news. Boris literally moving the markets.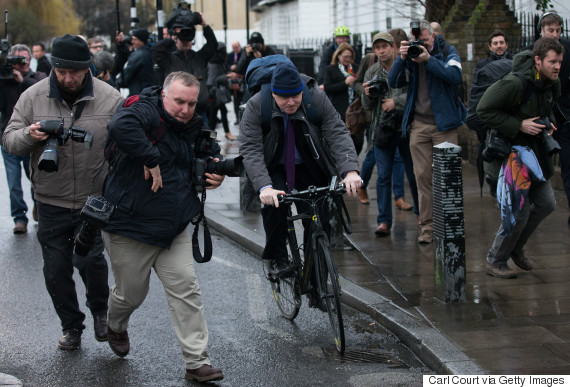 Boris Johnson cycles through members of the media the day after his "Brexit" revelation
But we aren't voting for parties?
There will be designated 'leave' and 'remain' campaign groups, which will be decided by the Electoral Commission. Each side gets a £600,000 grant, and has to abide by a spending limit of £7 million.
This is currently a story within a story: there are 11 different groups vying to be one of the two official campaign organisations.
What does Europe think?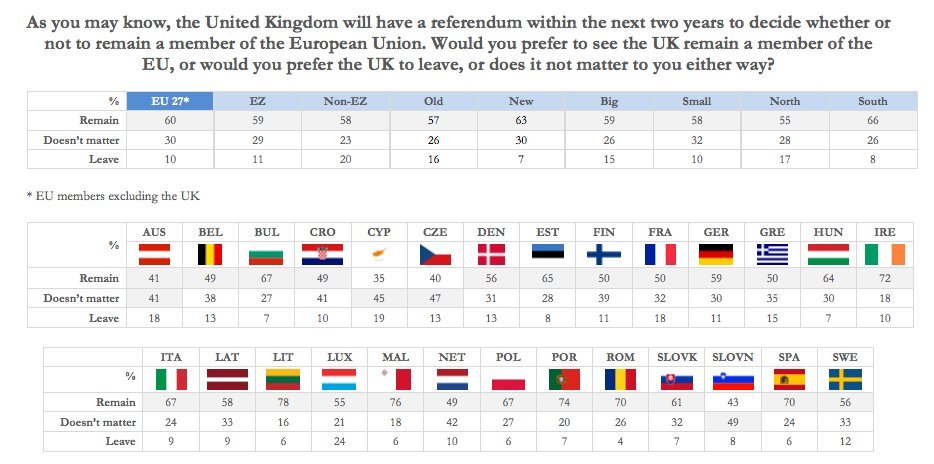 Isn't it bigger than the 'deal'?
Yes. Cameron's "re-negotiation" will be pretty quickly sidelined, many think. The debate will then be dominated, but not limited to, a handful of reasons to stay and or go.
Reasons to stay in
Jobs

Millions of jobs are linked to our EU membership, but there's little evidence to show how many would be in jeopardy if we left.

Trade

Some of Britain's biggest trading partners are in the EU, and more than 50% of our exports go to EU countries. Membership allows us to have a say over how trading rules are drawn up.

Travel and work

It's easier than ever to work and travel abroad. Around 1.4 million British people live abroad in the EU. Membership makes movement around the continent simple.

Crime fighting

The European Arrest Warrant allows criminals to be brought to justice across the EU.

Global influence

The EU is the world's biggest market and plays a big role in world trade, climate change issues, development projects and more.
Reasons to leave
Border control

Border control would be back in our hands. Many argue attempts to control immigration into the UK will fail as long as we are in the EU.

Cost saving

Estimates suggest membership costs around £24m per day when rebates and other receipts are taken into account.

Democracy

Laws made by the directly-elected European Parliament supersede legislation made by individual member state parliaments.

Other countries exist outside

For example, Norway, which trades with the EU without being in it, controls its own farming and fishing, rather than being bound by EU quotas.
What's 'Project Fear'?
A political device designed to scare the bejesus out of people if they vote for the other side. The best distillation of this was the Scottish independence referendum that saw fears over whether the country would lose the pound and see business flee, many think, carry the result for the preservation of the union. As we approach polling day, and especially if it goes to to wire, expect to be presented with end-of-the-world scenarios.
Both sides have already been at it.
Comedian Romesh Ranganathan, on Question Time, criticised how politicians are "cultivating a mistrust in immigrants" - both David Cameron for suggesting the "Jungle" refugee camp in Calais may have to shift across the channel to Calais under "Brexit", and Ukip for suggesting that without quitting the EU then Britain would be more vulnerable to terrorist attacks.
Will it go to the wire?
The polling industry's name was in the dirt after failing to call the general election. But hey. They'll be monitored closely throughout. One of the most recent, by ComRes, has Remain on 49% and Leave on 41% - though the lead has halved in two weeks. Received wisdom is the longer the campaign goes on the more likely the 'Out' campaign's message will cut through.
"Remain" lead over "Leave" at 8pts in new poll for @itvnews
Remain: 49%
Leave: 41% pic.twitter.com/OPjXdEXzt2

— ComRes (@ComResPolls) February 15, 2016
Who will we see a lot of?
Him.
And other eurosceptics.
After careering round like a shopping trolley, Boris Johnson eventually announced he would be backing Brexit. The London Mayor revealed his decision two days after his old university friend David Cameron concluded his negotiations with other EU leaders. Cynics believe Boris is calling for a Leave vote to further his own ambitions, but even if that were true he is still one of the few politicians who can make a real difference in this campaign.

The Ukip leader is arguably the country's most well known Eurosceptic. He has spent more than 20 years fighting to get the UK out of the European Union and his political career reached a high point in 2014 when he lead his party to victory in the European Elections. Farage's 'I'm not like other politicians' shtick took a blow following his "unresignation" as party leader after last year's General Election, but those who love him, really really love him. His opponents, including those on the same side as him in the EU debate, think he is too focused on immigration – a topic which they believe will turn off many voters from backing Leave.

In another world, David Davis would be Prime Minister and we might not be having this referendum. As it is, David Cameron defeated Davis to the Tory leadership in 2005, and the former Shadow Home Secretary is now one of the leading Eurosceptics in the Tory Party. With a background in business – he spent 17 years working for Tate and Lyle – Davis can bring real world experience to the Leave debate. His speeches are always well thought out, and his calmness will balance out some of the hysteria from others on his own side.

In his own way, Michael Gove is as divisive a figure as many other eurosceptics on this list, such as Nigel Farage. Pretty much despised by the teaching profession thanks to his period as Education Secretary, he has carried his 'reforming' zeal into his new role as Justice Secretary. Gove will bring an intellectual coherence to the Leave campaign, and could have influence over the wavering band of Middle England voters.

One of the key arguments from the Remain camp will be that the UK's security will be weakened if we leave the EU. Former Defence Secretary Dr Liam Fox will be the Leave campaign's key weapon in trying to play down any fears. Dr Fox, who resigned from the Cabinet in 2011, turned down a return to Government as a junior minister to 2014, giving him the freedom to speak his mind on Europe from the backbenches. It won't have gone unnoticed with Dr Fox that since the draft EU deal was announced by David Cameron, his support among Tory members to become the next leader of the party has shot up.

Few inside, and even fewer outside, Westminster knew much about Tory MP Steve Baker until David Cameron kicked off his EU renegotiation last year. As co-chairman of Conservatives for Britain, Baker began coordinating the activities of Eurosceptic Tories in anticipation of this year's referendum. The High Wycombe MP is frequently wheeled out for media appearances to not only attack the PM's EU deal, but also explain why there are so many splits in the Leave camp.

He's got deep pockets and an eye for mischief, and has certainly brought some colour to the Leave campaign. The businessman first landed on the political scene in October 2014, when he donated a million pounds to Ukip and has since gone on to co-found and fund Leave.EU and Grassroots Out. The reluctance of another anti-EU campaign, Vote Leave, to merge with either of these groups has led to some spicy words from the gun-toting, diamond-mine owning millionaire. He even described Ukip's only MP, Douglas Carswell, as "borderline autistic with mental illness wrapped in."

As you may have noticed, most of the prominent eurosceptics are what cynics could describe as 'male, pale and stale'. But Employment Minister Priti Patel is anything but. The longstanding Eurosceptic is not afraid to speak her mind, for example on backing the death penalty, and is a fresh voice in a debate usually associated with men in grey suits. As the daughter of Ugandan Asians who came to the UK in the 1970s, the Witham MP can help blunt claims that the Leave campaign is fundamentally anti-immigration.

Although yet to officially declare for Leave, the Work and Pensions Secretary is as Eurosceptic as they come. In fact, former Cabinet collegue – and one time leadership rival – Ken Clarke told the Huffington Post that even if David Cameron brought back "a statue in gold, life-sized, of Iain Duncan Smith as tribute to the nation" IDS would still back Brexit. While a recognisable name, it is unlikely that IDS would convince any wavering supporters who could not be won over by Farage, Davis and Fox to vote leave in the referendum.

The Tory backbencher is famed for three things: his eurosceptism; his repeated references to his wife when asking questions in Parliament; and looking a lot like Sven Goran Erikson. One of the so-called Awkward Squad of Tory MPs who have been dedicated to getting Britain out of the EU, Bone even held his own referendum on the matter last year – along with fellow Tories Tom Pursglove and Philip Hollobone. Of the 100,000 voting forms sent across East Northamptonshire, Kettering, Wellingborough and Corby, only 14,000 of them were returned – with 81% voting to leave the EU. He is one the founders of Grassroots Out and GO Movement.

Labour MP Kate Hoey is flying the flag from the Left for Brexit. Back in the 1970s and 1980s, being anti-EU (or EEC as it was then), was the position of many in the Labour Party - including Jeremy Corbyn's political hero Tony Benn. These days, Corbyn backs the UK staying in the EU, so it is left to a handful of Labour MPs, such as Hoey, to highlight the damage the European project has wrecked on the economies of Southern Europe.

His unveiling as a 'special guest' at a Grassroots Out rally in Westminster prompted both a walkout and a standing ovation - which sums up the public attitude towards George Galloway. The former Labour and Respect MP believes he is the spiritual son of Left-wing eurosceptic hero Tony Benn, and sees the EU as an institution designed to benefit bankers not ordinary Europeans. But the former star of Celebrity Big Brother is likely to repel more people than he attracts to the Brexit cause.
You could be forgiven for thinking it will be dominated by middle-aged men you've never heard of.
The only prominent campaigner so far bucking the trend is former T4 presenter June Sarpong, for the Stronger in Europe campaign. Incidentally she has already expressed a curious view on baked goods.
And should I care?
Yes. You have the same number of votes as David Cameron and Nigel Farage. Why should they have all the fun?