Peep Show comedian Robert Webb and journalist Julia Hartley-Brewer have become embroiled in a spat over the reaction of those who voted to remain in the European Union to those who voted to leave.
Presenter and writer Hartley-Brewer said on Sunday night that she had received tweets from irate remain supporters.
But Webb gave her complaint short shrift...
And things quickly went on a wild ride from there.
Webb admitted that he "shouldn't pick on a journalist" but quizzed Hartley-Brewer on why she was "so defensive" over the issue.
She went on to accuse him of pretending his position was "moral".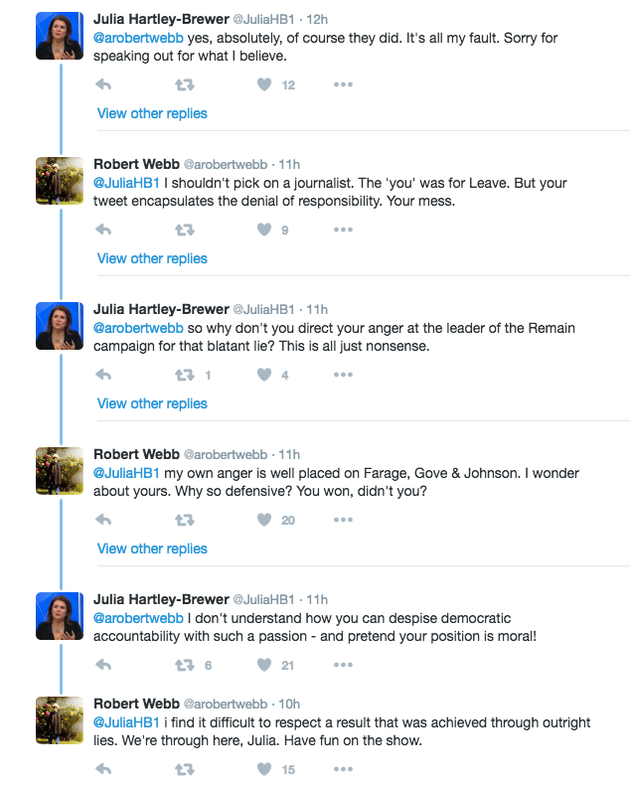 Webb also went on to retweet:
Ahead of the referendum, Hartley-Brewer said that she received abuse from students on Twitter after her arguments against giving 16-year-olds a vote featured in an exam.
Extracts from Julia Hartley-Brewer's opinion piece saying those aged 16 and 17 should not be able to vote in the upcoming EU referendum were included in May's Scottish Higher English paper.
Hartley-Brewer wrote in the Daily Telegraph: "If my eight year-old can wait to vote, a couple more years isn't going to do our 16 year-olds any harm."
SUBSCRIBE AND FOLLOW
Get top stories and blog posts emailed to me each day. Newsletters may offer personalized content or advertisements.
Learn more