Britain's youngest MP has said that some people have shown a "subtle homophobia" in their treatment of the Orlando shooting.
Attending a vigil in Soho for those murdered in the attack, Mhairi Black, MP for Paisley and Renfrewshire South, spoke to Channel 4's Jon Snow about the response to the attack which took place in the early hours of Sunday morning.
He asked her: "To what extent can we say this is another milestone even though it is hinged upon the most appalling event?"
To which Black replied: "When I was growing up I had a much easier time than people older than me when they came out as being gay.
"But you still see the subtle homophobia, it's blatant homophobia.
Turning to Owen Jones, who was also being interviewed, she continued: "It think your interview last night on Sky News was evident of the subtle homophobia in that people aren't really taking it seriously."
She added: "So to see this kind of reaction in response to trying to sort of sideline the fact that it was a total homophobic attack is fantastic."
Jones had said: "At the end of the day this was a homophobic crime, as well as terrorism and it has to be called out."
Longhurst said: "Whether I'm gay or not has no reflection on the fact that this person killed 50 people."
After a few tense moments of further discussion of the papers, Jones removed his microphone and walked out.
Jones responded: "Astonishing, and my worry was that it would be defined from the beginning, it would basically be straight-washed if you like. The fact is that it was not just a terrorist attack, which of course it was, but it was a deliberate attack and terrorist attack on LGBT people and it is the worst massacre of LGBT people in the western world since the Holocaust, so we've got to understand, we've got to underline the significance of this. This was an attack on LGBT people everywhere. 
Speaking to Jones at Monday night's vigil on Old Compton Street, Snow said: "It does seem that there are a lot of people who are not prepared to say this was a homophobic attack."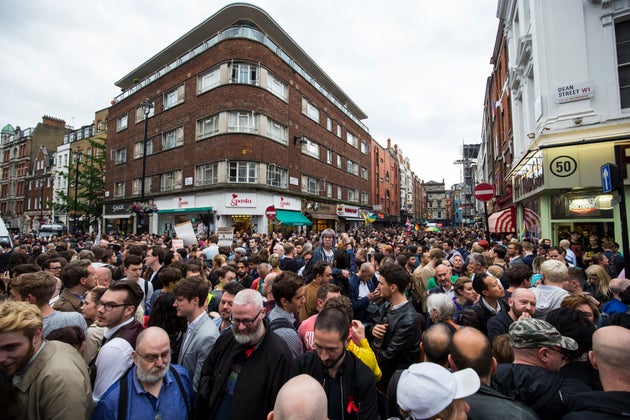 "We're fully aware as LGBT people of our history of a long and often quite difficult struggle for the rights we have, persecution along the way. We still live in a society as we know here where we face prejudice, discrimination.
"When we have this threat not of people who do not wish us to exist and will murder us for existing, that's why we've got this show of defiance and solidarity - not just LGBT people here, straight people united against hatred."
Londoners gathered in their thousands in the heart of the capital's gay village to stand in solidarity with those who lost their lives in the Orlando shootings.
Story continues below pictures...
Eyewitnesses said that "you could hear a pin drop" as thousands gathered in Old Compton Street in Soho to hold a vigil for the 49 people killed in the attack in the early hours of Sunday morning.
Labour leader Jeremy Corbyn, education minister Nicky Morgan, London mayor Sadiq Khan, Scottish Conservative leader Ruth Davidson and Britain's youngest MP, Mhairi Black, were among a number of high-profile figures attending the event.
Mateen, who was killed in a shootout with police, was armed with an AR-15 assault type rifle, a handgun and an explosive device.
It is the deadliest mass shooting in modern US history.
SUBSCRIBE TO & FOLLOW UK DAILY BRIEF