 It might be an understatement to say that the Labour Party's parliamentary candidate for the safe seat of Aberavon, in south-east Wales, isn't your typical Labour candidate.
His father happens to be a former leader of the party; his wife is a Social Democratic prime minister.
Meet Stephen Kinnock, son of Neil and husband of Danish premier Helle Thorning-Schmidt. Oh, and also son of Glenys, former Foreign Office minister and ex-MEP, and brother of Rachel, adviser to current Labour leader Ed Miliband.
Like Will Straw, son of Jack Straw and now Labour's candidate in Rossendale and Darwen, Kinnock Jnr has been dismissed by some critics on the right, including Tory minister Liz Truss, as a "red prince".
Does he think his surname, and his family background, have helped or hindered his nascent political career?
"It's break-even," Kinnock tells me, with a wry smile. "If I look at my selection, there were houses whose doors I knocked on - and I think I knocked on the doors of every single member of the Aberavon Labour Party - where I got a very warm welcome from people who I had not met before.. who had a huge amount of respect and affection for my dad. But there were just as many people who were disillusioned and.. did associate him, and my name, with the Labour Party establishment.
"In many of those cases, I had to win those people over and say.. don't vote for me because I am a Kinnock and don't vote against me because I am a Kinnock, vote for me because of who I am and what I've done.. Vote for me on that basis."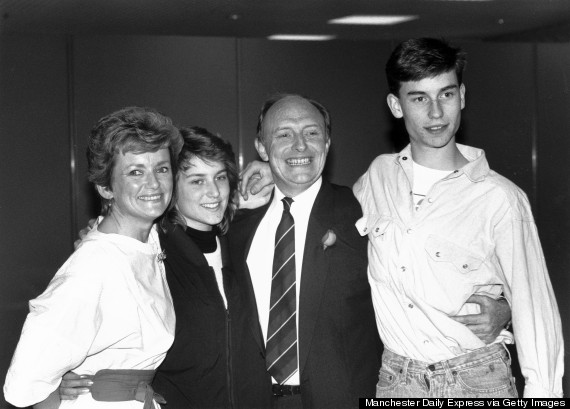 Stephen Kinnock with his parents and sister in 1987
We are sitting across from one another in a noisy cafe in central London. I order a whopping chunk of chocolate mousse cake; the tall and wiry Kinnock, dressed in a crisp, white, open-neck shirt and light grey suit, quietly asks the waitress for a "tiny sliver" of carrot cake. He looks much younger than his 44 years.
What was it like growing up in the the politically-charged home of Neil and Glenys Kinnock in the 1980s? Under the constant glare of the (right-wing) media spotlight?
It was "surreal", he admits, because you "see somebody you have your breakfast with, your lunch with, your dinner with, and their face is all over the front page of the newspapers. That is a bizarre experience."
There was also, it seems, the bullying he had to endure in school on account of his father being the (much-mocked) Leader of the Opposition. His classmates at the local comprehensive were "merciless" and there was a "lot of pisstaking" of Kinnock Jnr. "Every single Sunday night, [Spitting Image] would be on and then every single Monday morning, some smartarse in school would make a few comments about [my dad]."
Nevertheless, he adds, "Dad becoming a public figure was a good thing for me because it made me work even harder and try even harder as I always felt I had to be twice as good as the next person in order to prove myself.
"There is an inbuilt assumption in people that if you've got a famous father or mother you somehow get preferential treatment. And I realised from a very young age that I would have to be twice as good as the next person in order to prove myself."
Kinnock was selected as the Labour candidate for Aberavon, in March, by the narrowest of margins - 106 votes to 105. If elected to parliament next May - which is pretty likely, given the 11,039-seat majority he inherits from retiring MP Hywel Francis - he will be the first child of a Labour leader to become an MP since Arthur Henderson Jnr in 1966.
What made him want to ditch a well-remunerated career in the private sector for a a very public life in parliament?
His answer is pretty blunt and will, I suspect, hearten those on the left of his party: "We live in a country where the wealthiest five families are richer than the entire bottom 20% and that's motivation enough for me to want to be actively involved in politics for the Labour Party."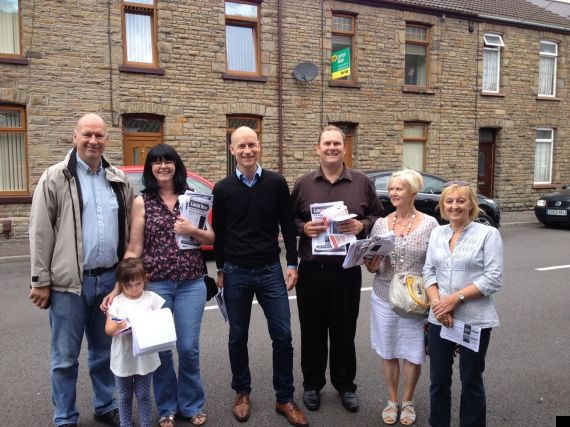 Kinnock campaigning with local Labour activists in Aberavon
He also says he wants to bring greater diversity to the Parliamentary Labour Party. But can a white, middle-class man in his 40s really help further the cause of diversity in the Commons?
"I think diversity is diverse," he responds, "and that means a range of different things. Of course, it's about gender balance, it's about having the right mixture in terms of black and ethnic minority [politicians], and of course we have more to do on that and I can't offer much on that side. I totally and readily accept that.
"But I do think diversity is also about our professional backgrounds and where we're coming from and what we can contribute in terms of our experience and it's really important that the Labour Party has good connections into the private sector and understands where business is coming.. and I think that I can add to the mix and bring diversity from the point of view of my professional background."
Kinnock is a managing director at Xynteo, a strategic advisory firm based a few hundred yards from the cafe in which we're sitting, and focuses on the green agenda and what he calls "better corporate citizenship". Prior to joining the firm, he worked for the British Council in Brussels and the World Economic Forum (WEF) in Geneva.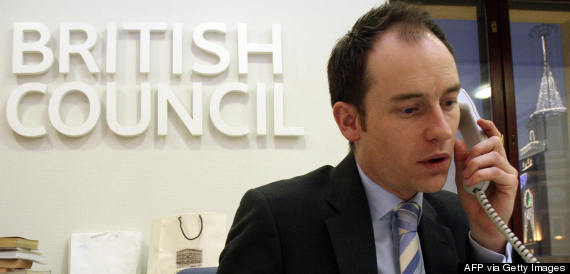 Kinnock worked on the continent for the World Economic Forum and the British Council
From his vantage point at Xynteo, Kinnock believes "business is changing" and Labour needs to change the way in which they "frame" their conversation with the corporate world. "There is an increasing number of CEOs out there who get it; they understand the appalling stuff we see from the banks [and] the fact that the global economy was brought to the brink of catastrophe in 2008 because of a 'get rich quick' mentality.. There is an increasing number of business leaders who get that. I'm not sure the Labour Party sees that the tectonic plates are shifting.
"So there is a potential new alliance with business that can be forged but it doesn't start with going in and hectoring business about all the things they're doing wrong.. If we go in with [a] positive approach, we will get much more traction with the business community."
There are those on the right of the party who say Labour, despite a latter-day 'prawn cocktail offensive' from shadow chancellor Ed Balls and shadow business secretary Chuka Umunna, hasn't done enough to woo big business. The likes of Tony Blair and Peter Mandelson have warned that the Labour Party can't afford to go into another general election without any public endorsements from the UK's leading captains of industry. Does Kinnock agree?
"I accept that we are not where we should be," he replies. "We are missing a trick. I don't think it is too late. There is time to do some of that outreach and get two or three big business leaders to endorse us, and endorse what we stand for, going into the next election."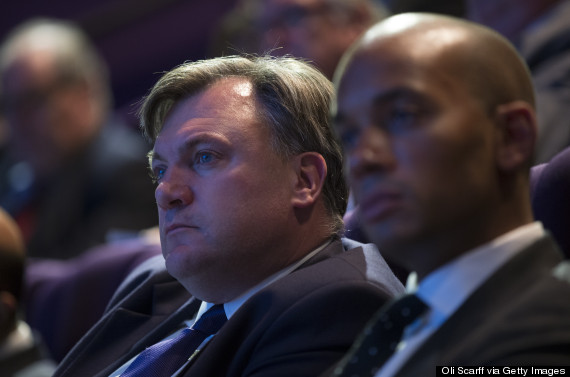 Kinnock warns Balls and Umunna against 'hectoring' big business
He wants to reach out to business but he also wants to fight inequality - is Kinnock on the left or the right of his party? Is he New, Old or even Blue Labour? The candidate for Aberavon tells me he doesn't like such "labels" before conceding he is on the "left, the centre-left" of his party. His argument is that "British politics, for the past 30 years, has been dominated by a Thatcherite orthodoxy and Thatcherite consensus and what it's done is... it's pushed wages to a level that's far too low as a proportion of our total GDP.. and I think a big reason for that is the decline of collective bargaining."
Kinnock describes himself as "a big fan of moving to sector-based collective bargaining because I think that's the way that we can really restructure our economy so that it's much more about wages than it is about profits. That's the way to address the cost of living crisis."
He checks himself. "Now, I guess an opinion like that puts you on the left of the party. However, looking again at the continent of Europe, sector-based collective bargaining is at the heart of the Nordic model, is at the heart of the German model and, in fact, the business community loves it. So I don't know if it's a left-wing policy really; it's a pro-business policy [and] a more mature way of running industrial relations."
He continues: "Equally, I think there's a strong case for making the living wage compulsory because, again, I think it's about creating a high-wage, high-value added economy.. and making that case on the basis of paying down the deficit."
Kinnock, who calls himself "unashamedly Keynesian", says "you will never cut your way to balancing the books. The only way you balance the books is through sustainable growth which is what gives you the tax receipts that you need to pay down the deficit. So I am making the case that these left- and right-wing labels don't really work because I am saying something about making the living wage compulsory, which might label me as a left-winger, but I am doing so from the point of view of economic competence."
It's a persuasive argument and what Kinnock call, "a business case for more progressive policies.. Economic competence seems to be connected to your ability to cut, where in fact it should be connected to your ability to stimulate growth."
Given his business background, it isn't surprising that Kinnock sees himself as a pragmatist and wants to present himself, to his electorate and to the media, as a hard-headed realist and problem-solver. He talks passionately and eloquently about the need for long-term planning and cross-party consensuses. Echoing pre-2008 Barack Obama, he stresses the need for cross-party cooperation and for bipartisan approaches to the big issues of our time.
"I think one of the reasons people have become disconnected and alienated from politics is because it seems like we're involved in these cat fights all the times, between parties, and we're less interested in actually solving problems and coming up with real practical solutions.. that stick. You can't just every five years tinker with the NHS or tinker with our energy policy or tinker with our education policy. You need solutions that can stick."
After praising Ed Miliband for his recent party conference speech in Manchester, in which the Labour leader laid out his "six national goals" for "the next ten years", Kinnock says his party should "identify four of five areas.. of strategic national interest, and actually look to to build cross-party consensus around them. If you look at the way politics works in continental Europe that's absolutely in their DNA, and they look to reach out and build those long terms plans and if you can do that on apprenticeships, on industrial strategy, on energy, on education, we could actually get some certainty in the system [and] commit to a ten year plan.. as a good basis for moving forward."
Has his experience living and working on the continent, and in Denmark, in particular, made him a fan of coalition politics? "Yeah, I think that we now live in a multiparty democracy and that is a natural evolution of British politics. And we've got to wake up to that fact: it's politics for the 21st century.
However, he adds, coalition politics from Labour's perspective requires a "changing of the political culture, and I hope some of my experience could be brought to bear to make that happen".
Can Labour win a majority next May or should it be preparing for an inevitable coalition with the Liberal Democrats?
"Labour can win a majority," he tells me, stressing the word 'can', before continuing: "We, of course, will be pushing to try and secure a Labour government and it would be fantastic if we had the ability to do that as the Labour Party alone but I think realistically we must now be prepared for coalition."
From Kinnock's perspective, Labour has "plenty of common ground with the Lib Dems. We've got to make a broad and generous offer and I hope that any party that we're going into coalition with is prepared to reciprocate and make that broad and general offer".. I think with the Lib Dems we can make [coalition] work."
Some in his own party would argue that even the prospect of a coalition government is beyond the Labour Party right now - due to the unpopularity of party leader Ed Miliband and the constant talk of coups, plots and divisions.
Does Kinnock Jnr agree with the stinging verdict on Miliband delivered by his father's former chief of staff, Charles Clarke? In an interview with me in July, Clarke, who served as home secretary under Tony Blair, said Kinnock Snr had "far, far more qualities than Ed Miliband as a leader" as "Neil was a fantastic leader and brought Labour back towards victory".
There's a pause from the Labour candidate for Aberavon. He chooses his words carefully. "It was a very different time and very difficult to make those connections."
Referring to the battle with Militant Tendency in the mid-1980s, Kinnock says his father's "greatest achievement as party leader was to save the Labour Party from an existential crisis and that defined him and defined his leadership and, clearly, Ed has not had to go through anything like that. So I think it's very difficult to compare the two as the circumstances are so different."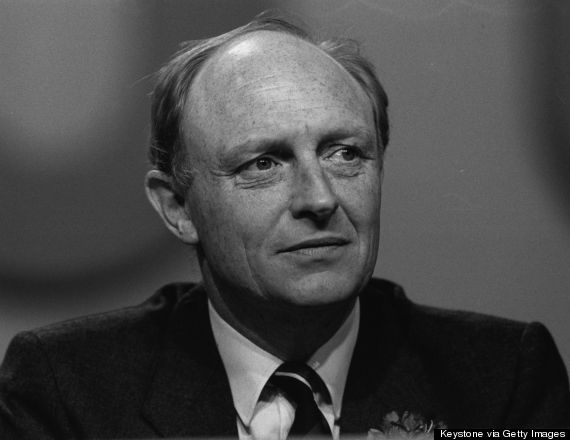 Labour faced an 'existential crisis' under Neil Kinnock, says his son
I remind Kinnock of his dad's claim that Miliband has had it "worse" than he did when he was Labour leader between 1983 and 1992. Is there is an analogy to be made between Kinnock then, especially in the early 1990s, and Miliband now - in particular, their treatment at the hands of a hostile, Tory-supporting press?
He nods. "Politics is a contact sport and certainly if you're leader of the Labour Party you've got to be ready for a monstering by the media and that goes with the territory. So I don't think theres a huge difference between the monstering my father got and the treatment that Ed is getting. That goes with the territory. The only way to deal with it is to get on the doorstep and talk to people directly.
"Forget about going through the media. Get out there!"
Kinnock wants Miliband to adopt a Jim Murphy-style 100-day, 100-town tour, getting up on crates and boxes to address people directly in their public squares and high streets. "I'd like to see Ed doing more of that. He needs to get out and talk to people - talk to our members, talk to our voters and let's get everybody on the same page and fired up for the election next year."
He adds, with only the faintest hint of pride: "Of course that was something my dad was brilliant at."
What about the people around Miliband? The Labour leader's office - his aides, advisers, spin doctors, all based in the Norman Shaw North building in Westminster - has come under intense attack from both right-wing commentators and backbench Labour MPs. Some suggest those closest to Miliband are demoralised and divided over the correct strategy to adopt in order to boost their leader's image and standing; others claim his advisers are out of touch and out of their depth.
Unsurprisingly, Kinnock - whose sister Rachel works as an aide to Miliband in Norman Shaw North - doesn't agree. "If it's such a desperately unhappy place why has nobody left? People are absolutely passionate about getting Ed into Number 10 and they will do whatever they can. You take the rough with the smooth."
However, he adds, Miliband needs "to listen" to his aides and advisers. He cites the recent and "ridiculous" media furore over the Labour leaders's inability to eat a bacon sandwich in full glare of the television lights. "I am pretty sure there were people around Ed advising him that there were cameras and it was a little bit risky to do that but, of course, he went ahead and did it. He's his own man.. I can imagine the thought process was: 'I am going to eat this bacon sandwich. I want to eat it now. That's it.. I am my own man.'
"But the fact is you have got to weigh up the risk of all the crap that comes out of a story like that. It's trivial and ridiculous but that is, unfortunately, the media age in which we live and sometimes you have just got to go with the grain rather than against it."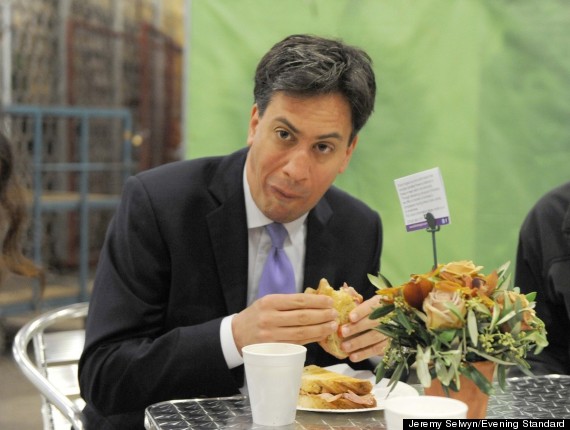 Ed Miliband struggled with his bacon sandwich - but should he have listened to his aides?
Kinnock spent much of his childhood watching his father being bashed by his political opponents and has spent much of his adult life watching his wife being bashed by hers.
Helle Thorning-Schmidt has been prime minister of Denmark since 2011, and the leader of Danish Social Democrats since 2005. She was the country's first female premier and the party's first female leader.
Kinnock married Thorning-Schmidt in 1996; they met four years earlier while postgraduate students at the College of Europe in Belgium. "I was 23 and she was 26," he recalls, before joking: "Obviously if at that time when we met she had said i am definitely commited to a career in representative politics and here is a crystal ball.. I am going to become the leader of the Social Democratic Party, I probably would have called a taxi and left." He laughs and then says to me, in a very serious tone: "I am proud of what she's achieved."
Is it it weird to be married to the prime minister of a country? There's not many people in the world who can say they are, and even fewer men who can say that. What's it like?
"It's funny, really, because, yes, she's the prime minister of Denmark but also my wife and mother of my children and when we are at home hanging around on the sofa and watching TV it doesn't feel weird at all. It feels like 99% of what other families do on a Saturday evening."
I can't help but interrupt and ask: do they watch Borgen together on Saturday evenings?
He chuckles. "We have watched Borgen. I quite enjoyed the first series but thought the second series went a bit off the rails and became implausible so I gave up on it."
Kinnock says he is a "feminist" who is "absolutely passionate about women moving forward taking on the big jobs and breaking through the glass ceiling". "I am immensely proud of what Helle has achieved and I hope that Helle can be a role model to other women who can see that it is possible to be a great mother and be very successful in your career."
And is she really the only leader who does her own washing, as Kinnock has claimed in the past?
"Yeah, she is. We don't have any help at home." Well, he adds, apart from Helle's mother who is their "rock".
Thorning-Schmidt has visited Aberavon to support her husband's candidacy and help him fundraise for the election. So, what did his local party members in south-east Wales make of a female foreign leader who's been dubbed by some as 'Gucci Helle', due to her designer wardrobe? "It was great. She came to the dinner with Aberavon CLP [Constituency Labour Party] and she [took to it] like a duck to water because, basically, the Danish Social Democratic Party is the sister of the Labour Party."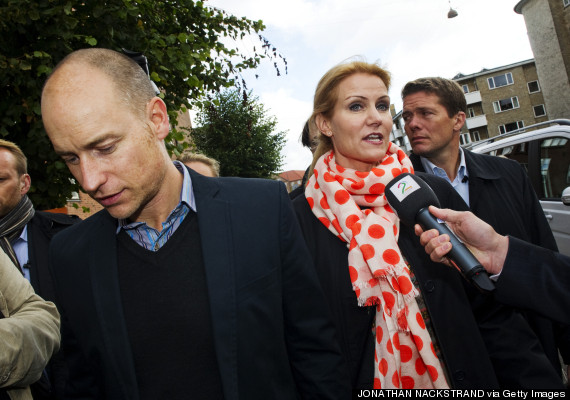 Thorning-Schmidt won over members of Kinnock's local Labour Party in January 2014
The members of both parties, Kinnock tells me, have "exactly the same values" and his wife "is a class act in talking with and engaging with" such activists, wherever they are in the world. "She basically said all she had to do was come and change the language from Danish to English," he recalls. "It was a great evening." ("She mixed well at the fundraising event," a local councillor later told the Evening Standard. "You wouldn't have guessed she was the prime minister of Denmark; she was great, an ordinary person.")
In December 2013, Thorning-Schmidt appeared on newspaper front pages across the world when a 'selfie' she posed for with Barack Obama and David Cameron at the memorial service for Nelson Mandela in Soweto went viral online.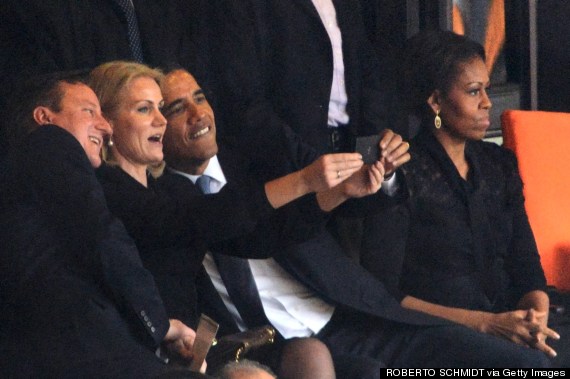 Thorning-Schmidt poses for that now-notorious selfie with Obama and Cameron
Defending himself in the House of Commons, Cameron later said that "when a member of the Kinnock family asked me for a photograph, I thought it was only polite to say yes".
It's a version of events that the Danish prime minister's husband seems to dispute when I ask him for his reaction to that (now infamous) photo.
"Yeah well, for me, the most striking thing about the selfie was our prime minister muscling in on the left."
So, hold on, the picture was only supposed to have been of her and Obama?
He nods. "She was sitting and chatting with Obama, then the selfie idea somehow emerged, and then suddenly Cameron appeared in shot and managed to muscle himself in on the picture."
Kinnock, of course, is one of the few people on earth to have seen the actual selfie - rather than the picture of the selfie being taken - and says, with a cheeky grin, that Thorning-Schmidt will one day "later down the track" release it for public consumption.
Kinnock and Thorning-Schmidt have two daughters - Johanna, 18, and Camilla, 15. The former lives and studies near her father in Wales while the latter is with her mother in Denmark. How hard is it on the couple, and on the kids, to have to live apart like this?
"The thing is that our kids they know how passionate Helle and I are about what we're doing," he says, "and how passionate we are about making a difference and they know that we'll only be happy if we are engaged and involved in doing that so the last thing they want is a grumpy mum or a grumpy dad sitting around getting frustrated."
Maybe so, but it can't be easy, can it? Ed Balls and Yvette Cooper struggle to find time for a 'date night' - and they're in the same party and same country.
"Yeah, it is hard sometimes," he responds. "You do live apart for periods of time. I know that her job is quite unusual but I do think there are a lot of people out there who spend time apart, people with increasingly international careers or if your'e married to someone in the army.
"People go away and spend time apart and in some relationships that really works.. We've been very fortunate that it works for us."
As he's mentioned his daughters, I ask whether he could ever imagine a third generation of party-political Kinnocks? And if Johanna or Camilla did decide to run for parliament, would it be in the UK or in Denmark? "Johanna has been based in the UK now for the past couple of years," says Kinnock. "She's also applying to go to university in the UK. She's becoming quite rooted and anchored in the UK; if she were to decide to go into the politics it would be more likely on the British side." (But this is all, he reminds me, a purely "speculative conversation".)
Returning to the subject of his wife and her rather, er, unique job, I wonder how strange it'll be if he ends up serving in a future Labour government, perhaps even in the Foreign Office - Kinnock speaks five languages and has worked in seven countries - while his wife remains prime minister of Denmark? Would there be any kind of potential conflict of interest? How would they handle their respective careers and duties then?
"I don't think there is a precedent for it," he counters, laughing. "We don't know. I also think certainly for the first years, if I do manage to get elected, I'll be focusing on getting my feet planted in the constituency, campaigning on local issues and getting my feet under the desk in Westminster."
He continues: "Maybe because of my business background, perhaps there's a role [for me] more around [the department for] Business, Innovation and Skills. Who knows?"
Could he go all the way to Number 10 Downing Street? Complete the journey that his father started yet twice failed to finish?
I point out to the younger Kinnock that the seat he is contesting in May 2015 was once held by Ramsay MacDonald, Labour's first prime minister. Does he have what it takes to follow in the latter's footsteps?
He may not be a member of parliament yet, but he knows how to dodge a question. "This is a constituency with an incredibly proud Labour history. We're standing on the shoulders of giants.
"We're very proud of that history, and we must never forget that history, but we must also move forward."
Keep your eye on this Kinnock: he's clever, articulate and ambitious. And maybe precedent-busting, too.
He may think series two of Borgen was implausible, but a British minister married to a Danish prime minister might seem to many people like something straight out of the plot of a Scandinavian television drama.
Read More:
UK Politics
,
ukip
,
US politics
,
gaffes
,
recording
,
david mellor
,
lord freud
,
Barack Obama
,
Gordon Brown
,
david cameron
,
Ed Miliband
,
labour party
,
UK conservative Party
Secret recordings and undercover opponents have been hugely perilous for politicos ever since the Watergate Scandal poisoned Richard Nixon's career in 1972. Even when retired, people like David Mellor are always at risk from a sly iPhone, a forgotten lapel mic or a hidden camera when they're ranting or, heaven forbid, being truthful.
From a misogynistic joke by Godfrey Bloom to George Bush wanting Hezbollah to "sort their shit out", here are some of our favourite examples of politicians being caught on tape.
Read More:
Chuck Hagel
,
president obama
,
President Barack Obama
,
George W. Bush
,
Iraq war
,
ukraine
,
china
,
russia
,
Ronald Reagan
,
paul wolfowitz
,
William Kristol
,
Bill Clinton
,
Bill Richardson
,
greneda
,
political polarization
,
partisan politics
,
bipartisan
,
isis
,
ebola
,
US politics
,
gulf war
,
Cold War
,
Republican Party
,
Democratic Party
,
congress
,
MoveOn.org
Whether he fell on his sword or was pushed, Chuck Hagel's departure is the latest in a series of foreign policy missteps. It leaves the administration bereft of a Veteran Secretary of Defense at the most dangerous time in recent memory. And if Hagel's appointment as a Republican Senator to a Democratic administration was hailed as a rare example of bipartisanship, his resignation can be seen as an emblem of that failed approach, too.
But Hagel's departure points to dysfunction not just within the Obama administration but the foreign policy establishment in general. It is the parties and the wider system that have been unable to deploy power effectively against a resurgent Russia and the murderous ISIS, to provide the reassurance of steady American leadership.
Hagel, of course, was never a neo-conservative hawk but came from a generation of Republicans and Democrats alike whose defining experience was Vietnam. Their greatest life lesson was that the military should never again be led by politicians into an open-ended engagement without the clear prospect of victory.
American politics and world events move so quickly that we sometimes forget that it took the first Gulf War to fully exorcise the ghost of Vietnam. General Colin Powell's doctrine of overwhelming military superiority to include ground troops and widespread public support for military action meant the expulsion of Saddam Hussein's forces from Kuwait was achieved speedily, honorably and completely.

Also less recognized is how relatively cautious President Reagan's military actions were in the last decade of the Cold War. Powell writes in his autobiography that the 1983 invasion of Grenada raised concerns about the ongoing operational effectiveness of the military in conducting even that limited incursion, particularly in field communications. Nor did Reagan follow those who denounced Carter's détente with the Soviet Union and argued for the forced liberation of Eastern Europe in the 1970s.
No, we had to wait for the presidency of George W Bush and the twenty first century, paradoxically, for the shrillest Cold War advocates of unilateral action to gain the levers of power and turn the clock back on the Powell doctrine.
The neo-conservatives who set the policy of regime change in Iraq and the backdrop to today's foreign policy debate have more in common with the apologists of the Obama administration than they would ever admit. For they were in fact radicals, arguing for a partisan departure from the doctrine of containment that served the US and the world so well for the last half of the twentieth century. Many of the intellectuals like Bill Kristol and Paul Wolfowitz who provided the ideological justification for the Iraq War also originally came from a left-wing Democratic tradition that emphasized increased social welfare and unionism alongside unqualified opposition to 'tyrants'.
It was this approach and the resulting unacceptable costs of the second Iraq War that led to an equally radical counter-revolution in foreign policy in the election of Obama, informed by far-left groups like MoveOn.org, promising an end to 'hawkish' foreign policy at all costs. But that led to, essentially, the surrender of the hard fought gains in Iraq and Afghanistan, leaving us with the worst of both worlds.
And so we arrive at the current situation of the Obama administration and seemingly daily crises. Decision-makers are still caught between the forces of an administration whose main initial conviction was that America has done too much to re-shape the world in its image and an emboldened but divided Republican opposition who have no clear answers of their own, but have resisted action when and where it is most needed. Most independent observers agree that ISIS is the result of the Syrian civil war, where Congress blocked military intervention.
The real-time significance of Hagel's departure is probably to try and turn a page on this paralysis. But it also, unfortunately, points to all the work that has to be done by Obama or his successor. The real price has yet to be paid, because the costs of inaction have been piling up for years. If the United States now has to ramp up military spending and defense posture against Russia, China and Islamic extremism, it will only be facing down problems it could have nipped in the bud- 'Obsta Pricipiis' - in the tradition of the American Revolution.
The good news is that although foreign policy has been trapped between the rock of a reactive Democratic administration and the hard place of an obstructionist GOP, partisanship in foreign policy is not a given.
In 2008 both parties considered presidential candidates with thoughtful foreign policy platforms that recognized America's unique and exceptional role in the international order. Governor Bill Richardson, former ambassador to the UN under President Clinton set out a plan to deal with resurgent threats with allies that foresaw challenges to international peace and even public health risks like Ebola. Mitt Romney was pilloried by Obama in 2012 for 'Cold War thinking' when he predicted Russian adventurism and has always understood that vigilance is the first priority of the American leader.
So Hagel's unhappy tenure is only the latest chapter in how polarization Stateside can wreck the ship of state abroad. But perhaps it will encourage genuinely bipartisan leadership that leaves the ideological divisions of the late twentieth century, and the hubris of the early twenty first, behind it. I'm sure that is a legacy he would welcome, from someone who already has much to be proud of.
Every year the US President pardons a turkey.
Quite an honour, which may be more useful if bestowed on a person.
I'm sure plenty would agree to dress up as a turkey, and even behave like a turkey, in order to avoid ruining the spirit of the day.
It's also pretty hard not to forgive someone dressed in a turkey suit, pecking at the ground and squawking. Give it a go yourself, next time you forget to tip someone, arrive late to pick up the kids from school, or rob a bank.
So this presidential turkey pardon has only been regular thing since 1989.
That's right, 1989.
Meaning it's not even as old as Indiana Jones, Ghost Busters or Ferris Bueller's Day Off.
Thanksgiving in the USA goes right back to around 1621, but the turkey pardon itself is not even as old as The Princess Bride and The Terminator. (80s movies are the best.)
A turkey was first presented to President Harry Truman in 1947, however no records mention a pardon. Indeed, there's evidence that he actually ate it.
A president eating a turkey? Outrageous! That's not what they're for! Why wasn't he impeached?
Eisenhower ate the birds presented to him as well.
Kennedy apparently spared a turkey on Nov 18, 1963, just four days before his assassination. The bird was wearing a sign that read, 'Good Eatin' Mr President' and weighed fifty-five pounds, a size which apparently made the president uncomfortable.
This makes perfect sense, especially considering Kennedy's motto was, 'no fat chicks'.
The first president to officially pardon a turkey was Reagan in 1987, who at the time was being questioned over whether or not he would pardon Oliver North for has involvement in the Iran-Contra affair.
In order to distract everyone's attention, he pardoned a turkey instead. It worked too. Nobody noticed that the bird was not Ollie North, proving again Reagan's superior acting abilities, and his lesser known powers as an improv comedy genius.
In 1988 Reagan didn't pardon a turkey, because that year, North had forgotten to organise a secret war.
Then in 1989 George Bush senior made it a regular thing.
For many years the pardoned turkeys were then sent to Frying Pan Park in Fairfax County, Virginia. Probably the best name for any park ever, especially if the turkey's eventual resting place was a cemetery known 'The Fire'.
Meaning the turkeys go straight from 'Frying Pan' and into 'The Fire'. Puns are the best.
The turkeys selected for a presidential pardon are actually a special breed.
Eighty are randomly selected at birth from thousands, and trained to handle flash photography, loud noises and large crowds. Making them a Kardashian with wings.
This field of eighty is then reduced down to twenty, with the final two selected by White House staff. They're renowned for their abilities to pick a turkey. Which explains the secret service.
Two turkeys are currently selected and pardoned each year, in case the first choice turkey becomes unavailable. This is not due to media commitments, or a career on Fox News, but a nice way of saying that one of them might die.
The turkeys up for a pardon fed on the same grain-heavy diet of fortified corn and soybeans as the turkeys raised for slaughter, as it increases their size.
With this diet comes many health problems, and the turkeys frequently die within a year of being pardoned, if they survive that long.
Which makes it less of a 'pardon' and more a refusal to give the bird the assisted benevolent suicide that it craves.
A number of US states have similar turkey-pardoning events, because they lack creativity and can't think of anything more exciting to do.
Recent presidential speeches have mentioned that the tradition dates date to Truman and even Abraham Lincoln pardoning his son's pet turkey, however there's no evidence of either.
There is plenty of evidence, however, that Lincoln was an utter legend, so he might've done it.
NASA's chief technologist has revealed that in some areas humans are already 'halfway' to landing on Mars.
David Miller was speaking to Motherboard editor Victoria Turk about the hurdles that NASA would need to overcome before a manned mission could take place.
He outlined the many obstacles that needed to be overcome, most notable of which being getting the astronauts back to Earth.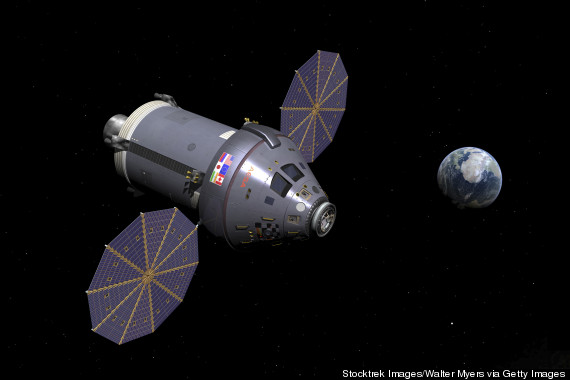 Whereas the Mars One mission considers the possibility of a one-way trip to the red planet, Miller believes that frankly, this approach is unacceptable.
"If we don't have the technology to come back, I don't think we have the technology to go."
Then of course there's the problem of radiation, how do you protect humans from eight months of cosmic rays, including down on the surface where Mars' atmosphere is far far weaker.
While some of these questions remain unanswered MIller is keen to point out that actually NASA is just being remarkably humble about just how far they've come.
"I think one of the things NASA does poorly is that we always talk about the challenges ahead, but we don't talk about the challenges that we've addressed, as I got to NASA and started looking at the programs, I saw that in some ways we are already halfway to Mars with humans. We are there with robots today, but we are halfway there with humans."
Of course the big question everyone will now want answering is whether, with the current rate of technological advancement, can NASA stay within President Obama's bold target of having humans in orbit around Mars by 2030.
Orbiting and landing are two very different things of course however Miller remains optimistic that the organisation is already well on the way to fulfilling that goal.
A student has chastised her university after not being invited to listen at a G20 speech given by Barack Obama - explaining she had even watched all seven episodes of the West Wing.
Ashley Chandler, a student at the University of Queensland, posted an open letter on Change.org urging the institution to "admit that you done f**ked up the Obama speech", and it's perfectly spot on.
"Dear UQ,
I am writing in regards to the recent uproar over President of the United States, Barack Obama's upcoming visit, and more specifically, in regards to your decision not to invite me. This seems to me to be a scandal that would rank somewhere between Watergate and the 2011 Greenfield incident.
I am, naturally, upset/outraged/hurt/offended/aggrieved by UQ's decision not to invite me. From what I can tell, I tick all the boxes. I study law and political science, I hold a leadership position in the university, I am a scholarship student, I have represented UQ internationally, was once on Millionaire Hot Seat, have seen all seven seasons of the West Wing, and hell, I even went to College. Given that I have satisfied all the criteria – well, so far as I can tell as UQ hasn't actually given information on the basis they allocated tickets– you can surely accept that I am justifiably upset/outraged/hurt/offended/aggrieved. I mean, What about me? It isn't fair. I've had enough and I want my chair at the Obama speech.
This is not just about me, though. I write on behalf of the scores of deserving UQ students who have been thrown under the proverbial bus (I say proverbial because, of course, actual buses are not running thanks to this). There are many, many students who have contributed much to the UQ community who should have been offered the opportunity to attend, some even more deserving than me (maybe). How about UQ Ambassadors who whore themselves out at Open Days and every other weekend to spruik the benefits of UQ to young, naïve high school students who don't realise that they're about to enrol in an elitist, nepotistic university with little regard for its students or the practical skills they need to develop in order to thrive in their chosen career? From a marketing stance, surely you should have kept these guys happy so they could rave to prospective students about the opportunities UQ has offered them? Now they'll have to awkwardly (and probably bitterly) answer questions about Obama's visit with 'Oh, no, despite the enormous contribution that I make to UQ,I was not invited to this event. You can rest assured, regardless of what you do for UQ, you will probably be treated with the same contempt and utter disdain by the administration. But QTAC closes soon so make sure you put UQ first!'. There's also those in the UQ Advantage programme, those studying disciplines directly relevant to this speech, student leaders in clubs and societies, the list actually goes on and on and on (and on).
With countless deserving and sensible-choice students excluded from the list, it leaves us in a position where we are unable to do anything but assume there must be some ulterior motive at play, some great conspiracy or discrimination. I'm inclined to think it is probably misogyny. After all, I am a woman and I was not invited and we all know that correlation is always causation. Furthermore, I have an ethnic friend who was not invited. Seriously, UQ? We all know that you make a killing off international students. Perhaps this institutional racism is not the best way to sure that up for the long term? Although I suppose you're probably less concerned about international student revenues given upcoming fee deregulation.
Apart from this, the only conclusion I can draw is that you guys are just idiots and when the White House told you that Obama wanted to speak to 'college students' you forgot that in America that just means university students and gave 400 tickets to those who just happen to reside on campus (Chris Withers, 2014). Not only is this stupid and unfair, but I think it's also probably unwise to further perpetuate the divide between college kids and 'day rats'. Maybe it's just me, but I thought that segregation was a bad thing. I wonder what Mr Obama's views are on it. While it was nice of the Vice-Chancellor to finally deign to speak to the plebs who pay his wages in a statement today, it is definitely more than a bit rich to claim that this allocation was 'based on the logistics associated with exceptionally tight timeframes' given that there are guests attending from other universities who clearly do not reside within the exclusion zone.
This is a choice that smacks of UQ being too lazy to allocate tickets based on merit. It's like you guys just put fairness in the 'too hard' basket. But I ask you, my friends, where we would be if Martin Luther King Jr had put fairness in the too hard basket? If Vida Goldstein had put fairness in the too hard basket? If Reform had put fairness in the too hard basket? (Okay, I was joking about that last one. They did #thanksreform. Though, to be fair, I am inclined to believe that this claimed 'consultation with the student union' is just Pete passing the buck).
Perhaps the worst thing about this entire process is that it seems to fly in the face of everything Barack Obama stands for. He was the one who told us all that 'Yes, we can', but, literally, we can't. We can't attend his speech because you won't let us and have insisted upon the most ridiculous and inequitable way possible of doling out tickets. I mean, come on, even Griffith and QUT seem to have done a better job. On top of it all, you're also restricting the access of students to their campus and important academic resources during the middle of final exams, all so that you can get your name in the international media. You've subordinated needs of students at a crucial time to your desire for fifteen minutes of fame and you've also closed the gym. I shudder to think of all the gains that stand to be lost. For shame, UQ, for shame.
I've always been told that it is good to follow constructive criticism with a compliment of something that has been done well, so I must commend your sense in ensuring that the speech takes place out of firing distance of the Grassy Knoll. Your handling of this event in all other respects, though, leaves a lot to be desired. I can assure you that I intend to appeal your decision to exclude me to the Senate, and would encourage all other students to do the same. I have also received legal advice that should the Senate go against me I have recourse to the Administrative Appeals Tribunal and that all I'll have to do is run up there, put my case, and you can go and get stuffed.
Sour grapes aside, I, and the students I have presumed to speak on behalf of, of course, understand completely that only a limited number of tickets can be offered to such an event. Indeed, as once pointed out by the preeminent economist, Jonathan Black, pie is a scarce resource. However, it is my passionate belief that just because there is only a limited amount of pie, doesn't mean that there isn't a better way to cut it.
Kind regards,
A concerned student, with the support of other concerned students"
Perhaps I'm the last person in the country - but I still like Ed Miliband. More than that, I think he could be a pretty good prime minister. Yes, I know there aren't many of us left, and I want to try to analyse why.
Let's leave aside all those voters who would never dream of voting Labour anyway. And those who couldn't possibly vote for a party whose leader "looks weird". And those who would never vote for anyone at all. The people who interest me are the voters who do intend to vote, who may well have voted Labour in the past (especially when Tony Blair was leader), but who now cannot imagine themselves voting Labour again.
According to a recent YouGov opinion poll, nearly 40% of voters think Labour cares more about the lives of ordinary people than other parties do. You might think that should convert into lots of votes from ordinary people.
But then you look at some other figures: which party has the better team of leaders? Who's more competent? Who has more ideas for making the country better? On every count, the Tories do better than Labour.
Most people have better things to do than follow the day-by-day (more often minute-by-minute) twists and turns of Westminster politics. They form their political views from a mix of sources: family and friends; TV; the newspapers.
As it happens, many of Mr Miliband's ideas are popular. According to a poll carried out in September, Labour's policies on the NHS, the minimum wage, apprenticeships, the self-employed, and energy pricing are all backed by more than half the voters who were asked.
On their own, though, popular policies are not enough. The politicians proposing them must also be regarded as credible - pollsters like to say it's a bit like choosing a surgeon or a plumber: even if you're confident that they know what to do, you also need to be confident that they will be able to do it.
So try this as an experiment: next time you're with a group of friends, ask them what they think of Ed Miliband. Then ask them the same question about David Cameron and Nick Clegg.
My guess is that many of your friends will say something along the lines of "They're all the same. Can't tell them apart. Wouldn't trust any of them." You may well say the same yourself.
According to YouGov, people who dislike Ed Miliband describe him as unconvincing, unelectable, out of his depth, weak and irritating. Those who like him (yes, it's a much smaller number) say he stands up for ordinary people, is intelligent, honest, genuine and decent.
It doesn't help that the leaders of the Tories, Labour and Lib Dems look much the same and sound much the same. It also doesn't help that the economic crisis from which we are only now beginning to emerge began under Labour, and continued under the Tory-Lib Dem coalition - so if you've been suffering the consequences of casino banking and austerity for the past five years, it's extremely tempting (and by no means entirely unjustified) to blame the lot of them.
They all make the same promises; they all blame each other; they all "passionately believe" that they have all the answers. I suspect one reason, although not the main one, why Nigel Farage is doing so well is simply that he looks and sounds different.
Mr Farage is a big problem for Mr Miliband, and not only because he cynically articulates the fears of some traditional Labour voters. He takes up huge amounts of media space that might otherwise be occupied by Labour. Ukip is simply more interesting than Labour at the moment; it's the new kid on the block; it's news, not history. The same goes for the SNP, whose vertiginous rise in popularity threatens to lose Labour sackloads of Scottish seats next May.
So Mr Miliband struggles to find airtime other than when his own party succumbs to one of its periodic bouts of internecine insanity. Add to that the determination of his right-wing media critics to damage him at every opportunity, and you have a dangerously toxic brew. It did for Neil Kinnock, and it may well do for Mr Miliband as well.
He told the BBC's Nick Robinson that he's "not in the whinging business" about media coverage. (It's worth watching the interview here.) What else can he say? But he needs urgently to assemble a media team who can do for Labour in 2015 what Alastair Campbell did for the party pre-1997. I have the impression that Mr Miliband tends to care more about getting the ideas right than about selling them - admirable, but also short-sighted.
Sometimes he reminds me of Barack Obama: they are both thoughtful men with interesting ideas, and they both have ruthless ambition that they disguise well. (Obama challenged Hillary Clinton when no one thought she could be beaten; Mr Miliband challenged his own brother in an act of breath-taking audacity.)
The result of next year's general election may well be a total mess. David Aaronovitch of The Times summed it up well: "The bookies ... very roughly suggest a 20% chance of a Tory victory, a 20% chance of a Labour one, 20% of one or the other ending up in coalition with the Lib Dems and a 40% chance of no two parties being able to form a majority government together."
I wouldn't be at all surprised if we end up having two general elections next year, just as we did in 1974. If the May election leaves the country ungovernable, there'll be nothing for it but to ask voters to go to the polls again and hope for a clearer answer. (In 1974, a minority Labour government led by Harold Wilson was elected in February and then re-elected in October with an overall majority of just three. By 1977, it had lost its majority and signed the Lib-Lab pact, which enabled it to limp on until it was swept away by Margaret Thatcher in 1979.)
In the meantime, perhaps someone will notice that, according to the Financial Times, Treasury officials fear that David Cameron's tax cut promises "risk undermining fragile public finances and could be 'a disaster' - and that according to one of his own Foreign Office ministers, the Lib Dem Lord (William) Wallace, Britain has no coherent foreign policy and is sinking into "sullen and suspicious nationalism".
In my view, we deserve better.
The United States and China pledged Wednesday to take ambitious action to limit greenhouse gases, aiming to inject fresh momentum into the global fight against climate change ahead of high-stakes climate negotiations next year.
President Barack Obama announced that the US would move much faster in cutting its levels of pollution. Chinese President Xi Jinping agreed to cap China's emissions in the future — a striking, unprecedented move by a nation that has been reluctant to box itself in on global warming.
"This is a major milestone in the US-China relationship," Obama said, with Xi at his side. "It shows what's possible when we work together on an urgent global challenge."
The unexpected declaration from the world's two largest polluters, unveiled on the last day of Obama's trip to China, reflected both nations' desire to display a united front that could blunt arguments from developing countries, which have balked at demands that they get serious about global warming. Yet it was unclear how feasible it would be for either country to meet their goals, and Obama's pledge was sure to confront tough opposition from ascendant Republicans in Congress.
The US set a new target to reduce its emissions of heat-trapping gases by 26 percent to 28 percent by 2025, compared with 2005 levels. That's a sharp increase from earlier in Obama's presidency, when he pledged to cut emissions by 17 percent by 2020.
China, whose emissions are still growing as it builds new coal plants, didn't commit to cut emissions by a specific amount. Rather, Xi set a target for China's emission to peak by 2030, or earlier if possible. He also pledged to increase the share of energy that China will derive from sources other than fossil fuels.
"This is, in my view, the most important bilateral climate announcement ever," said David Sandalow, formerly a top environmental official at the White House and the Energy Department. "It sends the signal the two largest emitters in the world are working together to address this problem."
Obama's target, expected to serve as the US contribution to a worldwide treaty to be finalized next year in Paris, came months before it had been expected. The US has sought to show aggressive action on climate change in order to spur other nations to offer ambitious contributions, too.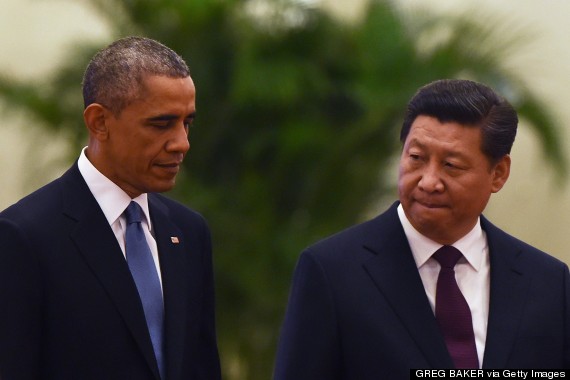 US President Barack Obama (L) walks with Chinese President Xi Jinping at a welcome ceremony in the Great Hall of the People in Beijing
For China, the commitment to cap emissions marked a turning point in China's evolution on global warming and its responsibility to deal with the problem. China accounts for around 30 percent of global emissions, but has only gotten serious in recent years as the large-scale impact on health and quality of life in China has come into focus, exacerbated by smothering smog in Beijing's skies.
Environmental advocates in the US heralded the joint announcements as a game-changer that would undermine opposition. If China can get serious about emissions, they said, surely others can, too.
Al Gore, former vice president and a leading advocate for limiting climate change, called the announcement "a major step forward in the global effort to solve the climate crisis." He said more will be required — "including a global agreement from all nations — but these actions demonstrate a serious commitment by the top two global polluters."
Sen. Barbara Boxer, D-Calif., who chairs the Senate's environmental panel, said: "Now there is no longer an excuse for Congress to block action."
But Republicans signaled that they would seek to thwart Obama's efforts once the GOP controls the Senate next year, pointing out that Obama was saddling future presidents with a tough-to-meet goal.
"This unrealistic plan, that the president would dump on his successor, would ensure higher utility rates and far fewer jobs," said incoming Senate Majority Leader Mitch McConnell, R-Ky.
Criticism also came from Campaign groups, with Friends of the Earth warning the deal wasn't the "major breakthrough the planet needs".
International Energy Campaigner Asad Rehman said: "The US pledge represents at most a woeful 15% cut on 1990 levels - a weaker target even than that promised by Obama in Copenhagen in 2009. Much greater ambition is needed to stop the worst impacts of climate change.
"If everyone follows the US approach then poorer countries will have to take on even greater efforts, without any support from rich nations to avoid the threat of catastrophic climate change.
"China's intention to peak its emissions in the next fifteen years is certainly welcome news, but only in the context of a global deal based on science and fairness that delivers the urgent help developing nations need to cope with the severe threat global warming poses."
SEE ALSO:
China's President Xi Jinping drew the short straw this year to host President Barack Obama and other world leaders at the latest APEC summit
The gathering saw China's president and Japan's prime minister take a major step in easing more than two years of high tensions with an ice-breaking meeting during the Asia-Pacific conference.
But with so many global leaders in the same place, at the same time, there are bound to be a few bumps along the way...
Read More:
midterm elections
,
Keystone XL Pipeline
,
ttip
,
tpp
,
dodd-frank
,
tax reform
,
immigration
,
Islamic state
,
iran
,
gop
,
congress
,
Barack Obama
,
oil
,
energy
Sweet dreams for GOP & nightmares for Dems, but....
From a markets point of view the outcome of the midterm elections is moderately encouraging now that we have a president who is generally more pro-market and pro-business than his democratic caucus and a party in charge of both houses of Congress which is also generally pro-business. If they manage to get into a room and work some deals out, we could be witness to progress in some important policy areas:
• Energy: it will now be easier to open up the energy markets for exports of oil and gas. Moreover, Obama could be tempted to finally approve the Keystone pipeline from Canada to the US. These prospects could push oil prices further down.
• Trade: Obama would like to close major free trade deals with Europe and the Pacific region (TTIP and TPP). But to do this, the President needs fast-track authority otherwise Congress could hold up the legislation by constantly adding amendments. A Republican controlled Congress could more easily grant Obama this authority. Most economists agree that TTIP and TPP would give a big boost to the world economy.
• Bank legislation: Republicans despise the Dodd-Frank legislation that put the financial sector in chains according to many conservatives. Even some Democrats are not too happy with this bank law. So we could see some relaxing of the constraints on banks in the coming years.
• Taxes: there's an opportunity for the corporate income tax to be reformed. US companies have by now stashed as much as $5tn in cash abroad in order to prevent having to pay one of the highest corporate taxes in the world. If Washington succeeds in pushing through some changes in tax law, part of this money could come back to the US ready to be invested instead of idly waiting abroad thereby giving the US economy a boost.
• Immigration: we admit, it will be very difficult to realize progress on this issue, but if Obama and Congress can work something out it will be a lift for the US economy as well as for the global economy.
• Battle against the Islamic State: Republicans are more in favor of a "boots on the ground" component in the strategy to battle the Islamic extremists. If they succeed in adding this to the mix, the prospects for success against IS will likely increase, somewhat lessening the geopolitical risk in financial markets prices.
Foreign Policy Troubles?
The elections may turn out to be good for the above foreign policy issue, but could have averse consequences for two other areas:
• Iran: the GOP prefers a much harder line against Iran. So the outcome of the midterms could frustrate the Iranian nuclear talks.
• Guantanamo Bay: the Gitmo prison has turned out to be a major catalyst for increased extremism in the Middle East and in other places. Obama wants to close it down, but he was confronted with major opposition in Congress, especially from the Republican side. Now, we see increased chances of Gitmo continuing to operate even after Obama leaves office. Adding some more fuel to extremist, anti-American fires around the world.
Bipartisanship pipe-dream or realistic scenario?
All in all, we see some probabilities for market-friendly breakthroughs as a result of the midterms. However, financial markets should not get their hopes up too much. Republicans could get cocky because of their success and populist firebrands like Marc Rubio still are a sizeable part of Congress despite the moderate conservatives making a comeback. Democrats should be some what humble after this massacre, but they could opt for thinking that in 2016 the electoral map is heavily in their favor and therefore be less amenable to working with Republicans.
There won't be an end to political gridlock yet, there's just a movement of the chokepoint from the Senate to Obama's veto. People were very frustrated that nothing got done in Washington the last couple of years, but they should not count on DC becoming a smooth, tough, lean and mean operator just because of one election. Some market friendly decisions now have a better chance of being taken, but politics in general in America will not begin to work better overnight.
It's a classic mistake which has foiled many a news organisation: are you referring to current US President Barack Obama... or late Al-Qaeda leader Osama Bin Laden?
CNN confused the two in an unfortunate typo on 8 November in a TV news banner.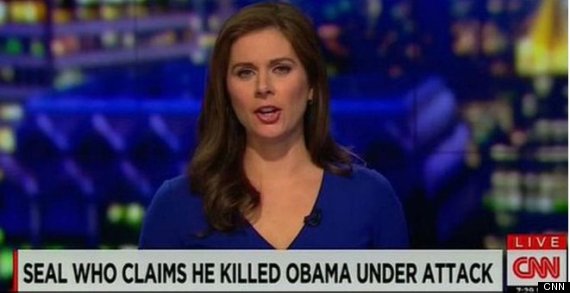 CNN aired the banner on Sunday evening US time
The banner reportedly appeared for less than a minute before being corrected, but that was long enough for eagle-eyed audience to take some screen shots and lampoon it for the mistake.
CNN's report was about the US Navy Seal who claims to have shot and killed Bin Laden in a May 2011 raid, who is under attack by his former comrades who dispute his version of events.
Osama Bin Laden was killed in a raid in Pakistan, and founded one of the largest terrorist organisations in the world, while Barack Obama runs the US and is very much alive.
READ MORE: October's best news bloopers
It's not the first time Obama has been reported dead.
Fox News fell victim to the confusingly similar names on two occasions in 2011 when reporting Bin Laden's death. Its Sacramento affiliate Fox40 News reported that 'Obama Bin Laden' was dead, with another banner that was quickly removed.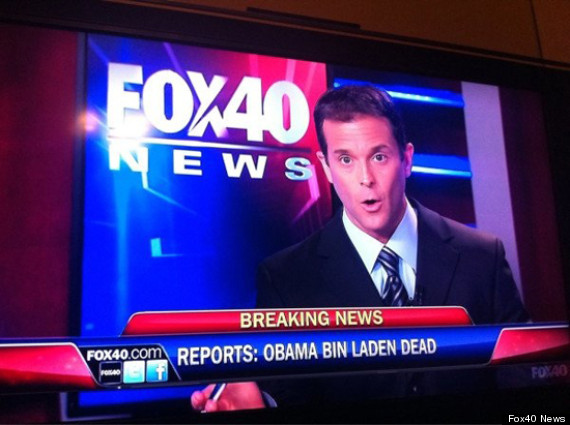 Fox's affiliate made the mistake
A reporter on its affiliate channel News 5 even spoke the mistake out loud, telling viewers that their president was "telling the nation and the world President Obama is in fact dead."
READ MORE:
Oops @cnn. Killed Obama??? pic.twitter.com/mQIVImrpAv

— Mike Gleeson (@thegeneralisin) November 8, 2014
Say what?!?! RT @AlArabiya_Eng: CNN news banner typo kills 'Obama' instead of 'Osama' http://t.co/DLHlqmcZlm pic.twitter.com/ht8PGQmNA4

— Elliot Wagland (@elliotwagland) November 10, 2014
It would be nice to think that, after years of ever-deeper anger, division and paralysis, the U.S. government would unite -- out of exhaustion, if nothing else.

It would be nice to think that a humbled President Barack Obama and his emboldened Republican foes would join hands to deal with our obvious public problems: Immigration policy, debt, foreign policy, education, infrastructure.

It would be nice, but it would be wrong.

The prospect for the next two years is one of limited substantive progress, but intense political positioning for, yes, the next election.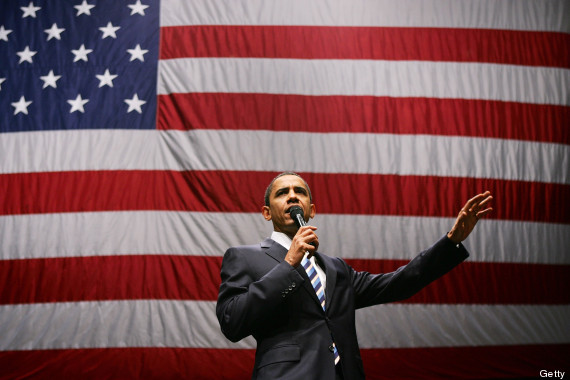 'Intense political positioning' for the next presidential elections will follow the midterm elections, Howard Fineman writes
If the U.S. were a parliamentary democracy, the government would have fallen as a result of Tuesday's election.
But in America, with its
Newtonian clockwork
of dispersed authority, the political losers and the winners are supposed to work jointly and earnestly on a governing agenda.
They rarely do that.
Honoring tradition, the president and the new leader of the opposition, Sen. Mitch McConnell of Kentucky, pledged open minds and hearts and a desire to cooperate.

And there, in fact, may be some new laws on global trade, energy, corporate taxes, and a few other matters. Republicans and Obama may able to assemble a mostly Republican alliance of business-friendly members of Congress.

But on the big, emotional issues -- health care, immigration policy, the seemingly endless "war on terror," even education policy -- the world should not expect much. The cultural chasms are too deep.

There is no doubt that Obama was sobered, if not humiliated, in this midterm election. One reason is the ebb and flow of American politics. The president's party almost always loses seats in the sixth year of an eight-year administration.
SEE ALSO:
But this was a drubbing on all levels. Obama's (liberal) Democratic Party lost control of the Senate to the (conservative) Republicans for the first time in nearly a decade. Republicans strengthened their already strong grip on the House of Representatives. They won governorships in many key states, including Obama's Illinois. And they won more state legislatures that, among other things, draw the lines for congressional election districts. There are indeed some factors that favor an effort at cooperation. The main one is Americans' collective disgust at the way elections work and the way Washington does not. Voters are smarter than the commercially bizarre way we run elections, and they resent the sloppy, cynical system they live in. After all, Americans have just survived an election season in which $4 billion --
yes $4 billion
-- was spent on TV advertising, in which Republicans tore down Obama as a wimp and a socialist (a confusing combination) and Democrats depicted Republicans as misogynistic predators eager to rip intravenous tubes from grandma's arm. Republicans have prospered in the Obama years by trying to
block every initiative
he has to offer, and then blaming the resulting gridlock on him. This plays into the American myth about the globe-girdling power of the presidency, and it has worked to make Obama look weak. But they now have an incentive to show that they can be grown-ups as they lay the groundwork for whomever their presidential candidate is in 2016. Successful presidential campaigns don't win on anger, but on hopeful ideas. McConnell, soon to be Republican leader in the Senate at age 72, has reason to want a legacy of constructive action. So those are reasons to think that things will get done. But there is another side of the ledger. Republicans have gotten where they are in the last few years by opposing the president at every turn. Why should they stop now? The activist core of their party remains vehemently antagonistic to Obama, and Republican leaders ignore that at their peril. The president himself is not the kind of politician who relishes the grimy trading of favors that is at the heart of politics. He thinks in intellectual constructs, and he doesn't enjoy the game for its own sake. And American politics as now constructed is a money-drive proposition based on the profits of discord. Campaign consultants make millions; TV stations make hundreds of millions; billionaires are free to throw their weight around like oligarchs in Russia. Parties play to their own extremes to stoke emotion and harvest contributions. It is as though the seating in the House of Commons were reversed. Instead of facing each other, the parties are facing outward to their most mindlessly steadfast supporters outside the building. It would be nice to think that that will change, but it won't.
Read More:
midterm elections
,
midterm election results
,
2014 midterm elections
,
Barack Obama
,
US Foreign Policy
,
isis
,
Franklin Roosevelt
,
Ronald Reagan
,
thom tillis
,
kay hagan
,
US politics
In the midst of the Great Depression, Franklin Delano Roosevelt unseated a sitting president with the campaign slogan: "Happy days are here again!" Assuming the presidency in March 1933, he lifted the spirits of the nation with the assertion: "The only thing we have to fear...is fear itself!" A half-century later, as the US economy showed signs of recovery from a sustained recession, Ronald Reagan won a landslide reelection, campaigning on the slogan: "It's morning again in America!" Optimism, it seems, is a winning proposition in American politics.
First elected on the slogan "Yes we can!" Barack Obama's optimism was often was compared to that of Roosevelt and Reagan. But today, after the Democratic Party suffered major defeats in the mid-term elections and lost control of the United States Senate, many are drawing a different comparison to these lions of the last century. The implied lesson? If only Obama were a bit more like Roosevelt and Reagan, if only he had been able to counter the Republican narrative of fear, things would have turned out better for the Democratic Party!
It is true; Americans by and large seem to have lost their optimism, their fundamental belief in a better future. And by and large, Republicans did run a campaign of fear. Take the campaign of the incoming Senate Majority Leader, Mitch McConnell. The Senator from Kentucky ran a campaign that highlighted the dangers of foreign trade and labeled President Obama's efforts to move the United States toward renewable energies as a "war on coal." Not much optimism there.
While McConnell criticized a phony war, other Republicans were eager to rewrite the history of failed wars of the past. Raising the specter of the Islamic State in attacks against the incumbent Democrat, Senator Kay Hagan, the newly elected Senator from North Carolina, Thom Tillis, was characteristic. Ignoring the fact that Barack Obama won election with a pledge to bring American troops home from Afghanistan and Iraq, and conveniently forgetting that the sectarian violence now plaguing Iraq and Syria is a direct consequence of George W. Bush's 2003 invasion of Iraq, Tillis blamed the President and Senator Hagan for the rise of ISIS. When reporters pointed out that Tillis himself had failed to articulate a plan for dealing with ISIS the Republican candidate responded: Hagan is "responsible for it and she works for a commander in chief who's responsible for it."
Fear mongering served the Republicans well in this election, but would things have been different, if only Barack Obama had a bit of Roosevelt or Reagan in him? History suggests the answer is no.
Despite a convincing reelection in 1936, Franklin Roosevelt suffered a devastating defeat in the November 1938 midterm elections. The Democrats lost 72 seats in the House of Representatives and 6 in the Senate. The President's party retained official control of the Senate, but a coalition of Republicans and conservative Democrats from the Southern States effectively brought Roosevelt's New Deal politics to a standstill.
Despite Ronald Reagan's intense personal popularity and landslide reelection in 1984, the Republican Party lost control of the Senate only two years later, with the Democrats picking up 8 seats. Facing Democratic majorities in the House of Representatives and the Senate, Reagan's "Conservative Revolution" had hit a wall in the 1986 midterm elections.
Whether Obama has turned out to be a weak and ineffective President is a proposition we can debate, but not on the basis of yesterday's elections. True, the President will no longer dominate the domestic political agenda. On that question, the elections leave no room for doubt. At home, Obama is indeed a lame duck.
But the President can to draw some strength and inspiration from the fact that both Roosevelt and Reagan achieved their most important foreign policy triumphs after they lost their power to dominate the domestic political agenda. After 1938 Roosevelt effectively led the United States into the Second World War and Reagan essentially ended the Cold War in the final years of his Presidency. It seems that lame ducks sometimes still can fly.
That headline is not, amazingly, a rhetorical question, but one posed by 'Russell Howard's Good News'.
Check out Howard comparing and contrasting Cameron and Obama's recent moves... and coming to a not-too-unexpected conclusion.
SEE ALSO: