If you're scared, you haven't let them win. If you're sad, you're not giving in. You're just being human. The 'keep calm and carry on' meme is all very well, but we have to carry on or life would cease to function.
The most uncomfortable truth lurking within this tragedy is that there is a stigma attached to people who live in social housing. Narrowly, this means that a discount is applied to their views when they are expressed to the relevant authorities. Broadly it also means that the lives and wellbeing of people who live in council blocks are seen as having less value than home owners.
Nearly two weeks on, and the dust has still not settled after this rather extraordinary snap election. The Conservatives juggle negotiations for Brexit with negotiations for forming an actual government, and the terrible disaster at Grenfell Tower brings further challenges.
If we are determined to ensure that further tragedies on the Grenfell scale never happen again, it is the responsibility of us all to ensure that we root out the Thatcherist cancer that has been mushrooming at the heart of our society for the past three and a half decades, returning to a 'people first' approach.
I heard of one woman resident who miscarried due to the post trauma stress she experienced after the fire, which is absolutely heartbreaking. This tragedy has led to a great number of psychological issues and post trauma therapy is needed for families. As a British aid worker, I have been to the field in Bosnia, Bangladesh and other places, but I never thought I'd be responding to a national disaster of this scale and nature here in London in one of the most affluent boroughs in the UK.
The enemy of justice and decency in Britain is a Tory establishment who's own 'Day of Rage' is unleashed against the poor each and every day, with the consequences all around for those who choose to see them.
As tragedy after tragedy unfolds on our own doorstep here in the UK it becomes a little easier for me to imagine the kind of horror people fleeing war have experienced - the horror they are running from and the horrors they have seen while trying to get their families to safety.
The Grenfell Tower fire may yet be Theresa May's Suez. Crises require leadership - in explaining the causes of the crisis and the appropriate responses, in defining the meaning of the crisis and learning the appropriate lessons from it. In all these respects, the Prime Minister has failed, symbolised by her refusal to meet with residents affected by the fire. Brexit will undoubtedly produce many more crises before it is complete, but May seems unlikely to navigate them successfully.
The way to help change perceptions amongst others is not solely by preaching, but by setting an example of our behaviours, conducting ourselves in a way that breaks down barriers in our day to day activities.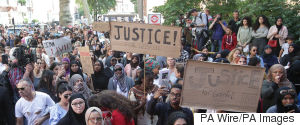 How was this allowed to happen? Horrendously we cannot avoid the conclusion that there is a view that some people in our country don't matter. That they don't count. This is inequality at its most brutal. From the reports, it seems that residents were not heard when they were worried. That the local authority seems to be demonstrating the traits of an arm of the state insufficiently concerned with the dignity of all people, no matter how rich or poor. I am not in west London, I am in Merseyside, but I recognise the anger of people who have been ignored until it's far, far too late.
Earlier that day, I had walked past the skeletal remains of Grenfell Tower towards Westway centre. I heard the hustle of what turned out to be an army of volunteers distributing a mountain of donations. Around 50 metres away, outside the Westway sports centre, a table with pastries, hot coffee and fruit. One of the ladies asked my colleagues and I if we needed breakfast or coffee. We weren't the ones in need, which made it all the more humbling that she had even thought to ask.
The heartbreak for the residents and families of Grenfell Tower continues. But as the sheer scale of the disaster emerges, the growing anger is also palpable. That anger was typified when Mayor of London Sadiq Khan was heckled by a young boy: "How many children died? What are you gonna do about it?" The Mayor shook his hand and said he would do all he could to help. But at least Khan met the residents, which is something Theresa May singularly, unfathomably failed to do yesterday.
Accountability and justice is now needed for the survivors and for friends and family who have lost loved ones. The Prime Minister has just ordered a public inquiry into the tragedy, and this must provide clear answers and identify responsibility. But we live in a rich country, and it shames us that this horror is possible even today. The inquiry must lead to a national review of standards in the country's housing stock, where health and safety should be a given, not an optional extra.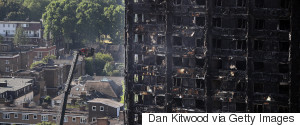 We are talking about some of the most marginalised and oppressed people in our society dying in a hellish inferno, so the very nature of the discourse around what happened at Grenfell Tower is innately political whether we want it to be or not. The fact is, Grenfell Tower - from the residents' years of documented complaints about safety to the fact is lies in the richest borough in London - is a stark reminder of whose voices get listened to in modern Britain, whose don't, and that this dichotomy can have deadly consequences.