The Tory Conference started yesterday after weeks of internal wrangling and backbiting. And for those Tory MPs and members who thought that they might have a gentler, more unified lead up to their conference, they were sadly disappointed.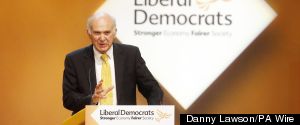 As the Lib Dem conference gets underway this weekend, it's important to remember that just over two years ago, the party was propping up the Tories and helping deliver the Government's damaging austerity agenda. With Coalition Cabinet Minister Vince Cable now at the helm, we can be more certain than ever; the Lib Dems can't be trusted. After June's General Election it seemed like every Lib Dem left in Parliament lined up to say they were ready for the top job. But when faced with the enormity of the challenge in tackling the Lib Dems' reputation as a party of broken promises, candidates dropped off quickly.
If Philip Green, the man who stands accused of bringing one of the UK's iconic high street brands to its knees, was to have a motto it would be: 'He knows the price of everything. But the value of nothing'.
In the aftermath of the Brexit vote, it is time that Parliament gave government new powers to intervene in strategically-significant takeovers when it is in the public interest. The present legislation allows intervention only in matters relating to national security or media concentration.
We know that devolution can't just be a shift from Whitehall to the town hall. We want to see powers available to local communities and public service users so they can control the things that matter most to them. This is a chance to open up politics and renew our democracy. It requires a real commitment to letting go across every part of Government - a commitment that, sadly, is still sorely lacking from the Tories.
In effect, what happened over the summer is that a new movement emerged. Restless with an unsatisfactory status quo which no longer serves Britain, people in their tens of thousands turned to Labour as their political party of choice. It is the task of the whole party to welcome our new colleagues, to listen, learn and perhaps adapt our party's culture and practices to these exciting new challenges.