The drama unfolded like a scene from a Quentin Tarantino film.
Two masked men, one armed with a handgun, the other with a baseball bat, burst into an internet café in Florida on Friday night and ordered everyone to hand over their money and get on the floor.
However, what they didn't bank on was meeting 71-year-old gun-toting patron Samuel Williams.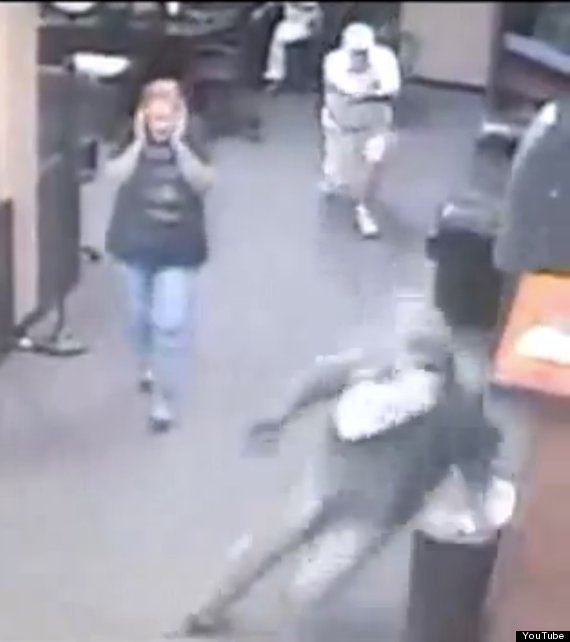 Triggering a response: Mr Williams firing his initial salvo
He decided to take matters into his own hands and repeatedly fired at the pair.
CCTV footage of the incident has been uploaded to YouTube and so far over 10,000 users have watched Mr Williams' astonishing response.
The clip begins with the two would-be robbers storming into Palms Internet Café in Ocala.
The one armed with a handgun points it at terrified customers and motions for them to get on the floor.
But within seconds Mr Williams, from a crouching position, whips out a gun of his own – reportedly a .380-caliber semi-automatic - and lets off a volley of shots, sending the robbers scrambling towards the exit, falling over each other as they go.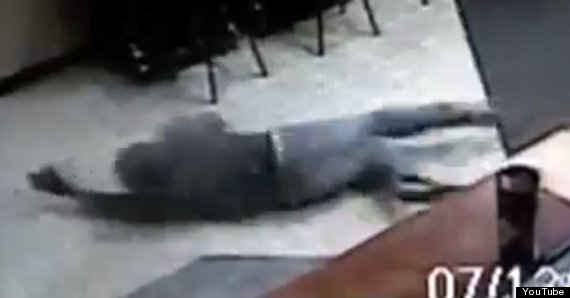 One robber falls to the floor as he bolts for the door
As they flee, Mr Williams continues to shoot, even firing a shot out of the door once they've escaped.
The robbers were Duwayne Henderson, 19, and Davis Dawkins, also 19, according to Ocala.com.
The news site reports that they were both injured by Mr Williams, Dawkins with an arm wound and Henderson receiving bullet wounds to his left buttock and right hip.
Henderson told an Ocala.com reporter that the plan was to "barge in, get the money and leave" and that "he never expected anyone to be armed".
He added: "My gun was broken and rusty and wasn't loaded. Nobody was going to get hurt."
Dawkins and Henderson have both been charged with attempted robbery.
Mr Williams, meanwhile, is unlikely to face charges as he has a concealed weapons permit which allows holders to fire upon someone if they fear death or injury to others, Ocala.com said.