David Beckham highlighted the urgent need to provide food for the world's poorest children when he met the prime minister for a hunger summit at Downing Street.
The former England footballer, now a Unicef ambassador, met David Cameron who announced that world leaders would meet on 12 August - the last day of the Olympics - to thrash out plans designed to help starving people across the globe.
Mr Cameron said: "Britain has a fantastic role to play in this."
Ex-Manchester United midfielder Beckham, who was controversially snubbed for Team GB's football side but is tipped for a starring role at Friday's Olympics opening ceremony, sat on No 10's sun-drenched terrace as he told Mr Cameron of the need to provide food for hungry youngsters.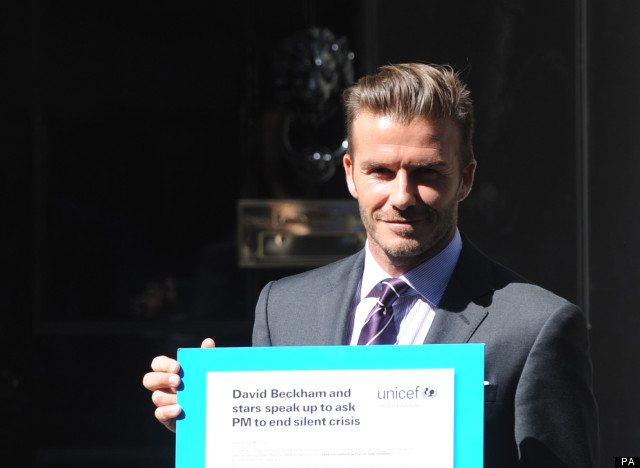 Beckham arrives outside No 10 for his meeting with Cameron on Thursday
Father-of-four Beckham said he was honoured to be a part of children's charity Unicef and given the chance to "voice our opinions" at the heart of government "while the eyes of the world are on our country".
He added: "It is important not to forget the really important things that are happening in our world.
"I have seen that first hand in Sierra Leone, I've seen malnutrition.
"Being a father, I know how important those first few days of children's lives are. It's so important to get them the right nutrients and to help their growth."
Mr Cameron hailed the sports star, who helped secure the Games for Britain in 2005 when he was part of the London 2012 delegation in Singapore when Olympics officials chose the capital, for the "pressure" he brought on ministers to arrange next month's summit.
The Conservative leader said the Games were a perfect opportunity to press other nations into action.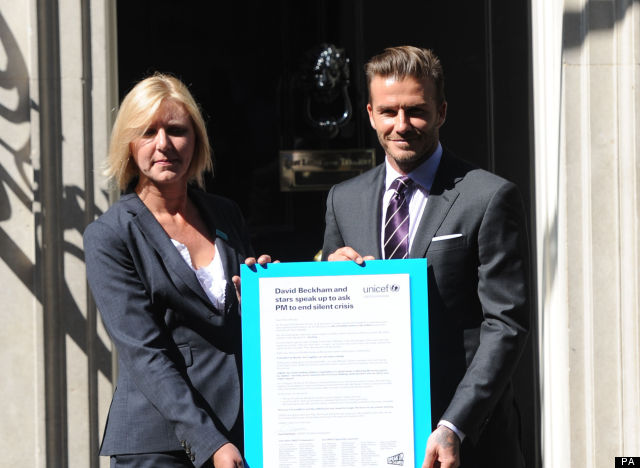 The former England star arrived with Unicef's deputy executive director, Anita Tiessen
He added: "It's absolutely right that Britain uses its chance as the Olympics host to hold a hunger summit, which we are going to do on the last Sunday of the Olympics.
"We are going to have other world leaders who will be here, other NGOs (non-governmental organisations) to challenge the world to tackle the problem of malnutrition, hunger and stunted growth."
Joining Beckham and Mr Cameron at No 10 was Unicef's UK deputy executive direct Anita Tiessen, who handed the prime minister a letter signed by celebrities including singer Robbie Williams, F1 driver Lewis Hamilton and Manchester United boss Sir Alex Ferguson, urging the government to take immediate action on child malnutrition.
Ms Tiessen said: "We applaud the government for taking the lead on this silent crisis affecting tens of millions of children worldwide.
"However, in the light of the current global food and financial crisis, investing in child nutrition for the poorest and most vulnerable children is more urgent than ever.
"The time to act is now and we look forward to seeing committed action on child hunger and stunting, starting with the end of the Games and continuing into 2013."